Click Here for More Articles on SECOND STAGE THEATRE
BWW Review: Reed Birney Beautifully Sensitive in Tracy Letts' Riveting MAN FROM NEBRASKA
Deceptively, little seems to happen in the first several scenes of Tracy Letts' riveting 2004 Pulitzer Prize finalist, Man from Nebraska, now receiving a superb New York premiere at Second Stage.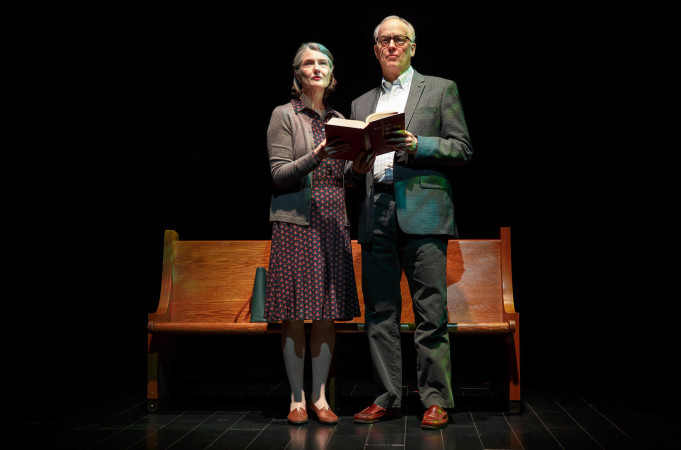 The first minute simply has the title character, Ken Carpenter (a beautifully sensitive Reed Birney), driving his car with his wife, Nancy (excellent Annette O'Toole), in the passenger seat. After a bit of quiet, Nancy makes a casual comment about something she sees out the window. There's more quiet, and then a blackout. The minimalism is somewhat comical.
The scene is followed by more uneventful slices of life. The two of them attend a church service where they sing along with the congregation and listen to the sermon. They're then eating a meal in a cafeteria where the soft Muzak recording of "A Whole New World" is making more noise than they are. They go to a nursing home and attempt a conversation with Ken's mentally deteriorating mother (Kathleen Peirce).
They silently watch television together and, before the lights are turned out, their bedtime conversation consists merely of making sure the doors are locked and the alarm is set.
And then the lights go up and Ken is uncontrollably sobbing over the bathroom sink. Despite his attempt to muffle the sound, Nancy is confused and panicked by what she hears. Birney's performance is exceptional and jarring as this character who exudes respectfully low-key masculinity is now bent over in tears. Finally he confesses that the reason for his agony is that he realizes that he no longer believes in God.
"Maybe we're just ... science," he ponders. "Like they say. Accidental science."
He can't clearly explain the reason for his revelation, but what has been made clear by the previous scenes is that the Carpenters' relationship is not one that usually contains discussions about serious subjects, and the two actors convey that the issue at hand is not necessarily Ken's spirituality, but their inability to discuss it.
After an uncomfortable breakfast with Nancy the next morning, and an even less comfortable visit with their self-involved daughter (terrifically insensitive Annika Boras) the next morning, Ken takes the advice of Reverend Todd (William Ragsdale) to take a break from his regular routine. He opts for a solo trip to London, where he was stationed while with the air force. ("Foreign, but ... not too foreign.")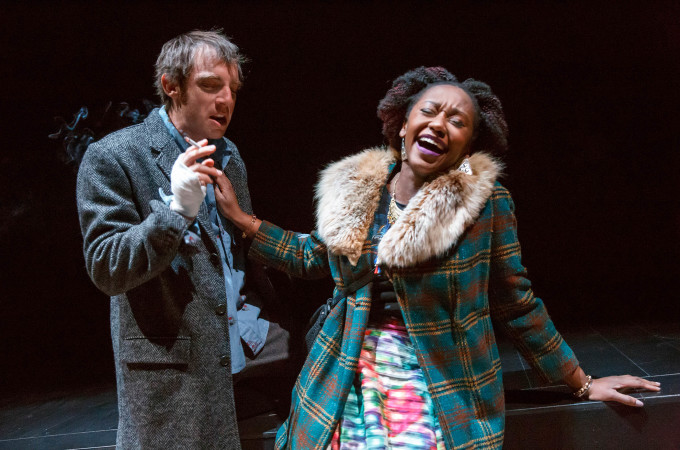 While across the ocean he finds his communication skills greatly improved when he chats with his hotel's bartender (wonderfully wry Nana Mensah), who introduces the non-drinker to her specialty cocktail and to her brooding sculptor flatmate (Max Gordon Moore).
Ken also has a hotel room encounter with the sexually aggressive woman he met on his flight. Heidi Armbruster is very funny as her frustrated character deals with Ken's hesitancy and inexperience. ("I'm the woman. Goddamn it. I'll take care of everything.")
Meanwhile, back in Nebraska, Nancy begins wondering if there are limits to being the dutifully understanding wife.
Director David Cromer does a fine job of making the mundane everyday living of Ken and Nancy's home life seem an attractive option for those who require a comfortable safety net. By making Ken's London adventures just a little out of the ordinary, they seem exotic by comparison.
An oddly thematic moment comes when the audience overhears a television broadcast of the game show "Family Feud." Contestants are asked to name something a hamster does. Answers include sitting in his cage, running around going nowhere in his exercise wheel and, perhaps, finding a way to break free.