Click Here for More Articles on A BRONX TALE: THE MUSICAL
BWW Review: Nick Cordero Leads Robert De Niro/Jerry Zaks-Directed A BRONX TALE To Broadway
When the new musical based on Chazz Palminteri's autobiographical solo play, A BRONX TALE had its world premiere at New Jersey's Paper Mill Playhouse earlier this year, it boasted a solid first act, a terrific star performance by Nick Cordero and an Alan Menken/Glenn Slater song that every Sinatra-styled saloon singer will want to grab. It also featured some of those traditional second act problems that often plague new musicals looking for a Broadway home.
Happily, the second half's fuzzy storytelling has been tightened up, and A BRONX TALE hits Manhattan as a real winner; a warm, nostalgic piece with a lot of grit and a serious theme about a father trying to protect his son from being seduced by the glamorous side of organized crime.
Set on Belmont Avenue, in the Italian section of the Bronx, the story begins in 1960, when a young boy named Calogero witnesses the local mob boss Sonny committing a murder, but follows the code of the neighborhood and doesn't rat him out to the police. Sonny takes the boy under his wing, teaches him how to gamble and soon everyone on the block knows not to mess with the dangerous man's protégé.
Calogero's hard-working dad, Lorenzo, a bus driver who gave up his dream of being a musician when his son was unexpectedly conceived, tries to protect his boy, but the kid is thrilled by the money Sonny gives him for rolling dice and the new prestige he has around the neighborhood.
Years go by and Calogero grows into a young man with trouble-making friends his own age, but when he starts dating a black girl, Jane, Sonny is the only one who encourages him to follow his heart.
That moment introduces the score's best song, "One of the Great Ones," a sentimental tough-guy swing about the three chances in every man's life to find the perfect woman. It has a warm melody that glides softly into the ear, enhanced by plainspoken poetry that's muscular, but sincere. Bookwriter Palminteri supplies a gem of a monologue in the middle.
Sung by Cordero, that rare musical theatre performer who can sing, dance and realistically portray a man who wouldn't think twice about killing anyone in his way, it's a moment of genuine and unexpected joy. His slick and polished Sonny is darkly funny, but always a threat, even with this brief segue into decent sentiment.
The rest of the catchy score deftly defines characters through doo-wop, vintage American rock, girl group harmonies and early funk.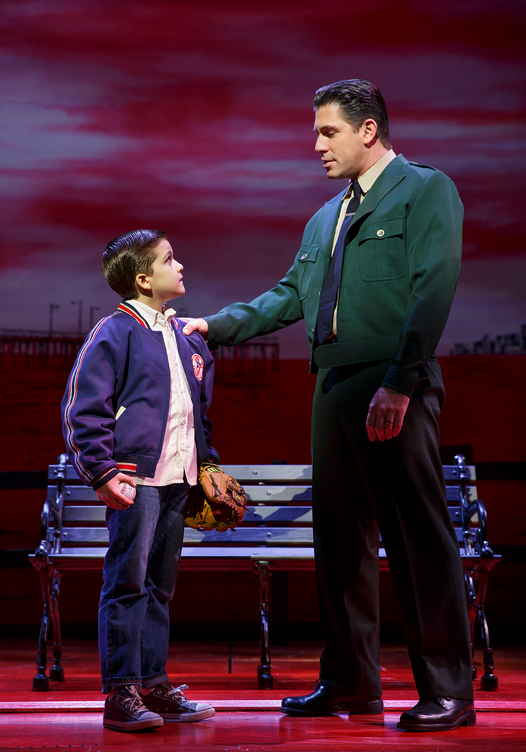 Bobby Conte Thornton is assured and likable as teenage Calogero, who narrates the story, but young Hudson Loverro, as his younger self, grabs the spotlight with his Broadway belt and cocky dance moves.
Both are new to the transferred production, as is Ariana DeBose, whose strong singing and acting skills add depth to the playfully flirtatious Jane, whose budding romance with her Italian schoolmate can't escape the neighborhood's emerging racial violence.
Richard H. Blake repeats his fine work as the sincere and honest Lorenzo, torn between protecting his adult son and allowing him to make his own life choices.
The evening is handsomely co-directed by Robert De Niro, who directed the film while playing Lorenzo, and Jerry Zaks, who helmed Palminteri's 2007 Broadway solo engagement. As discussed in interviews, Zaks took care of the healthy pacing, effective sight gags and romantic visuals, while De Niro kept the acting authentic. Sergio Trujillo's fine choreography is classically vintage.
The audience witnesses two shooting deaths in A BRONX TALE, but otherwise it's a good choice for family entertainment with a positive message about appreciating the neighborhood that raised you while recognizing its flaws.
Related Articles
After 20-odd years singing, dancing and acting in dinner theatres, summer stocks and the ever-popular audience participation murder mysteries (try improvising with audiences after they?ve (read more about this author...)