Review: New Orleans Gets Mythological in Anaïs Mitchell's Exhilarating Bluesy Folk Opera HADESTOWN
With a stage career spanning half a century that includes dozens of notable performances in New York alone, Andre De Shields knows a thing or two about seducing an audience. And that's exactly what he does at the opening of Anaïs Mitchell's exhilarating bluesy mythological folk opera Hadestown, which has finally landed on Broadway after a premiere engagement at New York Theatre Workshop, followed by stints in Edmonton and London.
The proceedings commence, not with an overture, but with the full company rushing to their places on set designer Rachel Hauck's loving depiction of the tawdrier side of New Orleans' French Quarter. In the first of many magical moves director Rachel Chavkin will unveil during the next two acts, De Shields silently enters, jauntily sauntering across the downstage lip to inspect his castmates, as well as conductor Liam Robinson's onstage seven piece band.
He then turns his attention to those gathered before him, taking a moment to display how dapper he looks in the sharkskin suit provided by designer Michael Krass. After receiving confirmation from both colleagues and customers that all are ready to begin, he takes on the role of Hermes, the Greek messenger god who leads the evening's storytelling of the tale of lovers Orpheus and Eurydice.
"It's an old tale from way back when," goes the infectiously catchy gospel opening, "Road To Hell." "It's an old song, and we're gonna sing it again."
That first number tells of an old railroad line that legend says traveled to the fiery underworld and introduces us to all the characters, beginning with the charismatic members of the Workers Chorus (Afra Hines, Timothy Hughes, John Krause, Kimberly Marable, Ahmad Simmons), each of whom understudies one of the leading characters.
Next we meet The Fates, played by Jewelle Blackman, Yvette Gonzalez-Nacer and Kay Trinidad, who knock out Robinson's three-part harmonies to serve as those voices you always hear in the back of your mind.
With deep, coarse vocals like gritty molasses, Patrick Page is deliciously grim as Hades, whose current obsession is to use his tortured workers to build a great wall. It's life imitating art this time, as Mitchell's plot point, and the song that goes with it, dates back to long before the current administration, though events of the past few years add an extra chill when the underworld god sings into a broadcast microphone, "We build the wall to keep us free... Because we have and they have not / Because they want what we have got."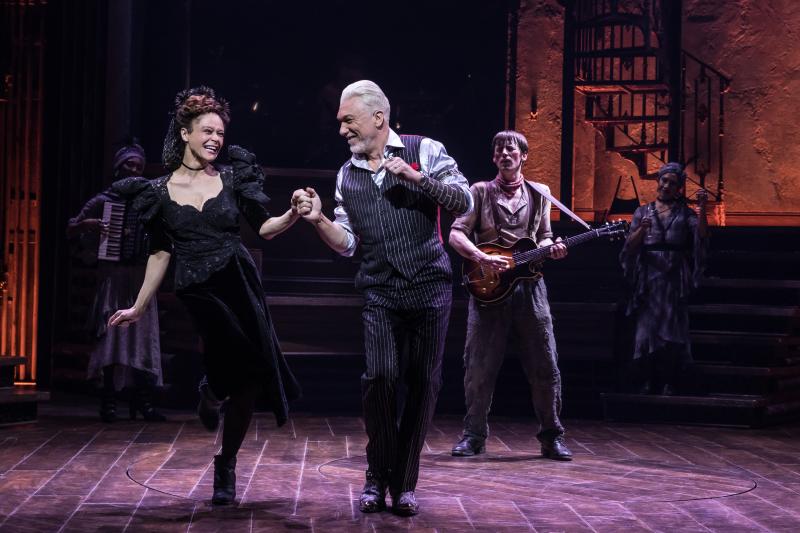 His wife, Persephone, goddess of the seasons, hasn't been happy with their marriage since hubby lost all sense of romance, and lives for the six months out of every year where she stays among the living, bringing warmth and blossoms and lots of good wine. Amber Gray commands every moment she's on stage with vivacious energy, a crackling comic delivery and a torchy growl to her singing voice that helps brings down the house with her cabaret style second act opening, "Our Lady Of The Underground."
Finally, we're introduced to the young pair whose love sets the show into its entrancing motion. Played by Reeve Carney as a sweet, callow youth, Orpheus' first words to the streetwise and suspicious Eurydice (Eva Noblezada) are "Come home with me," an innocent offer of marriage. Though she twists his self-description as a singer who plays the lyre to mean he's a player and a liar, she quickly falls in love with the lad whose music is said to charm all living things, though he can't quite seem to finish the words to his song.
The admittedly thin plot has Eurydice condemned to spend eternity as a worker in Hades' domain (it appears as though they may be mining for "good, clean coal") and Orpheus venturing to take her back, a move that touches the seemingly heartless god and reminds him of better times with his wife. But happy endings aren't gained easily, if gained at all.
If the story loses steam a bit in the second act, the storytelling doesn't, and at the center of Hadestown is the theme of why we repeat the songs and stories that we've heard and sung countless times before. As she did with her excellent staging of NATASHA, PIERRE & THE GREAT COMET OF 1812, Chavkin turns her cast into an irresistible community of storytelling entertainers, carrying on their traditions even after they've taken their bows. Working with a turntable floor, she and choreographer David Neumann create a striking array of visuals, particularly when a group of hanging lamps appear to be choreographed as they swing above the audience.
Mitchell's score is a feast of traditional American styles, climaxing with the raucous gospel singalong, "Way Down Hadestown." Don't be surprised if you're taking a late night stroll on Grove Street sometime soon and hear the 3am crowd at Marie's Crisis belting this one into the night.