Review: NYGASP Delights Aboard Gilbert & Sullivan's Love Boat, H.M.S. PINAFORE
Ninety-nine years before television producer Aaron Spelling first invited viewers aboard "The Love Boat," Gilbert and Sullivan made good on their promise of shipboard romance with their enduring hit, H.M.S. PINAFORE.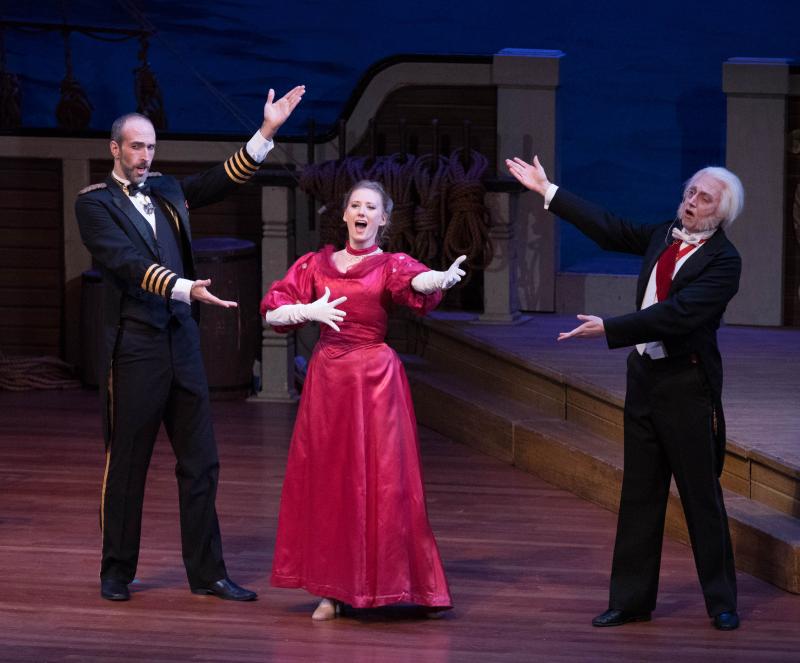 The fourth collaboration between the celebrated pair, their frivolous 1878 romp (subtitled "The Lass Who Loved a Sailor") premiered at London's Opera Comique, and is still a treasured part of America and Britain's shared popular culture.
Even those who have never seen the operetta performed might recognize composer Arthur Sullivan's dainty waltz for "I'm Called Little Buttercup" or librettist W.S. Gilbert's wry exchanges between crew and captain in "I Am The Captain of The Pinafore." ("What, never?" "Hardly ever.") And cereal lovers of a certain age surely fondly recall the melody of "I Am The Monarch of The Sea" as the one used for the Cap'n Crunch jingle.
Naturally, H.M.S. PINAFORE has for decades been a popular entry in the repertory of the 44-year-old New York Gilbert & Sullivan Players. Their holiday engagement at Hunter College's Sylvia and Danny Kaye Playhouse is mounted by the company's artistic director, Albert Bergeret, who also conducts the 25-piece orchestra. As always, the colorful merriment is presented in the traditional D'Oyly Carte style.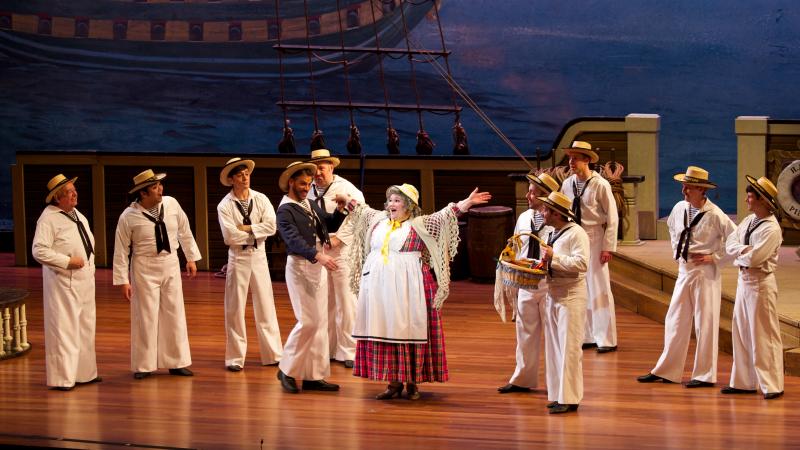 With all the action taking place on the ship's quarterdeck, the story concerns a pair of unspoken romances that dare to cross social class boundaries. The very proper Captain Corcoran (sweet-voiced baritone and very funny, David Auxier) has his eye on the common bumboat woman, Buttercup (delightful Angela Christine Smith). His daughter, Josephine (Kate Bass, sporting an exuberant soprano), has fallen for low-ranking sailor Ralph Rackstraw (charmingly earnest Cameron Smith), but she is promised to be wed to Sir Joseph Porter (dodderingly comic James Mills), First Lord Of The Admiralty.
But the message of the evening is that love levels all ranks, and topsy-turvy happenstance ensures that couples are properly matched by the final curtain.
As is traditional with Gilbert & Sullivan operettas, a few contemporary references are snuck into the text for some inside humor. In a second act scene, with their characters sufficiently inebriated, Mills and Auxier indulge in some inspired banter that quotes the White House resident's sarcastic tweet about "good old Global Warming."
Porter's advice for the former colonies is to Make America Great Britain Again, before making a "Brexit, stage left."