Review: Michael Urie and Mercedes Ruehl Sing Out Triumphantly in Harvey Fierstein's TORCH SONG
"We opened for an eight-week limited engagement and could not give a ticket away for three weeks."
That's how Harvey Fierstein described the giant leap of faith that, in 1981, brought a trio of his one-act plays that had each premiered separately on East 4th Street at the basement of Ellen Stewart's La MaMa, E.T.C., to an Off-Off-Broadway mounting on West 62nd Street, produced by John Glines' non-profit company, The Glines.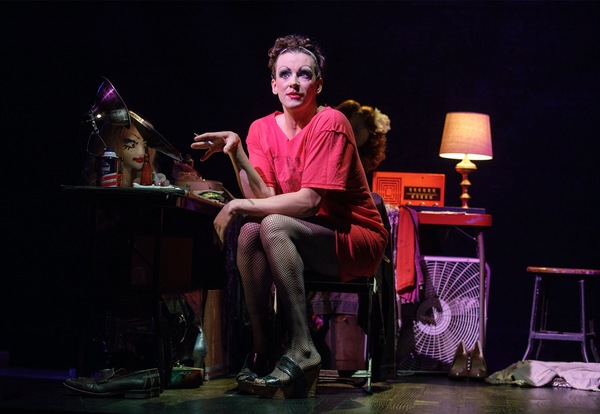 "The International Stud," named for a popular gay bar on Perry Street, was the first of the trio written and draws heavily on Fierstein's years as a Greenwich Village drag performer. The playwright appeared himself as Arnold Beckoff, a gay, Jewish, cross-dressing entertainer with a romantic heart and a hopeful view of romance. Working in a venue known for its back room where men engage in anonymous sex, Arnold knows that the emotional passions expressed in beloved 1920s torch songs are rare to come by.
The play chronicles his latest disappointment, an affair with an attractive bisexual named Ed who is hesitant to stray too far from the heterosexual side of the equation.
The playful middle piece, ''Fugue in a Nursery," takes place on an enormous bed, which represents the country home where Arnold and his new boyfriend, a model named Alan, are visiting Ed and his new girlfriend, Laurel.
Finally, "Widows And Children First" introduces Arnold's devoted, but overbearing mother, who still has her heart set on her boy turning straight. Alan is no longer around and, on a visit Arnold's apartment, Ma discovers that he's been living as a father to a gay teenage boy with a troubled past, hoping to adopt him.
Fully-fleshed, sympathetic gay characters who could be defined by much more than their sexual preference were not a staple of commercial theatre in the early 1980s, so when the four-hour long production known as Torch Song Trilogy moved to the high-profile Actors' Playhouse, a hop away from Sheridan Square, many felt that would be best that can be expected.
But with his sincere, self-effacing humor, unique gravelly voice and charismatic everyperson stage presence, Harvey Fierstein became one of Broadway's great crossover artists, taking gay-themed plays and openly gay characters from little hole-in-the-wall downtown theatres to Broadway's Little Theatre. At the 1983 Tony Award ceremony, Fierstein took the award for Best Actor, Torch Song Trilogy won the prize for Best Play and John Glines made history by thanking "my partner and my lover, Lawrence Lane," on network television.
Nearly forty years after audiences were introduced to Arnold Beckoff at the premiere performance of "The International Stud," the fellow who goes by the stage name Virginia Ham is back in town. Though his story is still told in three one-acts, the title has been cut down to Torch Song and Fierstein has shaved about an hour from the running time to suit 21st Century attention spans.
Michael Urie, so engaging and warm as the obsessive Streisand fan in the solo play BUYER & CELLAR, and manically funny starring in the recent revival of THE GOVERNMENT INSPECTOR, is about the polar opposite of the role's creator and originator. Graceful and perky, as opposed to Fierstein's more grounded presence, he proves a terrific choice, exuding a fluttery energy that draws you in, mixed with intriguing moments of intense wisdom.
In the climactic moment, he demands from his mother what he has rarely received from a lover; respect.
Adding beautifully to that climax is that his mother is played by an actor known for generating stage electricity, Mercedes Ruehl. In a role that can easily be played for its boulevard comedy wisecracks, Ruehl, while not ignoring what's funny, keeps us aware that Ma takes it as a personal humiliation that her son is gay, something that, decades ago, was more widely viewed as a lifestyle or a choice. The seriousness with which Ruehl's Ma finally lashes out at Arnold makes for a shocking moment where it seems clear that she feels she is the abused one in their relationship.
If director Moisés Kaufman's production slags a bit, it's because the volatile chemistry between Urie and Ruehl is lacking between the leading man and Ward Horton's Ed, which is the play's major relationship.
Roxanna Hope Radja and Michael Rosen do nice work in their small roles of Laurel and Alan, and while Jack DiFalco adds some fun eccentricity as foster kid David, he looks far too mature to be playing the 16-year-old character.
But Fierstein wrote a gem; funny, touching and quite noble. And with Urie at the center and Ruehl thickening the drama, this TORCH SONG often sings out triumphantly.