BWW Review: Melissa Gilbert and Mark Kenneth Smaltz Ponder Forbidden Romance in IF ONLY
Snuggled at the curve of a quiet little Greenwich Village side street, the quaint and historic Cherry Lane Theatre is a perfect spot to engage in a quiet little drama.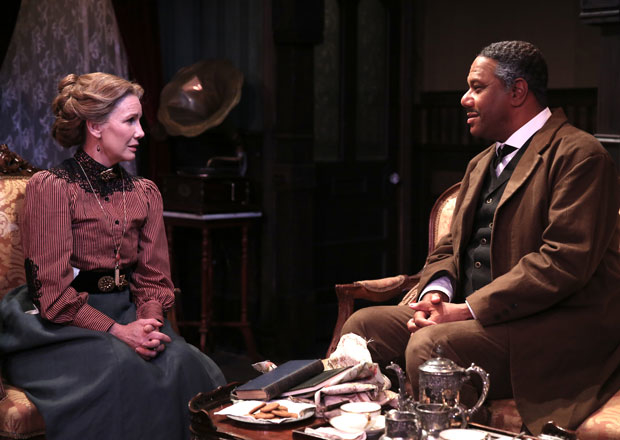 And Thomas Klingenstein's drawing room period piece of forbidden romance, If Only, certainly contains an intriguing enough story to provide a bittersweet diversion.
The year is 1901, and, after a chance meeting, New York socialite Ann Astorcott (Melissa Gilbert) has invited a man from her past, history professor Samuel Johnson (Mark Kenneth Smaltz), to her parlor for afternoon tea. Her husband is rather conveniently away on business.
It's been thirty-six years since they've last seen each other, and they owe their introduction to no less than Abraham Lincoln, who ask Ann, a hospital nurse, to treat Samuel, a wounded Union soldier.
The bulk of the 85-minute play is a conversation that details their past love affair, but the audience can see instantly why it didn't work. Ann is white and Samuel, who escaped slavery and joined the 54th Massachusetts Voluntary Infantry, is black.
We learn in school how the assassination of Abraham Lincoln affected the future of the country as a whole, especially as it pertains to race relations, but to Ann and Samuel, that tragic event is what ruined all hopes that they could be accepted as a couple.
While there is a great deal of passion and danger in their situation, none of it comes through in Klingenstein's mundane dialogue. The lack of excitement and tension in Christopher McElroen's direction forces the drama to play at a lethargic pace.
Bookending the play are heavily symbolic moments with Ann and a young mute girl played by Korinne Tetlow. The child hasn't spoken a word since witnessing the death of her parents, and Ann has adopted her in hopes of breaking her silence.
Related Articles
After 20-odd years singing, dancing and acting in dinner theatres, summer stocks and the ever-popular audience participation murder mysteries (try improvising with audiences after they?ve (read more about this author...)