Review: Larissa FastHorse's Comedy of Social Justice Warrior Errors, THE THANKSGIVING PLAY
"There are many factors, grant and school board requirements that we need to fulfill with this piece," the director explains to the cast on the first day of rehearsal of a Thanksgiving play for children.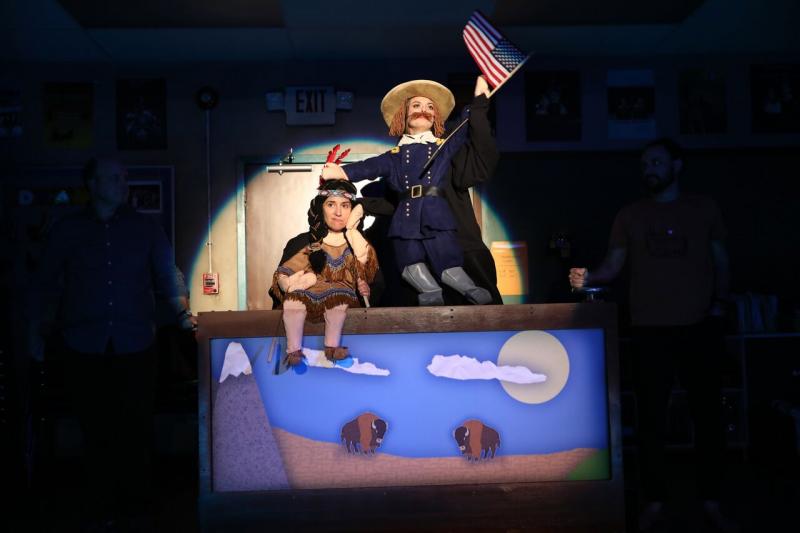 "I am a vegan so that subject is especially sensitive for me. However I want to lift up the acknowledgement that although my sensitivity about the slaughter of millions of animals, including forty five million turkeys, is valid, I am conscious of not allowing my personal issues to take up more space in the room than the justified anger of the Native people around this idea of Thanksgiving in our post-colonial society"
In Larissa Fasthorse's comedy of social justice warrior errors, The Thanksgiving Play, public school teaching artist Logan (Jennifer Bareilles) is under extra pressure to come through with a successful piece for this year's All School Turkey Trot, after her production of THE ICEMAN COMETH with a cast of 15-year-olds resulted in a petition from 300 parents calling for her firing.
Her street performer boyfriend, Jaxton (Greg Keller), a yoga enthusiast and "vegan ally" presents her with a first day of rehearsal gift; a water bottle made from recycled glass from broken windows of housing projects.
Instead of working from a prepared script, it's Logan's intention to create a piece devised through improvisation and input from the company.
"It's the wave of the future in theater," says Jaxton. "I mean actors in Sweden haven't touched a script in years."
Towards that end, elementary school history teacher Caden (Jeffrey Bean) has gathered plenty of information that tells the true story of the colonization and conquest of the American continents, debunking the Eurocentric view of the holiday taught in schools.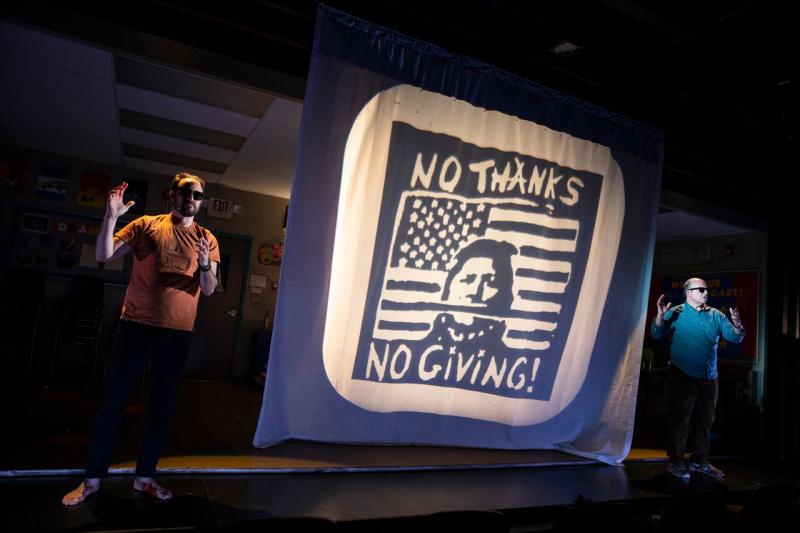 The three of them are white, but Logan has been awarded a Native American Heritage Month Awareness Through Art Grant, allowing her to hire an Indigenous professional actor. Her Gender Equity in History Grant requires the inclusion of a lead female historical figure.
Enter Alicia (Margo Seibert), a Hollywood starlet hopeful who relies more on her looks than her talent to get ahead. ("I haven't opened a door or paid for a drink since I was sixteen. Hotness is privilege.")
Logan had assumed that Alicia could contribute an authentic Indigenous voice to the proceedings but it turns out that she is also white. Like any other job applicant, actors cannot be asked their ethnicity when auditioning for a role, and Alicia has six headshots used to get work as different ethnic types. Logan happened to cast her from her Native American headshot.
Since employees can't be fired because of their race, Logan is stuck with Alicia and now must figure out a way to create a play that is inclusive of the experiences of Indigenous people without having anyone representing them.
The cleverest part of The Thanksgiving Play is that the playwright, who is Sicangu Lakota, has addressed the issue of Indigenous people's history being excluded from American culture with a play populated by all white characters. (A note in the script says that people of color who can pass for white should be considered for all characters.)
Also very effective is the play's opening, where the company members, dressed for a Thanksgiving pageant, give an example of what might pass for educational activities these days by singing a cringe-worthy ditty. ("On the fourth day of Thanksgiving, the natives gave to me... Four bows and arrows, three Native headdresses, two turkey gobblers, and a pumpkin in a pumpkin patch.) As announce by a character, the lyric can be found at www.childhood101.com/preschoolcountingsongs. (A visit to the website leads to a note saying the page no longer exists.)
Later on, we see a recreation of a 2001 performance from Eastside Charter Middle School of the Performing Arts, showing performers dressed as a Pilgrim and a Native singing patriotic anthems. The announced YouTube address for the video of the original performance no longer works.
But for the bulk of the ninety-minute play, the stereotypical characters appear built on their punchlines involving privilege, pronouns, microaggressions and some obligatory inside theatre jokes. ("Dramaturg! The holy grail of American theater titles.") It's all fairly familiar, but genial, and director Moritz von Stuelpnagel keeps the characters sympathetic.
We hear so much these days about plays and films looking at women and/or minorities through white and/or male eyes, so the concept of seeing well-meaning white liberals through the eyes of a member of a group they're trying to support is a subject ripe for meaningful satire. But despite some interesting moments and a few good laughs, The Thanksgiving Play dilutes the concept into pretty standard sketch comedy.