Click Here for More Articles on LOBBY HERO
BWW Review: Kenneth Lonergan's LOBBY HERO Debates Doing The Wrong Thing For The Right Reason
The best news coming out of 44th Street these days is that the refurbishing of the Helen Hayes Theater has been completed and that Second Stage, while retaining its longtime Off-Broadway home one block down, has set up residency, making the intimate playhouse Broadway's only venue exclusively dedicated to works by living American authors.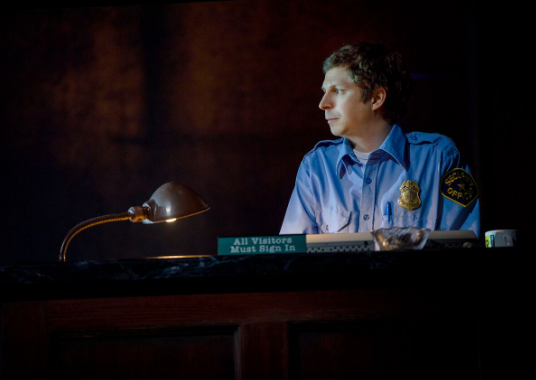 On the schedule for this summer is STRAIGHT WHITE MEN, which will make Young Jean Lee Broadway's first woman playwright of Asian descent, followed by a transfer of the company's earlier revival of Harvey Fierstein's groundbreaking TORCH SONG.
But first comes director Tripp Cullman's terrific mounting of Kenneth Lonergan's touching, funny and streetwise character study from 2001, Lobby Hero, featuring an excellent ensemble of four.
Set in the lobby of a middle-income Manhattan high-rise (during midnight hours, explaining the lack of foot traffic), the title may refer to the way the play's central character sees himself, or at least aspires to be. Uniformed security guard Jeff (confused and conflicted Michael Cera) has been trying to get his life together after being kicked out of the Navy for smoking grass. While he can be a bit of a slacker on the job (he has a well thought out method that allows him to sleep at his desk without getting caught), he's excited that, after nine months of steady work, he's finally going to be able to start settling his debt to his brother and move into his own apartment.
His boss William (tough, compassionate Brian Tyree Henry) gives him a hard time for the sloppy appearance of the front desk and his failure to log in every police visit correctly, but he sees potential in the young man and wants to help him achieve it; even offering self-help books to motivate him.
Those police visits are mainly from beat officer Bill (Chris Evans, giving real depth to his strutting macho character), who claims his frequent trips to the 22nd floor are to visit a friend, while Jeff knows he's really making time with a prostitute.
English actor Bel Powley sports a totally convincing Bronx accent as Bill's rookie partner, Dawn, who has grown a crush on the confident, handsome guy. Though she recently sent a large, drunk man who was charging after her to the hospital with a quick strike with her club, in the play her voice and physicality convey such uneasiness that, when she's not around, her partner describes her as a "little girl" in a uniform.
Jeff has a crush on Dawn and when Bill leaves her in the lobby while he makes his visit, the young man awkwardly hits on her in manner that could be regarded as harassment, though the next time they're together, she mentions that she likes him. (That old romantic comedy tradition that the "nice guy" can get away with anything as long as the other guy is worse.)
What sets the plot in motion is a series of moral dilemmas. William's brother has been arrested for the rape and murder of a single mom and has lied to the police, saying the two of them were at the movies when it happened. William doesn't believe his brother capable of such a thing and intends to tell the truth when asked, but as an African-American he knows that the legal system is stacked against people like them. After meeting his brother's seemingly incompetent court-appointed attorney, William has to consider if the truth really leads to justice.
Meanwhile, Dawn is under investigation regarding the man she hospitalized. Bill's testimony that the force she used was necessary would end the matter promptly, but his good word becomes dependent on his partner having sex with him. Dawn feels she can't report his actions because it's already known in their prescient that the two of them had been intimate.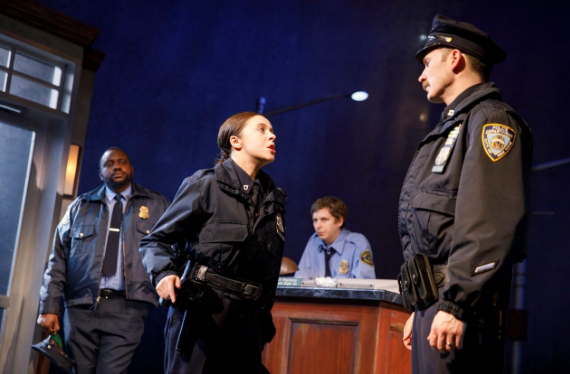 Bill's reason for trying to coerce Dawn into sex may seem like a ridiculous excuse, but, especially as handled by Evans, it's believable that he feels justified. As a veteran of what he observes to be a corrupt system, his credo is that good people sometimes must do the wrong thing to fight against it and achieve what's right.
But Jeff, who turns out to be privy to too much information, cannot decide exactly what is the right thing to do.
Lonergan's dialog is sharp and realistically funny, and the question of moral ambiguity when working against structured corruption is intriguingly well-played. Lobby Hero is a play that will inspire a lot of post-theatre debate, but there's no question that this one's a solid dose of good theatre.