Review: Kelli O'Hara, Will Chase Star in a KISS ME, KATE That Offers Another Rewrite, Another Show
Buried amongst the over twenty names receiving the smallest-sized billing for their contributions to Roundabout Theatre Company's hot new revival of Cole Porter and Sam & Bella Spewack's masterpiece of kick-back musical comedy entertainment, Kiss Me, Kate, is the credit "Additional Material" with the name of the accomplished Broadway lyricist Amanda Green written below.
Back in December of 1948, when Kiss Me, Kate premiered on Broadway, the credit "Additional Material" might have gone to someone who punched up the script with a dozen good jokes or helped fix a troublesome second act.
Here it means making a significant change in the tone of the piece by tweaking and cutting dialogue in the cause of eliminating what some perceive as inherent sexism within the show's backstage story of tempestuous ex-lovers starring in a musical based on Shakespeare's THE TAMING OF THE SHREW.
Green's innocuous billing owes to the fact that those who hold the rights to the Spewacks' output don't allow for more. This was also the case for the substantially revised 1999 Broadway revival, where those out of the loop might be led to believe that the comedy masters penned those horrible anachronistic jokes about gun control, Thomas Dewey, Noel Coward and Republican cloth coats. (Three of the four remain in this version.)
The matter all started in the early 1590s, when The Bard penned his comedy about a befuddled drunkard who is entertained by a troupe of players with a story of three gentlemen of Padua competing for the hand of a sweet young lady named Bianca. Her father won't allow her to wed until her older sister, Katherine, who is prone to angry and physically violent outbursts, is married. It seems an impossible task until a gold-digging braggard named Petruchio arrives in town to take on the challenge of "taming" Katherine and marrying her for a bountiful dowry.
Flash forward about 350 years and we're in a time when people actually thought Broadway's champion of fizzy sophistication, Cole Porter, was washed up, as the Rodgers and Hammerstein style of musical theatre as well-crafted drama had earned favor with the public over the light-minded star vehicles he was associated with.
But then came Kiss Me, Kate, with a plot inspired by theatre buzz about a production of "Shrew" where husband and wife stars Alfred Lunt and Lynn Fontanne had allowed some residual anger from a marital squabble to work its way into the more confrontational scenes.
The master reinvented himself with a sumptuous score that crackles with his signature wit while fully enhancing the story and character development, highlighted by evergreen gems such as "Another Op'nin', Another Show," "Too Darn Hot," "So In Love," "Always True To You In My Fashion" and "Brush Up Your Shakespeare."
The book was credited to the popular husband and wife playwriting team of Sam and Bella Spewack, but, as cited by Anne Melissa Potter in an excellent article based on her research in the Samuel and Bella Spewack Papers at Columbia University's Rare Book and Manuscript Library, it was Bella Spewack who was the primary author, devising the story of exasperated egomaniacal actor/director/producer Fred Graham, who is trying to score a Broadway hit with a musical version of Shakespeare's knockabout farce starring himself and ex-wife turned movie star Lilli Vanessi. Though Lilli is touched by the flowers delivered from Fred's dresser on the first night of out-of-town tryouts in Baltimore, in the middle of the performance she discovers they were actually meant for Lois Lane (Yup - that's the character's name.), the frisky young nightclub singer to whom Fred is giving her first break in legit theatre. All hell breaks loose onstage and off as the angered Lilli, who was starting to recapture old feelings about Fred, takes revenge on her ex through the more physical scenes between Katherine and Petruchio.
Potter explains how the archives reveal that Bella Spewack had devised a more progressively-viewed version of Katherine, which was abandoned when the (male) powers that be opted for a more traditional (shrewish, you might say) presentation of the character.
This reviewer will leave it to others to decide if Green's revisions, along with director Scott Ellis' likeminded staging, make the piece more palatable for those who would find aspects of the 70-year-old musical unsuitable for 21st Century audiences, but, despite his distaste for changing the work of deceased playwrights, will readily admit that for the most part, their efforts work very well to switch both the Fred & Lilli and Petruchio & Katherine stories from rowdy farces to a sweeter romances.
Of course, such issues can be momentarily set aside during the few minutes when Kelli O'Hara's glisteningly mature soprano and impeccable lyric phrasing caress Porter's sublime ballad of being haunted by long-forgotten pangs of romance, "So In Love." It's a moment, as they say, that's worth the price of admission alone.
Ellis has O'Hara playing up to her strength as a charmer in a role that's usually highlighted by broad comic moments. When Lilli sing's Katherine's big solo, "I Hate Men," the audience can see a pewter beer stein placed on a table upstage of her, a reminder of the number's traditional staging with the angry Paduan slamming the container on a table and hurling it at unfortunate passers-by. In this version, however, the lady is far more in control of her emotions, and a different concept for the number comically justifies her disdain for the gender.
Though he first gained attention as a Broadway rock star in shows like RENT, AIDA and LENNON, Will Chase has been developing into quite the appealing leading man, particularly with his Encores! performances in BELLS ARE RINGING (opposite O'Hara) and PIPE DREAM, where he sang with a sexy 1950s pop crooner style.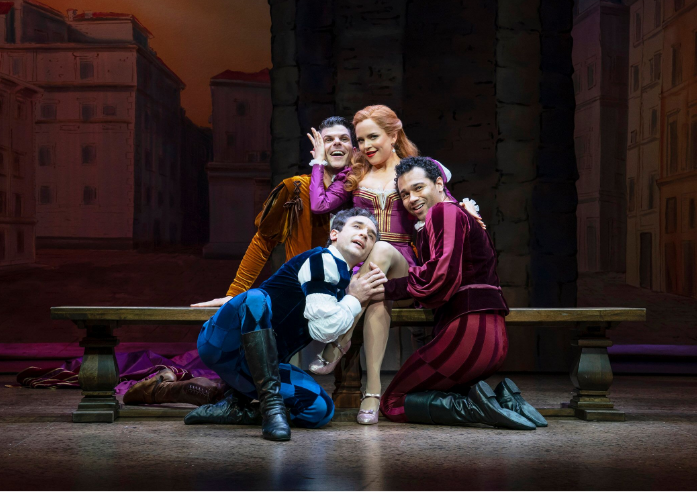 That style is put to great use in his somewhat boyish take on Fred's Petruchio, particularly when flirting with the audience as he sings of his past flings in "Where Is The Life That Late I Led?" But he can also turn on the smoldering passion, as he does so captivatingly in Porter's alluring rumba, "Where Thine That Special Face."
Green's best contribution comes in the second act scene where Lilli's military fiancé (Terence Archie, in a role created for the '99 revival) arrives to escort her from the theatre. Hearing him telling Lilli that once they're married he expects her to give up acting and the glamourous lifestyle she leads inspires Fred to casually start quoting from Shakespeare's play, recognizing the real-life Petruchio in his ex's future.
The most recognizable change (aside from the elimination of the onstage moment when a fed-up Fred takes Lilli over his knee and spanks her) comes in the final scene, which, in 1948, Porter and the Spewacks lifted directly from the original.
Petruchio's command that Katherine, "tell these headstrong women what duty they do owe their husbands," has been altered to "tell these headstrong lovers what duty they owe their mates." Her response, "I am ashamed that women are so simple," is now "I am ashamed that people are so simple," and the fellow no longer calls her a wench before they embrace.
The question here is whether these changes from Shakespeare's words have always been a part of the musical within a musical's script, or if Fred and Lilli are ab-libbing them. The moment would have a greater impact if there was a first act scene where Lilli expressed dissatisfaction with having to speak the 16th Century words, but then, nobody's asked me to provide additional material.
The rest of the show pretty much breezes along with terrific performances of classic material. John Pankow and Lance Coadie Williams land their laughs as a pair of gangsters who arrive at the theatre to collect a gambling debt and find themselves delighted with the "high-class entertainment." (Oddly, one of the boys' biggest laughs, coming just before the end of Act I, has been cut.) Adrienne Walker, as Lilli's dresser, gets the evening to a rousing start, leading the company in "Another Op'nin', Another Show" and James T. Lane, as Fred's assistant, helps the second act start with a sizzle, performing similar duties with "Too Darn Hot."
Corbin Bleu lights up the stage with jaunty sex appeal via Warren Carlyle's flashy choreography as Bill, the misbehaving nightclub hoofer who's casually involved with Lois. In the musical "Shrew," the two of them are joined by Will Burton and Rick Faugno for a wild dance sequence set to Porter's "Tom, Dick or Harry." The perpetual hip-thrusting that accompanies every uttering of the name "Dick" may go a little overboard, but it got plenty of laughs the evening this reviewer attended.
Stephanie Styles makes a fabulous Broadway debut as Lois, playing the thickly New York accented showgirl with great comic flair and stealing the second act with her number listing the character's multitude of sugar daddies, "Always True To You In My Fashion," which, unfortunately has been edited down for this production.
To cut "Mr. Fritz is full of Schlitz" is a shame. To cut, "If a Harris pat means a Paris hat" is a crime against God and musical theatre.