BWW Review: Jerry Herman's MILK AND HONEY Gets A Spirited Concert Staging at The York
When Jerry Herman was pegged by producer Gerard Oestreicher to write the score for a Broadway musical set in the fledgling State of Israel, he was a 28-year-old composer/lyricist mostly known for writing clever lyrics and snazzy tunes for Greenwich Village topical reviews like NIGHTCAP and PARADE. But now, instead of writing for hip, downtown performers like Charles Nelson Reilly and Dody Goodman, he'd be penning a romantic score for opera stars Mimi Benzell and Robert Weede, with special comic relief material for Yiddish Theatre legend Molly Picon.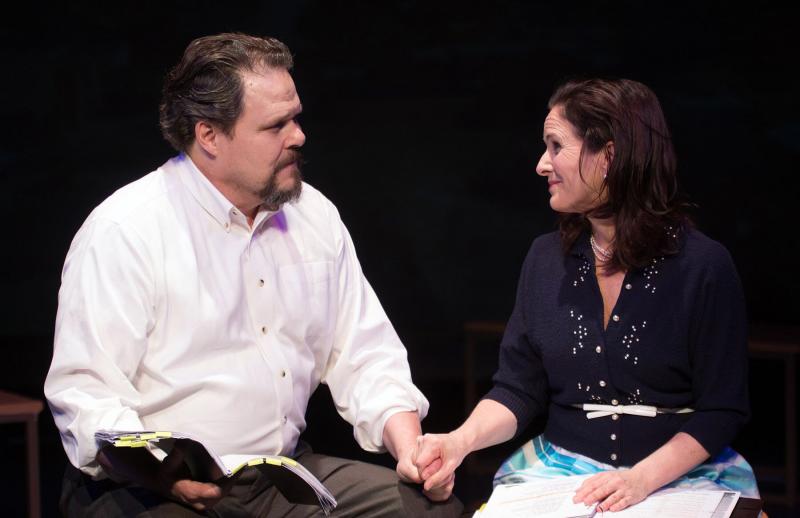 MILK AND HONEY was a solid hit that 1961-62 season, running for 543 performances, with Herman's first full Broadway score earning a Tony nomination and the show itself nominated for Best Musical. Though time has not been kind to playwright Don Appell's book concerning the romantic escapades of a tour group of Jewish American widows in the Holy Land, the score is impressively varied, with hints of the classics to come.
There's the first example of a catchy Jerry Herman title song and the sweet, optimistic waltz, "Shalom." Picon, playing an outspoken yenta, had a humorous tango where she asked her late husband for his approval when she finds a new man courting her, much like the sentiments expressed by the title character of HELLO, DOLLY! There's even a trademark Herman dramatic ballad, "Let's Not Waste A Moment," sung by a middle-aged man encouraging his new middle-aged love to embrace romance even "when you face a short forever."
The York Theatre Company's bare-bones concert staging of Milk and Honey, the latest entry of their popular Musicals in Mufti series, was put together, as the union requires, with a mere thirty hours of rehearsal time and was performed at Sunday afternoon's press preview with scripts in hand. But the talented company belted each moment with gusto, giving audiences a rare opportunity to get a taste of this historic show.
The State of Israel was in its bar mitzvah year when Milk and Honey opened, and Oestreicher sent his young writers to the Promised Land to help them get a better feel for the culture of the people building their new nation. Perhaps the most useful bit of knowledge they brought back was the casual attitude the rural pioneers had toward the need for a marriage ceremony, since rabbis were scarce and expensive to obtain. Thus when American Phil (Mark Delevan), who is long separated from a wife who won't grant him a divorce, falls for fellow American Ruth (Anne Runolfsson), who is widowed, he proposes they stay in Israel to live as a couple, since their neighbors would be accepting.
Delevan's beautiful husky baritone caresses Herman's tuneful ballads and his solos are a highlight of the evening. Runolfsson does fine, dignified work as the pensive woman hesitantly dipping her toe back into romance, but she has to tend with an underwritten role that mostly plays straight for the colorful crew surrounding her.
Perhaps the book's biggest shortcoming stems from the fact that Picon was more of a popular attraction than her co-stars, and her secondary character, a husband-seeking tour leader, was beefed up (corned beefed up?) with comic material that sporadically halts the progress of the plot. But Alix Korey is a specialist at playing funny Jewish ladies and she nails every laugh and musical moment solidly.
Director Michael Unger comes up with a humorous solution to the script's requirement of a live goat, and adds some good-natured audience participation to make up for the production's small ensemble.
Don't look for a Broadway revival of Milk and Honey any time soon, but the York's charming production offers a fun look back at a musical theatre master's first major venture.