Click Here for More Articles on ENCORES!
BWW Review: Encores! Serves Up Delicious Mounting of Cult Favorite THE GOLDEN APPLE
In the late-night hours of June, 14, 1994, when hockey's New York Rangers won their first Stanley Cup championship in 54 years, there were fans visiting the gravesites of loved ones, armed with six-packs of beer and radios, to share with long-gone fans a moment they thought they might never live to see.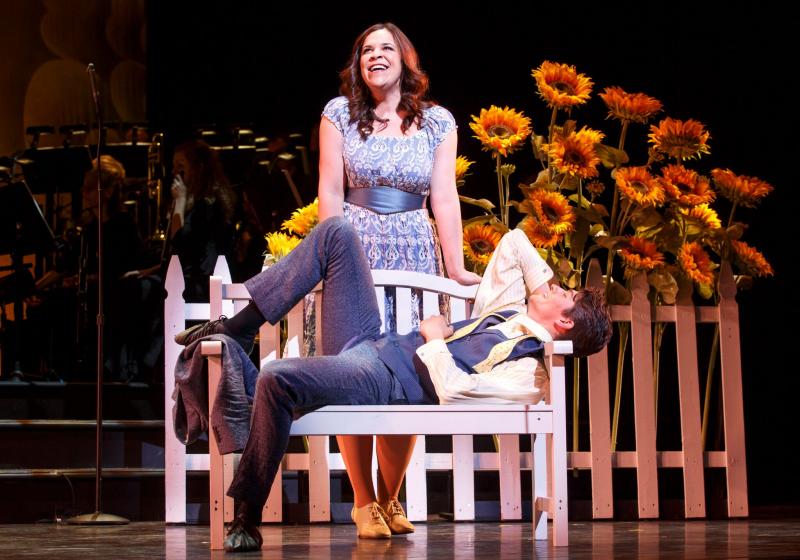 I imagine if there was a live broadcast of Wednesday night's opening performance of the Encores! production of THE GOLDEN APPLE, there might have been a few musical theatre fans venturing out to the city's cemeteries, perhaps sporting a bottle or two of prosecco, to also share with loved ones a moment they thought they might never live to see.
This is a show that Broadway lovers have been begging Encores! to do ever since the City Center company began presenting concert mountings of rarely-revived musicals in February of '94. Despite positive reviews, it only ran for three and a half months at the Alvin Theatre after transferring in April of 1954 from Off-Broadway's Phoenix Theatre. But the score was preserved in an original Broadway cast recording that has helped it accumulate a passionate following. The phrase "cult musical" might have been created for THE GOLDEN APPLE.
Perhaps it was an early case of Off-Broadway quirkiness not quite jibing with Broadway audiences. After all, it was a musical retelling of the story of Ulysses and Helen of Troy, back when that was an original idea.
Bookwriter/lyricist John Latouche mixes literary wit with hearty folksiness as he sets the scene in the first decade of the 20th Century, when soldiers with names like Ulysses, Homer and Agamemnon are returning from the Spanish-American War back to Angel's Roost, a rural Washington State locale at the foot of Mt. Olympus.
All the fellas are crazy about Helen, though unlike the way the Greeks tell it, in this case she's a fun and rowdy gal; way more than just a pretty face who launches ships. But while they were off to war, she married the older, wealthier Sheriff Menelaus.
Longing for adventure, Helen runs off with a traveling salesman named Paris, who arrives in town via a hot air balloon. He takes her back to the tawdry town of Rhododendron, a playground for the gods run by its showman mayor Hector.
To the dismay of his wife Penelope, Ulysses sets out to Rhododendron to bring Helen Back, but Hector encourages him to stay and enjoy the delights of his domain.
Composed for a combination of legit voices and Broadway belters, Jerome Moross' score is a crazy mix of classical jazz, operetta, folk, vaudeville and showtune, with Helen's languidly sexy "Lazy Afternoon" being its most enduring selection.
Encores! music director Rob Berman leads a 31-piece onstage orchestra - more than half of them on strings - playing Moross and Hershey Kay's original orchestrations; an excitingly eclectic Americana sound that's rarely heard on Broadway.
As is often the case when Encores! produces Golden Age musicals, the production values of director Michael Berresse's spirited production may be modest by today's standards, but the festive visuals by scenic designer Allen Moyer and costume consultant William Ivey Long are in the spirit of replicating the experience of attending theatre when the focus was on innovative writing and imaginative staging.
Lindsay Mendez shines brightly as Helen, a role originated by Kaye Ballard, singing with warmth, humor and gleeful sexuality. Ryan Silverman's Ulysses is a traditionally virile-voiced baritone, well-match with Mikaela Bennett's strong dramatic soprano as Penelope. Barton Cowperthwaite doesn't utter a sound as Paris, dancing the role with sexy balletic strides choreographed by Joshua Bergasse. With such a varied score, Bergasse's work throughout the show ranges from acrobatic ballet to jazz to buck and wing.
There are plenty of juicy supporting roles to go around and Encores! has gathered a top cast to play them. Alli Mauzey, Ashley Brown and Carrie Compare are a trio of proper town ladies in act one who get to break out as goddesses performing specialty numbers in the second half. N'Kenge is a dazzler as an eccentric soothsayer who promises a golden (wire) apple to the winner of a county fair bake-off.
Jeff Blumenkrantz is a comical dullard as Sheriff Menelaus, but when in Rhododendron he and Jason Kravits (as a gritty vaudevillian Hector) partake in a kooky Gallagher and Shean parody number as Scylla and Charybdis.
Though over sixty years old, THE GOLDEN APPLE is a musical that retains its youthful vim with its consistent cleverness. While a commercial Broadway revival is always a risky venture, perhaps a high-profile Encores! production may prove to be what's needed to inspire high school and regional productions. This one deserves a far greater following.