BWW Review: Company XIV's Erotic Holiday Treat NUTCRACKER ROUGE Christens Their New Brooklyn Home
For over a decade, the unquestionably brilliant director/choreographer Austin Mccormick's Company XIV has been dazzling audiences with unexpected wonders.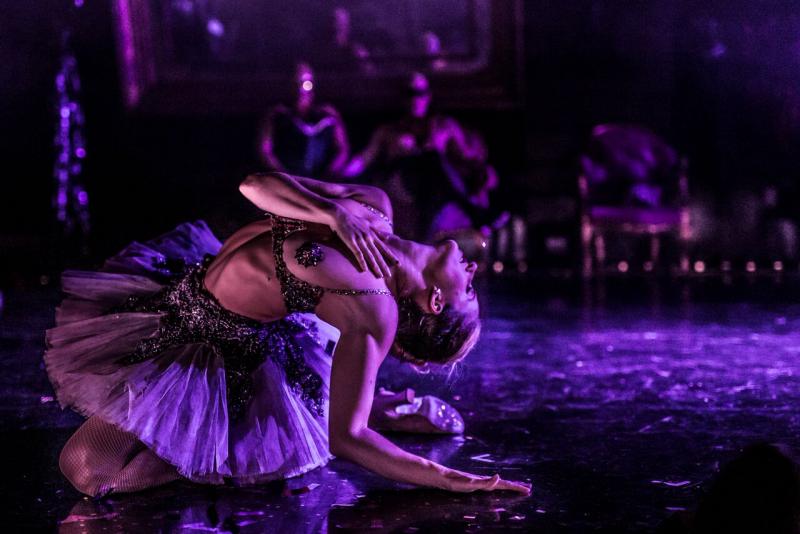 So it really shouldn't be a surprise that their new home, just around the corner from the L train's Jefferson Street stop, is an unexpected wonder located on an empty industrial block of brick warehouses tagged with ancient graffiti.
Walk through the nondescript door with the theatre's name unobtrusively placed above, and suddenly you're taking in the sensuous sights and scents of an erotic theatrical playground populated by an extraordinary assemblage of classical dancers, actors, operatic vocalists, pop singers, circus performers and burlesque artists, all barely dressed in a style that mixes baroque, Folies Bergeres, Paris Opera Ballet and sex-positive toy store.
Named for the intimate and decadent private performances at France's Louis XIV's court, Company XIV's enticing and elegant pre-show atmosphere is a part of the company's signature style that has made them one of the most inventive and thrilling theatre companies in New York. While there is no minimum required, a bottle of champagne, or, better still, a glass of absinthe, provides a perfect accompaniment to the latest edition of their annual holiday classic, NUTCRACKER ROUGE.
Premiering eight years ago, NUTCRACKER ROUGE tells of the womanly, but naïve, Marie-Claire, who ventures forth to the Kingdom of Sweets for a luscious sampling of sugary goodness and discovers a world where shame has no power and joy is defined by freely succumbing to one's urges.
Though the story remains the same, McCormick reimagines the show every year, adjusting material for the artists he has at hand.
For the first time, this year's edition opens with figure skater Tilly Evan-Krueger, who glides on a portable surface to Josephine Baker's "Toc Toc."
Pole dancers Marcy Richardson and Steven Trumon Gray (portraying Harlequin and Columbine) seriously heat up the scene as they seductively maneuver their bodies to the music of Offenbach. Later in the evening the two perform awe-inspiring aerial acrobatics from a pair of lyra; one hanging above the audience.
Regulars at Company XIV productions always look forward to hearing Richardson's sterling operatic soprano holding high notes while her body undulates from above. I've never seen her receive less than a wild cheering ovation.
Vocalists Storm Marrereo and Cunio exude ravishingly royal sexuality and passionate tones as Madame and Monsieur Drosselmeyer, who guide Marie-Claire from delicious wonder to wonder.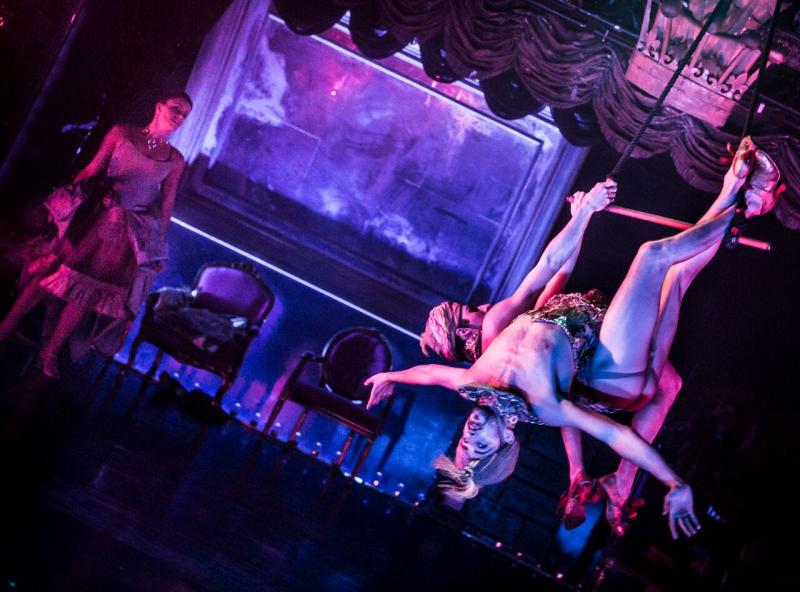 Two of those wonders are Turkish Delights Ross and Nick Katen, whose muscular bodies intertwine in a jaw-dropping trapeze act, and who later appear charmingly goofy as tap dancing candy canes.
Other entrancing dance moments include a trio of burlesque dancing candy cherries, a sexy ensemble of snowflakes, Cara Seymour as a bolero dancing matador and, of course, McCormick's traditional orgiastic can-can.
As Marie-Claire, Allison Ulrich interacts with each act with a combination of wonderment and a growing understanding of the lustful desires she's developing. Her spectacular finale is a solo of mature self-discovery set to Duke Ellington's "Sugar Rum Cherry" followed by a pas de deux with Lukasz Zieba's prince, set to Tchaikovsky, that combines classical ballet with barely controllable foreplay.
Since losing their once-permanent space to damages suffered from Hurricane Sandy, Company XIV has been quite nomadic, but their productions have remained spectacular displays of talent, packaged as sexy and tasteful fun. Hopefully, their easy-to-get-to new theatre will soon become a hot destination for New Yorkers and visitors seeking a unique and playful theatrical experience.
Related Articles
After 20-odd years singing, dancing and acting in dinner theatres, summer stocks and the ever-popular audience participation murder mysteries (try improvising with audiences after they?ve (read more...)