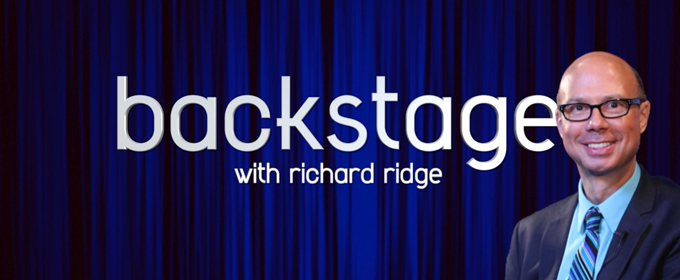 Click Here for More Articles on BACKSTAGE WITH RICHARD RIDGE
BWW Interview: Tommy Tune Discusses If He Would Ever Return to Broadway
Richard Ridge of "Backstage with Richard Ridge" recently sat down with the 2015 Lifetime Achievement Award recipient and Broadway legend Tommy Tune, to discuss his past work, getting started on Broadway and if he would ever return to the Great White Way.
Check out a sneak peek of the interview in which Tune discusses if he would return to Broadway and the incredible Tony Award season this year. Tune in on Sunday morning for the full interview!
---
On a personal note, Broadway and the American musical theatre could sure use your genius, now.
Oh the shows this year are so good. I'm going to see everything. I want to see everything before the Tonys. I want to know what every show is, so I'll know what to pull for and to see what people vote for. The shows are so good and there are so many new musicals. And we went into a time where there were lots of revivals and very few new musicals and this year we are getting back on track, I think.
But, would you like to come back to Broadway with a project?
If I found the right thing. You have to understand I have sustained a lot of loss in my personal life and well my personal life is the theatre, and all of the people I've worked with through the years, Wally Harper, Peter Stone, Tommy Walsh, Mike Nichols now, Betty and Adolph, the list is large and that was my team. Nobody can direct air you have to depend on so many people to give you what you need to make a show happen and they're gone. And it's so hard to start over with generations younger than me. And there is no shortcut and you are not really talking the same language or the same jargon and then there is this texting. I don't have a cellphone, I've never texted, I've never touched a computer, I talk on the phone and I write notes. This is from another time. This is... I'm obsolete. I don't know. I don't know if I ever should do that. I still have the lover and the passion for the theatre though so, it comes out in my support of it and my enjoyment of it. And I'm performing my show, my one man show, all over the country. I've done about 300 performances of it and I've gotten more bookings of it. I just got some more today, 2 weeks next year at The Colony in Palm Beach, they've asked me back. That is a lovely run there. It's nice there. So, I'm busy.
I've seen your nightclub act and your show so many times across the country, so beautiful. So, you get your fulfillment and your enjoyment out of that and bringing your life and staging. Telling people what you do and showing them.
I do. I do love it. Entertaining. I'm an entertainer.
---
Tune is one of the country's most prolific performer/director/choreographers. He began his career as a Broadway dancer in Baker Street, A Joyful Noise and How Now, Dow Jones. He has received Tony Awards for My One and Only (Actor and Choreography), Grand Hotel (Direction and Choreography), The Will Rogers Follies (Direction and Choreography), Nine(Direction), A Day in Hollywood/A Night in the Ukraine (Choreography) and Seesaw(Featured Actor). In addition, Mr. Tune has been awarded eight Drama Desk Awards, three Astaire Awards and the Society of Directors and Choreographers' George Abbott Award for Lifetime Achievement. He is the recipient of The National Medal of Arts, has been honored with his own star on the Hollywood Walk of Fame, and was designated a Living Landmark by the New York Landmarks Conservancy. He is currently touring the country in his one-man show Taps, Tunes and Tall Tales. www.tommytune.com
Related Articles