BWW Exclusive: David Moscow Shares His Secrets From NEWSIES on Its 25th Anniversary! Read All About It!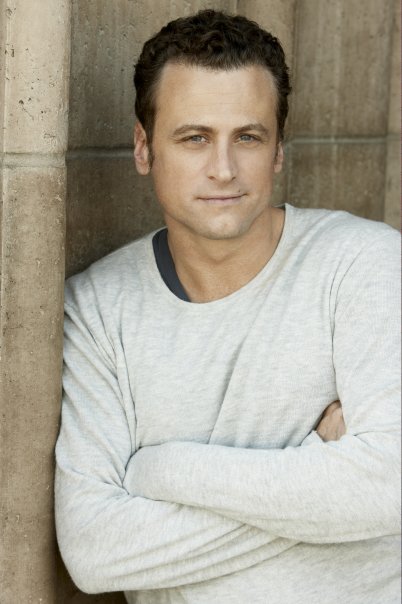 When David Moscow made his "Big"-screen debut in 1988, it was huge. Penny Marshall had plucked this precocious, 11-year-old kid from the Bronx to play the younger version of Tom Hanks' character, Josh Baskin. This comic fantasy-fable about a boy who literally became "Big" overnight, was a giant box-office hit. Moscow was nominated for a Young Artist Award for Best Young Actor in a Comedy. And in that same season, another kid won for Best Young Actor in a Drama: Christian Bale for "Empire of the Sun."
But not even Zoltar, the fortune-telling machine in "Big," could've predicted that Bale and Moscow later would co-star in "Newsies". They played Jack and Davey, two charismatic kids who led the 1899 newsboys' strike, in Disney's first live-action musical in ages - even though neither teen had sung or danced. This year marks the 25th anniversary of this cult classic, which opened April 10, 1992. Plus, Fathom Events is presenting encore screenings of the filmed Broadway version of "Newsies" on Aug. 5 and 9.
To celebrate this extra-special occasion, Moscow revealed to BroadwayWorld.com many of the highlights and hijinks behind the filming of the original "Newsies'': how a young Mos Def helped him land his dance audition; how he and Bale bonded as buddies and shared a movie trailer, and how this Bronx teen went toe-to-toe with Oscar winner Robert Duvall, who played Joseph Pulitzer, the newsboys' nemesis. But Moscow, now 42, has done much more than "Carrying the Banner" for "Newsies." He also dished about his Broadway debut with Faith Prince in 1994, and how he became the original producer of Lin-Manuel Miranda's ''In the Heights" in 2002-2003.
Currently, Moscow is an award-winning filmmaker. As an actor, he was the leading man of "David & Layla" (2005) and co-starred with Jessica Alba in "Honey" (2003). As a director, he has made "Desolation," a psychological thriller that's in negotiations for a January 2018 release. (In his Kickstarter campaign for this small indie, Moscow made a fun video based on "Big.") As a writer, he and his father, Jon Moscow, have spent the past six years on their screenplay, "Brown"; it's about the noted, 19th-century abolitionist, and is now in pre-production. As a producer, he has 11 credits to his name, including "Odessa" (2015), a sci-fi short that won a jury award at the Santa Fe Film Festival. Finally, like Davey in "Newsies," he believes in social justice and fighting for change. Moscow has developed green and economic housing in Harlem, and produced PSAs for Bernie Sanders, featuring Mark Ruffalo, Susan Sarandon and Josh Hutcherson.
---
Congrats, David, on the 25th anniversary of your "Newsies" movie! How's that feel?
It makes me feel old, for one. And it makes me feel blessed to have been in a cult classic. "Newsies" fans are, by far, the most excited fans out there. It's pretty wild. When they recognize me, the looks on their faces are so happy. A lot of performers have told me that they became dancers or singers because of "Newsies." It's a nice touchstone in American pop culture, and I'm lucky because I was a part of "Big," too. For somebody to have one [achievement like that] in their life is a huge coup; to have two is really neat.
When you first auditioned for "Newsies," is it true that Disney didn't tell you it was going to be a musical?
It's true. By the third audition, they asked me to sing a song and dance. I sang "Stand by Me" and did all the parts. For the dance, I had done an Off-Broadway play called ''The Black-Eyed Brothers" by Seth Z. Rosenfeld. And one of my co-stars was Dante [Terrell Smith], who later became the rapper Mos Def. In the play, he taught me to dance, and the play ran for a month, so I knew how to do that one 3-minute [routine]. The [auditioners] must've thought: "Omigod, this kid's a great dancer!" But I really had two left feet.
Had you ever sung or danced in school?
Oh, God, no! I came from a family of radicals. We're marchers. We go to demonstrations, but we're not dancers. And we're notoriously off-key as singers. When I found out "Newsies" was going to be a musical, it was the scariest thing. They had to convince Christian and me to do the movie. Kenny Ortega, the director, had wanted strong actors for the lead roles, so they told us that we'd get four months' rehearsal. Madonna's vocal coach was my vocal coach. In the dances, there are a lot of closeups of me and Christian, and then they'd cut away to the incredible dancers. We learned a number of moves and repeated them, so we would look good. Thanks to "Newsies," I got a foundation. People tell me I'm a good dancer. And I can sing. When I made my Broadway debut in "What's Wrong With This Picture?" (1994), I sang "Fly Me to the Moon" a cappella with Faith Prince. Without "Newsies," I could've never done that.
Kenny recalls you were "petrified" about your big song, "Seize the Day." But you worked with Alan Menken and Jack Feldman in the studio and found your voice. Kenny says you didn't know you even had it in you, and you sounded "pure, sweet and wonderful."
All the music in "Newsies" is amazing, and "Seize the Day" was my song. I can't imagine anything harder than walking by yourself to start this song that's gonna be an anthem, when you've never really sung before. But my proudest moment was when I had to hit a high note in "King of New York." They had saved a lot of the song recording for the very end. Months after the rehearsals and shooting, I hit this really cool note on key. It came at the end of: "An editor's desk for the star reporter!" Someone in the booth said: "I think we can use that one." Yay! I was so happy. "Newsies" could've been such a crapshoot, but everybody worked their butts off.
So what's your favorite song in "Newsies"?
"Seize the Day." Is there really any question? (Laughs.) "King of New York" is my second-favorite because I hit that great note. (Laughs.)
---
Kenny says: "David brought a lot of fun to this movie. He kept us from getting too serious. He's funny. He's an instigator. My trailer got stuffed with newspapers." What was it like working with Kenny (who co-choreographed the film with Peggy Holmes)?
Kenny was a sweetheart. He was everyone's foundation. He just had your back. The set was pretty nuts. It was Camp Newsies. We had a blast learning to sing and dance and do martial arts and stunts. They also screened classic movie musicals for us, like "Singin' in the Rain," and Gene Kelly even once came to see us. We worked a lot of weekends. After rehearsing for a few hours, we were free to [roam] the backlot of Universal. We had fights with water guns and water balloons. And we went paintballing until Kenny outlawed it. When you get hit by a paintball, you get a red welt. We all had welts all over. I got one in the cheek and that was the end of that.
How was it working with Christian and the rest of the Newsies?
Christian's a good dude. We shared a trailer, and the movie did that to facilitate the buddy-buddy aspect of Jack and Davey, so we got a little tight. He's British, so he'd talk to me about how great the U.K. was, and I'd talk to him about how great New York was. I'd sing the national anthem, and he'd sing ''God Save the Queen." I remember when Christian had enough trouble singing and dancing, and then he had to learn to lasso and jump onto a horse [for his big solo, "Santa Fe"]. (Laughs.) He was very nervous, but he did it so well. The whole cast and crew were really tight. On weekends, we'd go to the clubs. I was 16, but I didn't drink. I was with 30 of the greatest dancers in the world, and a vogueing battle would break out. Or break-dancing. Making that movie was such a singular experience.
Jack and Davey have a terrific bromance in the movie. Have you and Christian kept in touch? And how about the other Newsies?
I see Christian around a bit. Once, he was with his wife [Sandra], and I was with [my then-fiancée] Karen at the mall in Century City. And this was just after he had won the Academy Award for "The Fighter." He introduced me to his wife and said: "This is an old friend of mine; we did a movie together a long time ago." He's a sweetheart. I run into the other guys, too, and we're all Facebook friends.
---
What do you recall about Robert Duvall (as Pulitzer), Ann-Margret (as Medda) and Bill Pullman (as Denton)?
Duvall had this unique way of supporting his acting partner. When the camera was on him, he'd be very specific and small, doing really good work. But when the camera was on you, in order to give you something to play off of, he got bigger and was totally invested. He was very nice. I loved Ann-Margret. She was so cool, so sweet and so beautiful. I had the biggest crush on her. Just like Davey. And Bill's a great guy. I'm producing, directing and writing now, and we might be putting money into a movie he's attached to.
"Newsies" opened April 10, 1992. What did you think when you first saw it?
As an actor, you always think you're terrible. But we had a huge premiere in L.A. I also saw it in New York at the West Side movie theater I went to as a kid. It was pretty cool. I wish it had done better at the box office. This was gonna restart the big Hollywood musical. I don't think people were ready for it. Obviously, with the success of the Broadway show, social media works with it. Kids love it.
The reviews were rotten, and this $15 million musical grossed only $2.8 million. Did you think: "Uh-oh, my career's in trouble"?
No. The hyper-intensity of actors' careers wasn't that big back then. Also, when I was 17, I stopped acting for a bit. I went to college. I tracked wolves in Arizona and New Mexico. Only when I was 19 or so, I realized that I missed acting, so I came back to do "What's Wrong With This Picture?" and learned so much. As a young actor, I smiled and said my lines, but it wasn't about the art of acting. You can't do Broadway on just charisma. I played Artie, the main character, and I remember our director, Joe Mantello, told me that I needed to cry at the end of the play. And I couldn't cry. During the last week of previews, I said: "OK, let me try to be Artie from the moment I get up until I go to sleep." On press night, I started bawling. I got a nice ovation. Whatever that was, I wanted more of that. Then, I joined A Theater Co. Did lots of Off-Off-Broadway, and that segued to studio movies again and TV series [like "Seinfeld"].
Speaking of theater, I bet most folks don't know you were the original producer of "In the Heights." What's the story?
My dad called me up about his business partner, Luis Miranda. Luis' son, Lin-Manuel, was just graduating [from Wesleyan] and had 15 minutes he'd written as his thesis. Since I was in theater and putting on plays, I was asked if I would listen to it and help. When I heard the music [to "In the Heights"], I thought: "Lock the doors, this shit is amazing!" Lin's incredibly talented. We started putting money into it. I was dating Kerry Washington then, so we attached her as a producer and actress. And we started to workshop it. The music went [from 15 minutes] to an hour over this time. Kerry had just finished a Spike Lee project ["She Hate Me"], so we brought him in to watch it - he loved it and thought it might make a good movie. I had also done the film "Endsville" with producer and friend Jill Furman in 2000. She was producing "The Drowsy Chaperone," so I invited her to the workshops, and she fell in love with it, too. The rest is history.
I hoped to see your name among the Tony-winning producers of "In the Heights," but it's not there. What happened?
I hoped to see my name there, too. But you'll have to ask Lin about that.
Meantime, things were turning around for "Newsies." In 1992, Janet Maslin's New York Times review said "Newsies" was "joyless" and "will seem dull to children." Roger Ebert added: "No effort is made to show [the Newsies] in a way [that] today's kids can identify." Ironically, the opposite happened. Thanks to VHS and repeated showings on the Disney Channel, a whole new generation of kids loved it. Ben Fankhauser, who was Davey in Broadway's "Newsies," said he was in an illegal version of it at his summer camp. Disney said "Newsies" was their most-requested title for licensing, which led to the hit show that Jeff Calhoun directed with a new book by Harvey Fierstein. It debuted in 2011 at the Paper Mill Playhouse in Millburn, N.J. You saw it there and predicted it would go to Broadway, and it did. There, it won Tonys for Alan and Jack's rousing songs and Christopher Gattelli's acrobatic choreography.
"Big" was made into a Broadway musical before they made "Newsies," which was silly. And what's crazy is that Bob [Tzudiker] and Noni [White] originally wrote it as a political drama with kids as the stars, and I think that resonates with people, particularly now. It's about folks standing up for what they believe in and taking down the people who don't act in everyone's best interests. It's an incredible statement and always resonates. I've seen "Newsies" at Paper Mill, on Broadway, in L.A. - and it makes me very happy. The new songs and dances are amazing. Jeremy Jordan, who's become such a star, and Ben Fankhauser, who played my role of Davey, were great, and so was everyone else in it. I haven't seen this filmed stage version yet, but it's cool that new generations will discover it.
As a newspaperman, I thank you for making "Newsies." Kids don't read "papes," but this'll remind them of a time when people did.
I still get the Sunday New York Times delivered to my house.
Davey would be so proud of you. Finally, if you could address the many "Fansies" around the world, what would you say?
Just as the fans have said that "Newsies" has played an amazing part in their lives, the fans have played an amazing part in mine. It's wonderful to meet people who are happy to see you because we share something special. It's a nice way to go through life.