BWW Exclusive: A Eulogy to The Great Comet of 1812
An accordion plays with a flash of lights, and the cheers begin one final time. Dave Malloy slowly begins his opening notes to a standing ovation. Natasha, Pierre & The Great Comet of 1812's 'Prologue' is almost inaudible over the cheers and screams and the light sniffling as tears begin to flow. By the second song, Malloy is holding back tears of his own. After five years, four venues, controversies as vapid as his antagonist, and a tragedy worthy of a Russian novel, Malloy's Great Comet has thrown its final revelries.
October 16th, 2012. Rachel Chavkin introduces the world to one of the most innovative and immersive theatre productions since Felix Barrett and Maxine Doyle's Sleep No More or Mendes' Cabaret. Raising a den of vodka and operatic wonder, hanging Napolean over the audience, and serving pierogies, Great Comet hits the ground with a homely Russian welcome. Malloy's score bursts onto the scene with the help of Phillipa Soo (soon to find infamy as Hamilton's Eliza), the imitable Lucas Steele, the heart-wrenching Brittain Ashford, and the writer himself.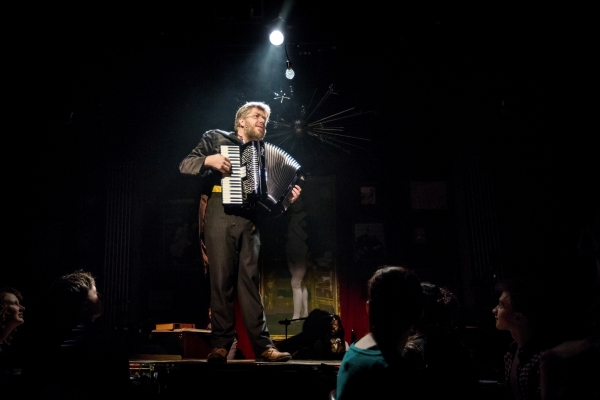 Chavkin, dedicated to creation of original and diverse theatre, worked with Malloy to make War and Peace an "electro-pop opera" with a colorful, diverse, sexy cast. As the show unfolded in the Ars Nova nightclub, dancers weaving in and out of the dining guests, The New York Times raved and stated that it "isn't just theater in the round, it's theater all around you."
Malloy's score haunted the Times' writer, Rachel Saltz, nearly five years ago for the same reasons it does today. The mix of modern with classic, opera with rock, dichotomies of pop and minor seconds or diminished sevenths, all warm or chill in succession. As the show progressed from production to production, the musicians grew from six to now including most performers in the show, and even depending on audience members to help conduct instrumental sections of the more raucous act two numbers.
May 16th, 2013. The show travels to Kazino, in a pop-up tent, with the immersive elements only heightening. Fan favorite Grace McLean joins as Marya Dmitriyevna. The seductive Lucas Steele goes platinum blonde. For almost a year, the 'tent' production runs (moving in September from the Meatpacking District to the Theater District). The Russian nightclub, stageless despite Sam Pickleton's unbelievably ecstatic choreography, sells out repeatedly and becomes a cult classic, with its own two-disc cast recording.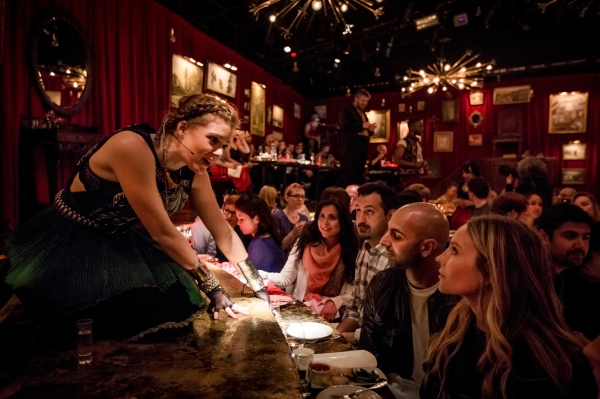 And why shouldn't it join the ranks of Little Shop of Horrors, Hedwig and the Angry Inch, Heathers, or The Last Five Years as an Off-Broadway hit whose legacy only grows?
The curious conundrum of Great Comet's unbelievable trajectory swells like the titular asteroid. Instead of closing and fading, one of the strongest celebrity vocalists took interest and joined the production's growth. Malloy began working with Josh Groban, writing Groban a solo number that would become one of the most memorable solos of the past few Broadway seasons. With the rewrite, the show grew larger than Tolstoy's tome.
December 1st, 2015. Scenic designer Mimi Lien's genius expands to a full proscenium-stage threshold, when she installs audience around and behind the stage in banquettes and dining tables of Cambridge's American Repertory Theater. Scott Stangland takes on the role of Pierre, Phillipa departs as Denee Benton embodies Natasha. The Great Comet fans have come to know and love is born.
Malloy told Lien of an experience he had in a Moscow bar: "The musicians started to play, and it turns out they were peppered all throughout the room- the violinist was right behind him, and the horn player across the way. The overall effect was a heady one- music hitting his ears from all directions, the din of people effusively talking and singing along, the clinking of glasses at the bar, the cold burn of vodka going down his throat. All of these combined into a singular but multifaceted experience."
Sitting in the September 3rd, 2017 performance, at the end of this beautiful journey, I feel that Dave's vision was exceeded far more than he could imagine. A singer throws a pierogie into my lap before dancing off as an accordion player high-kicks past, guitars rush around my head, voices ring all around my head, I raise my glass with the cast (along with my voice) as we wish a fond farewell to such a life-changing adventure within the Imperial Theatre.
Lien's design swells and changes around you, mirrors allowing the orchestra to catch action in the mezzanine, tables and stairs scattered for audience and cast both, and the entrance all too reminiscent of Stalin's Bunker 47 I visited years past. Walking into the Imperial brought me to the Soviet era, and walking into the theatre itself brought me to Dostoevsky and Gogol's 19th century parlors. The cast jars you back to modernity as the music, performances, lyrics, and emotions flip you back and forth through each era.
Never once did the A.R.T. (or Imperial for that matter) exude the threat that the Kit-Kat Club of Cabaret imbues through the second act, nor does it seem fake or insincere for an instant. The vodka bars, the playful performers, the letters of flirtation snuck into audience goers hands, all lend to a feeling of returning to a darker, welcoming home.
Bradley King's comet chandeliers receive a majority of the attention, putting his genius subtleties on the backburner. Why not discuss the lamps he has placed across the orchestra and mezzanine, that alight the entire audience during Pierre's "Dust and Ashes" turn? Or his post-modern constellations of lightbulbs that fall down to Natasha and scatter the theatre as tears flow? His 'Duel' strobes draw much deserved praise, and his eye for color cannot be compared.

October 18th, 2016. Natasha, Pierre & The Great Comet finds that darker home finally on Broadway. Receiving rave reviews and Josh Groban's debut, the production becomes a hot-ticket for theatergoers. A second two-disc cast album is released with updated songs and new musical arrangements. After a scandalous and controversial Tony season, multiple production scandals (of debatable merit), and a social media mishap, the Great Comet announces its final show.
So I find myself amongst New York's theatre lovers, die-hard Great Comet fans from all over the world, and in the midst of a true tragedy. I suppose this is why a majority of readers have found themselves reading this eulogy- for tales of what happened within the Imperial during this harrowing performance.
Shall I write about Dave Malloy's vision in blue? Malloy's color blindness allows scant colors but blue, which draped Denee Benton during her final 'No One Else', drawing tears from the both of them as he watched his friend in her pivotal moment, surrounded by King's genius lighting.
Or of all the tears shed by cast throughout? Malloy found difficulty immediately in his 'Pierre', Benton's 'No One Else' felt a dirge, Lucas Steele concealed his emotions between numbers, Ashford's 'Sonya Alone' will go down in history, but nothing compares to the show's final moments. What, then, of the audience, who wept passionately throughout? Cast members held hands with audience members on the stage during 'Pierre & Natasha', emotions reaching far too high for words to capture.
There were certainly joyous moments, too. 'Balaga' was so energetic and raunchy, I am altogether convinced it lasted twice its normal length, in part to the entire audience singing and egg-shaking along with the cast (many audience members brought their own egg shakers). Steele in 'The Abduction' was off the charts in energy, holding his highest notes for impossible stretches (the 'PETERSBURG' finale will remain with me for years). And the standing ovations that necessitated one, two, three minute holds were innumerable- 'Prologue', 'Balaga', each cast members solo number (Malloy, Benton, Ashford, and Gray are all close competitors for longest ovation post-solo), and the collective sobbing that followed the bows. Many readers will have learned of Paul Pinto's surprise, leaping into his bow with a freshly shaved face that made Amber Gray gasp.
Remembering the magic that graced our lives, this deconstruction of what is appropriate and traditional in theatre, while also revitalizing music and lyrics in atypical fashion, I cannot discuss the harder memories. I don't wish to remember this masterpiece for its controversies, the shortcomings that brought this moment to fruition; all that matters is that Natasha, Pierre & The Great Comet was the most innovative art work to breathe life in my lifetime.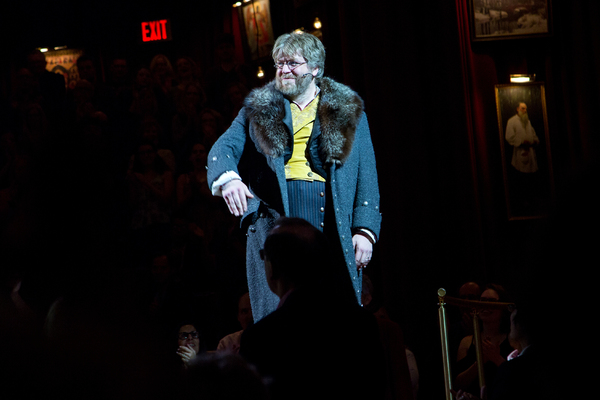 There are no new words to praise this show with, that have not been screamed or published or spoken at a stage door. I'd much prefer to leave it to Malloy's pen, the pen that brought us together, the pen that would rival Tolstoy.
"We've had our fun. Lived, laughed, and loved... When shall we meet again?"
Goodbye, my gypsy lover.