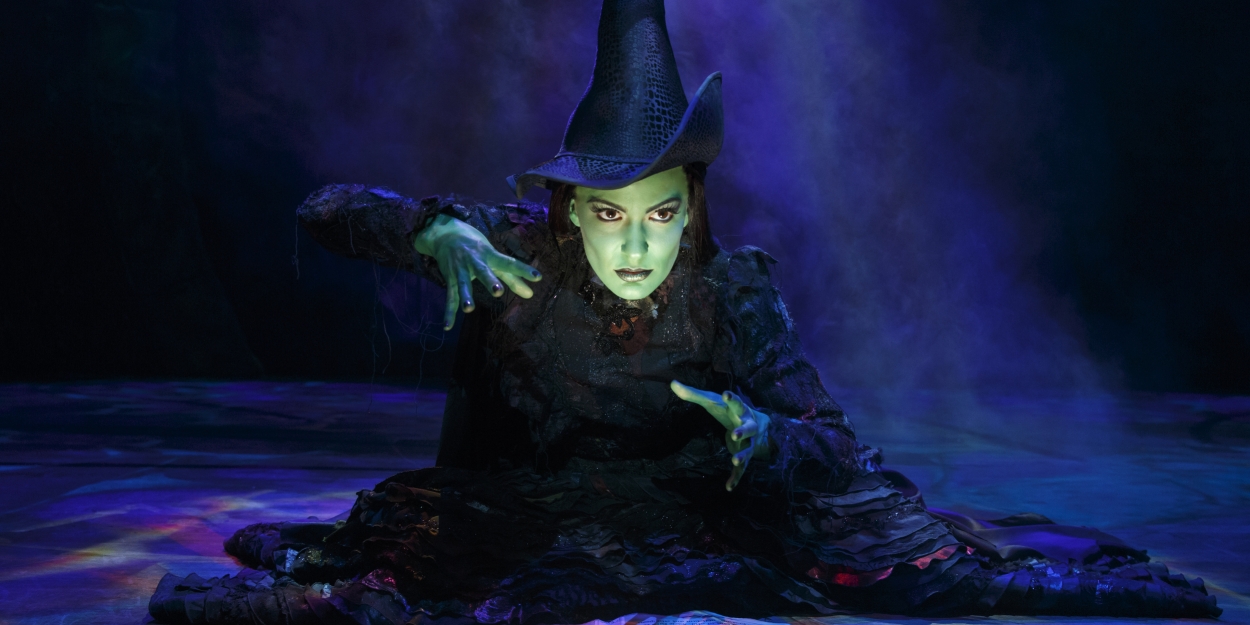 Alyssa Fox Pens Essay on Her 13-Year Journey with WICKED- 'Keep Your Hope Alive'
Fox takes over the role of Elphaba on Broadway beginning Tuesday, March 7.
As BroadwayWorld reported last week, Alyssa Fox is set to take over the role of Elphaba in Wicked at Broadway's Gershwin Theatre (222 West 51st Street) beginning Tuesday, March 7th.
A Dallas, TX native, Alyssa Fox is fulfilling a huge dream after being a member of the WICKED family for over 13 years. She was last seen as the standby for Elphaba on Broadway, after playing the role on the National Tour, and as the understudy in the San Francisco company. Alyssa was also the Elsa standby in the original cast of Disney's Frozen on Broadway.
Alyssa writes about her amazing Wicked journey in a recent Instagram post:
"I am so PROUD to announce that starting on March 7th, I will be the lead Elphaba on Broadway for the 20th anniversary of Wicked. The first Asian American Elphaba. Proudly #Mixed. A child of both worlds. I am so honored and excited and anxious and overwhelmed and HAPPY!!!!
"Here is my (long) story: In 2008, I was brave. I was living in OKC struggling to stay afloat, working at the mall with major student debt and itching to start my career. Checking playbill.com for auditions in NYC every day, I came across an open call for Wicked. This was it for me-- I had never been to NYC before, but spent almost all the money in my bank account to fly up with zero clue what I was doing.

"I stayed in a twin bed with my best friend who lived on St. Marks, ready and excited to stand outside of the Telsey office in the November rain. In a black cocktail dress with what must have been hundreds of people, I waited on my chance to audition for one of the most popular Broadway shows. I absolutely had no frame of reference for what a professional audition was like, but I had no doubt in my mind that this was my chance. I was sure that if I sang for them, I would be Elphaba someday. For the cattle call, we were allowed to sing 8 bars of a song acappella, so I sang the end of Astonishing from Little Women (which I had just done at college) and encapsulated how I felt at the time. My great adventure had begun.

"After a year and a half of flying back and forth for callbacks, I finally got the call that I would be joining the San Francisco cast as the Elphaba understudy (for @edenespinosa!) I had $18 in my bank account and didn't know if I could afford to eat that weekend. Within two days I packed up my life to move to SF.

"My life trajectory changed. I spent the year in the SF cast ensemble, green in EVERY way. I went on as Elphaba twice-- including somehow the matinee on closing day. After living this crazy dream, I moved straight to NY and then struggled to work for two entire years. Back in debt. Day jobs. Struggling again. Back at square one. (Cont. in comments)
"It wasn't the end. In 2012 I joined the National Tour as the Elphaba standby for 2.5 years, then on to playing lead for a year across the US and Canada. This is where I grew into something new. The passion was still there, and I had never been so happy (and exhausted!), now with experience under my belt. After that contract, I was fortunate enough to join the Broadway cast, making my Broadway debut as the Elphaba standby.

"I'm really good at being a standby. I love it. It is SO HARD. Hard in a different way than playing the lead. I left Oz for a few years to be the Elsa standby in @frozenbroadway. Me and @mckenzieKurtz (!) did the very last two shows on Broadway before the pandemic shut us down and tragically closed our show. None of us knew what to do without work. In 2021, Wicked reopened on Broadway and they needed me to come in as standby here and there to cover. I leaked my way back in to Oz, then started another standby contract which is where I am now.

"I had to push. I had climbed this ladder all the way so close to the top. I wanted to be lead with every fiber of my being. I had worked my butt off for 13 years and had grown into who I am now. Still brave, still remembering where I came from.

"So here I am. I am stepping into the light. I will reap what I have sown. I will lead the company I have come to adore and we will tell the story 8 times a week. Please come see the show within the next year if you are able-- All my hopes and dreams wrapped up into the present. A gift given to me to share with you.

"TL;DR: Keep your hope alive, be kind and work hard. Sometimes it works."
Currently the 5th longest-running show in Broadway history, WICKED is celebrating its 20th Anniversary on Broadway this fall.
Winner of over 100 international awards including the Grammy Award and three Tony Awards, WICKED has been performed in over 100 cities in 16 countries around the world (U.S., Canada, United Kingdom, Ireland, Japan, Germany, Holland, Australia, New Zealand, Singapore, South Korea, The Philippines, Mexico, Brazil, Switzerland and China) and has thus far been translated into six languages: Japanese, German, Dutch, Spanish, Korean and Portuguese. WICKED has been seen by over 60 million people worldwide and has amassed over $5 billion in global sales.
In addition to the Broadway production, WICKED in North America has enjoyed unprecedented record-breaking sit-down engagements in Chicago, where it ran for nearly four years; Los Angeles, where it ran for two years; and San Francisco, where it ran for nearly two years, as well as two North American Tours.
The Broadway sensation WICKED looks at what happened in the Land of Oz...but from a different angle. Long before Dorothy arrives, there is another young woman, born with emerald-green skin, who is smart, fiery, misunderstood, and possessing an extraordinary talent. When she meets a bubbly blonde who is exceptionally popular, their initial rivalry turns into the unlikeliest of friendships...until the world decides to call one "good," and the other one "wicked."
With a thrilling score that includes the hits "Defying Gravity," "Popular" and "For Good," WICKED has been hailed by The New York Times as "the defining musical of the decade," and by Time Magazine as "a magical Broadway musical with brains, heart, and courage." NBC Nightly News calls the hit musical "the most successful Broadway show ever."
Based on the novel by Gregory Maguire, WICKED has music and lyrics by Stephen Schwartz, and a book by Winnie Holzman. The production is directed by Tony Award winner Joe Mantello with musical staging by Tony Award winner Wayne Cilento. WICKED is produced by Marc Platt, Universal Stage Productions, The Araca Group, Jon B. Platt and David Stone.