Click Here for More Articles on NEW YORK CITY
Alec Baldwin Will Be First Guest Lecturer Under New Hunter College Theatre Chair Gregory Mosher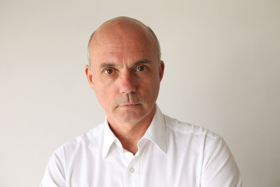 Hunter College President Jennifer J. Raab today announced the appointment of Gregory Mosher as a new Professor and the first Jay and Patty Baker Chair of Theatre, beginning this semester.
Gregory Mosher was the Tony Award-winning Director of Lincoln Center and Goodman Theaters. He comes to Hunter from Columbia University, where he was the first director of its pioneering, university-wide Arts Initiative, and served on the faculty of the School of the Arts. He joins recent Hunter Theatre Department appointees Annie Baker and Branden Jacobs-Jenkins, who are the Co-Associate Directors of the Goldberg MFA Playwriting Program.
"The Hunter College community is truly fortunate to have Gregory Mosher join us," said President Raab. "There are so many great things happening in our Theatre Department including the opening of our new theatre building and the addition of talented faculty, both of which demonstrate our ongoing commitment to the arts. I can think of no one better suited to lead the Theatre program as it grows and flourishes in New York City."
"I'm honored to join this superb institution, and have the chance to engage with a fine faculty and most exciting student body in the country," said Mosher. "President Raab's unrelenting determination that Hunter be a leader in the arts, and that I should join her in that venture, proved irresistible. I'm so grateful Patty and Jay Baker's for their extraordinary generosity, which has provided the department with a superb facility and ongoing programmatic support. I think the theater world is going to hear from the students who will be creating and studying in Baker Hall very soon."
Mosher is the director and/or producer of over 200 plays. Notable premiere productions include Six Degrees of Separation, John Leguizamo's Freak, David Rabe's Hurlyburly, Langston Hughes and Zora Neale Hurston's Mulebone, Richard Nelson and Sean Davey's James Joyce's The Dead, the South African township musical Sarafina, and the premieres of over twenty plays by David Mamet, including American Buffalo, Speed-the-Plow, Edmond, and Glengarry Glen Ross.
Colleagues have included playwrights Samuel Beckett, Tennessee Williams, Wole Soyinka, and Edward Albee; directors including Peter Brook, Jerome Robbins, and Mike Nichols, and countless leading actors including Alec Baldwin, Sally Field, Scarlett Johansson, Liev Schreiber, Robin Williams, Ed Harris, and Dustin Hoffman.
As part of the growth of this department, Mosher has Alec Baldwin as a guest lecturer today, Wednesday, September 27th. There will be other special guests brought in to meet students throughout the year.
The Hunter College Department Theatre has a brand new home in the Baker Building on East 67th Street. The landmarked 26,000 square-foot building formerly housed the Kennedy Child Study Center, a school owned by the Archdiocese of New York. Thanks to a generous gift from Jay and Patty Baker, students and faculty will now be able to take advantage of a dedicated, purpose-built facility.
About Hunter College: Hunter College, located in the heart of Manhattan, is the largest college in the City University of New York (CUNY) system. Founded in 1870, it is also one of the oldest public colleges in the country and famous for the diversity of its student body, which is as diverse as New York City itself. Most Hunter students are the first in their families to attend college and many go on to top professional and graduate programs, winning Fulbright scholarships, Mellon fellowships, National Institutes of Health grants, and other competitive honors. More than 23,000 students currently attend Hunter, pursuing undergraduate and graduate degrees in more than 170 areas of study. The 1,700 full- and part-time members of Hunter's faculty are unparalleled. They receive prestigious national grants, contribute to the world's leading academic journals, and play major roles in cutting-edge research. They are fighting cancer, formulating public policy, expanding our culture, enhancing technology, and more.
Related Articles
More Hot Stories For You
Breaking: MRS. DOUBTFIRE Will Open on Broadway in Spring 2020 at the Stephen Sondheim Theatre
This just in! Mrs. Doubtfire, the new musical based on the film of the same name, will open on Broadway this coming spring at the Stephen Sondheim The... (read more)

HAMILTON Will Hold A Fan Performance on October 31 With All Tickets Available For $10 Via Lottery
For the second year in a row, Hamilton will host a special fan performance on Thursday, October 31 at the Richard Rodgers Theatre on Broadway, with al... (read more)

Breaking: Ethan Slater, Gavin Lee & More Will Reunite to Film SPONGEBOB for Nickelodeon
Following a critically lauded run on Broadway, members of the original award-winning Broadway company of The SpongeBob Musical: Live On Stage! will re... (read more)

Quiz: Which Broadway Show About Gods Are You?
Bring on the monsters because The Lightning Thief: The Percy Jackson Musical is officially open on Broadway! We're celebrating Camp Halfblood coming t... (read more)

MOULIN ROUGE To Head To The West End in 2021
The blockbuster Broadway hit, Moulin Rouge, will be heading to the West End in 2021!... (read more)

BWW Photo Exclusive: Adam Pascal Stars In THE MUSIC MAN At 5-Star Theatricals
Tony nominee Adam Pascal stars as Professor Harold Hill in the first show of the 5-Star Theattricals 2019-2020 season, THE MUSIC MAN.... (read more)