Julesworks Follies to Host #StayHomeSafe End Of Month Recap Livestream
Livestream to launch and air the last Saturday of every month at 5pm MST.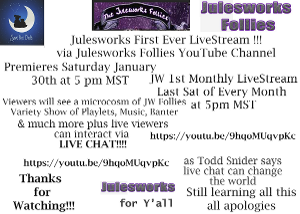 As life carries on, without live events safely yet and even when, as things meld change and grow, Julesworks has decided to launch a monthly livestream.
Airing the final Saturday of each month at 5pm MST, starting January 30th, 2021, the livestream will as usual be open to all willing participants and present a bit of musing in an array of genres, styles, and tones by a diverse mix of performers from New Mexico and beyond.
Premiering on Saturday January 30th 2021 at 5pm MST, Julesworks Follies End of Month recap will be a monthly offering to add more to JW Follies YouTube Channel and the Virtual world as part of the #StayHomeSafe Movement.
Follow Julesworks Follies Facebook: https://www.facebook.com/JulesworksFollies and YouTube channel: https://www.youtube.com/channel/UCUiCi0hVHM07ZN7io9c8TKg.
The first monthly recap livestream can be found at https://youtu.be/9hqoMUqvpKc.