BWW REVIEW: EVERY BRILLIANT THING Is A Engaging And Moving Theatre Experience That Encourages Conversation Around Mental Illness and Suicide.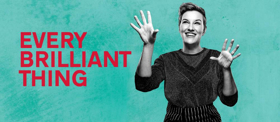 Thursday 14th March 2019, 7:30pm, Belvoir St Theatre
The weighty subject of suicide is considered with compassion and comedy in Duncan MacMillan and Jonny Donahoe's one performer play EVERY BRILLIANT THING. Performer Kate Mulvany, under direction by Kate Champion and Steve Rodgers, brings a beautiful warmth and sensitivity to a story that reminds the audience of the need to talk about mental illness not relegate it to taboo or gossip.
Drawing on a considerable level of audience participation, the Narrator (Mulvany) tells a story of growing up in a house where mental illness and suicide was never far away. She recalls the innocence and naivety of a 7-year-old who believes that presenting her mother a list of Every Brilliant Thing worth living for will help. If only it were that simple. As the narrator explains the list she calls on members of the audience that have been pre-armed with colorful square cards to help complete her story. In addition to this audience involvement, the narrator moves around the space, enlisting the help of other onlookers to fill other significant roles in her story but, unlike other audience involvement pieces, there is very little hesitation from those singled out as Mulvany has created a comfortable, safe and supportive environment that makes people want to help tell the story.
This is definitely not a traditional piece of theatre and the Belvoir St Upstairs theatre has been transformed into an in-the-round space with additional seating to surround a bare hexagonal stage and Mulvany is casually dressed (set and costume designer: Isabel Hudson). The lighting remains up for most of the work, bringing the audience in to form part of the performance and also make it safe for Mulvany as she darts up and down the aisles (lighting design: Amelia Lever-Davidson). Steve Francis' sound design is the most significant external effect to Mulvany's performance with the Narrator's connection to music coloring the story.
EVERY BRILLIANT THING reminds us that we, as a community, need to talk more about mental health and suicide so that we may have some hope of reducing it by reaching out before it is too late. It acknowledges that the list that the child makes, and a piece of theatre, aren't necessarily the answer to prevention but they are both a start in opening the discussion and providing ways of dealing with suicide and mental illness. It also holds an important message about how society, including the media, discuss suicide so that we can reduce the contagion effect, otherwise known as the Werther Effect, drawn from the 18th century German novel, The Sorrows of Young Werther.
Mulvany is brilliant as the narrator, drawing the audience in to want to be invested in her story and wanting to help tell it. She also exhibits a wonderful ability to read her audience as she draws on a handful of remarkably compliant audience members in a level of participation and trust in the audience that could prove quite risky if the wrong person is chosen. She blends Macmillan and Donahoe's text with improvised interaction and reaction with an amazing ease that makes you forget that this is a play and not Mulvany's own personal story (Mulvany shares in the program that this is a topic close to her). She moves between the light hearted and the weightier moments with an unforced honesty that results in a heartwarming and heart wrenching performance that did cause at least a few damp eyes in the audience.
Each performance with no doubt be different, dependent on the energy levels and engagement from the audience. The individual response to the work will possibly also be colored by the viewer's personal experience to a much greater degree than other shows as its impact possibly changes if you can or can't relate to the 7 year old child in any way.
Come and be part of this wonderful piece of communal theatre where everyone becomes a part of the work and experience the uplifting and humorous experience that is EVERY BRILLIANT THING.
https://belvoir.com.au/productions/every-brilliant-thing/
If Every Brilliant Thing has raised any concerns for you following the performance, Lifeline offers a 24 hour counselling service and can be reached at 13 11 14. Additional information can be found on their website, www.lifeline.org.au. Other services which may be of assistance include mental health advocacy organisation, Beyond Blue(www.beyondblue.org.au, 1300 224 636), and youth mental health foundation, Headspace(www.headspace.org.au). You may also consider speaking to a trusted source or engaging your local GP.