2018 Adelaide Writers' Week Program Announced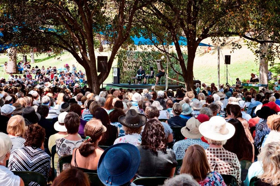 Some of the world's most fascinating literary minds will come together for this year's Adelaide Writers' Week. 84 writers from Australia and around the world are on the program for the six day event, which runs from Saturday, March 3 to Thursday, March 8 as part of the 2018 Adelaide Festival.
20 local and international names have been added to the program, including journalist Julia Baird (AUS), screenwriter and novelist David Foenkinos (FR), Justine Larbalestier (AUS), Robert Wainwright (UK), Melanie Cheng (AUS), Wendy Orr (AUS), Clive Hamilton (AUS) and best-selling science-fiction writer, Cory Doctorow (CAN).
They join already announced names including award-winning novelist and environmentalist Barbara Kingsolver (US), philosophers and public intellectuals,
AC Grayling
(UK) and
Peter Godfrey
-Smith (AUS), best-selling crime novelist Louise Penny (CAN), Miles Franklin winner Sophie Laguna (AUS) and Booker Prize winner Alan Hollinghurst (UK). We will also welcome memoirists Patricia Lockwood (US), Alexandria Marzano-Lesnevich (US) and
Tim Rogers
(AUS) for six days of readings and thrilling conversation in Adelaide's leafy Pioneer Women's Memorial Garden.
The program will be available to download from www.adelaidefestival.com.au from Wednesday, January 31.
The award-winning event will bring together a diverse range of contemporary writers and thinkers to discuss subjects of climate change, radicalisation, political strife, trauma, personal transformations and the power of memory, both collective and individual. The program will feature writers from a broad range of disciplines presenting works of cultural and political criticism, fiction, biography, memoir and poetry.
In her seventh and final year as Director of Adelaide Writers' Week, Laura Kroetsch is maintaining her strong dedication to creating a challenging and thought provoking program for audiences.
"In 2018, the program explores the idea of change: changes that we all feel in the world around us, changes in the individual or changes in the literary landscape. There's a real balance of fiction and non-fiction and the program is full of opportunities for readers and writers to discover something they may have never come across," Ms Kroetsch said.
"Throughout my time at Writers' Week I've wanted to challenge and excite the community. To encourage them to think about issues that affect people all over the world and to expand the audiences frame of reference. I'm excited to see that happens through the 2018 program."
The 2018 event is dedicated to one of Australia's most beloved writers, Mem Fox, who joins previously honoured dedicatees Elizabeth Harrower, Brenda Neil, Robert Dessaix and Margo Lanagan.
A household name, Fox has worked as a writer and educator for over 34 years, publishing over forty books for children and adults. Among them are her award-winning works Possum Magic, Wilfrid Gordon McDonald Partridge, Where is the Green Sheep?, Hattie and the Fox and most recently I'm Australian Too. Her work for adults includes the best-selling Reading Magic. Captivating the imaginations of people all over the country with her whimsical stories that uniquely capture Australian life, Fox has been a passionate advocate for literacy throughout her career. She will be joined on stage on Monday, March 5 by author Ruth Starke.
Kids' Weekend (Saturday March 3 and Sunday March 4) is set to return in 2018, with two days of interactive art, stories, parades and more. The Story Tent will feature an all-star lineup including Mem Fox, Jackie French, Kate and Jol Temple and the Little Big Book Club. Story Trove is back in 2018 to give more magical performances of books. Also featured will be the giant inflatable Nylon Zoo, art and craft projects with Nest Studio and Indian designers Ragini Siruguri and Dhwani Shah, who will invite children to create a giant mural based on their book Twins. Students from Walford Anglican School for Girls will again volunteer at the Kids' Weekend, assisting children with art and craft projects, including colourful hand fans to keep the crowds cool throughout the week.
With the support of presenting partner Southern Cross Care and Office for the Ageing, Writers' Week will be livestreaming selected sessions (Monday, March 5 to Wednesday, March 7) to nursing homes, schools and libraries around South Australia to ensure as many members of the community have access to the event as possible. ABC Radio Adelaide's Sonya Feldhoff will continue the tradition of broadcasting live at Writers' Week from Monday to Thursday, featuring exclusive interviews and talk-sessions. In an event first, Writers Week will extend into Rundle Mall from Monday March 5 to Wednesday March 7 with Australian performer Eliza Lovell chatting with authors ahead of their appearance at Writers' Week.
Also returning in 2018 is delicious catering from Let Them Eat. The Adelaide Central Market favourites will delight event goers with sumptuous culinary delights that showcase some of the best produce our state has to offer.
2018's only ticketed session, Sport in Australia, will see storied sports writer and historian David Hill chatting to presenting partner Channel Nine's Tom Rehn about his latest book The Fair and the Foul at Adelaide Oval's Cathedral Room (Thursday, March 8). The Fair and The Foul is a searing exploration into our country's fascination with sport, giving insight into what goes on behind closed doors. David will take guests through the shift in sport from the relative innocence of the amateur era to its commercialisation, which, through the years, has undoubtedly contributed to the uglier sides of our national obsession: the corruption, the drugs, the sexism and racism.
Adelaide Writers' Week is a free event, giving writers, readers and lovers of literature the opportunity to spend a week expanding their mind while being immersed in stories and experiences from around Australia and the world. The program guide is available free of charge and can be collected from all good bookshops, participating newsagents and libraries across Adelaide from Wednesday, January 31, or can be downloaded at the Adelaide Festival website adelaidefestival.com.au.
Please see below a full list of writers attending the 2018 event.
ADELAIDE WRITERS' WEEK 2018
Pioneer Women's Memorial Garden, King William Road, Adelaide
Saturday 3 March - Thursday 8 March
Kids' Weekend: Saturday 3 March and Sunday 4 March
FREE - no bookings required
TICKETED SESSION
Sport in Australia with David Hill
Cathedral Room, Adelaide Oval
Tuesday March 8, 12pm
Tickets: $150, includes three-course meal and matching Penfolds wine
SECOND LIST OF GUESTS ANNOUNCED JANUARY 31, 2018
Julia Baird is a journalist, broadcaster, columnist and political commentator. She is the author of Victoria: The Queen, a fascinating and compulsively readable biography of the long-reigning Queen.
Judith Brett is an award-winning biographer and political commentator. Her most recent book is The Enigmatic Mr Deakin, an intimate portrait of Australia's second Prime Minister.
Pam Brown an award-winning poet and prose writer and the author over 20 books, the most recent collections of poems Text thing, Authentic Local, Home by Dark and Missing Up .
Felicity Castagna is an award-winning fiction writer. Her novel No More Boats tells the story of a post-war Italian migrant who in retirement begins a protest against the arrival of boat people.
Bernice Chauly is a Malaysian writer, poet, educator, festival director, actor, photographer and filmmaker. Her new novel is called Once We Were There, and is a harrowing exploration of the Reformasi politics in 1998 and its immediate aftermath.
Melanie Cheng is a writer and general practitioner. She is the author of the short-story collection Australia Day that takes up the challenge of human connection in a globalised world.
Claire G Coleman identifies with the South Coast Noongar people. Her debut dystopian novel about a future Australia, Terra Nullius was the winner of the black&write! Writing Fellowship.
Phil Cummings writes for children and young people, his books include BOOM BAH, ANZAC BISCUITS and NIGHT WATCH. He is an ambassador for the Premier's Reading Challenge SA.
Cory Doctorow is a science fiction author, activist, journalist and blogger. He is the co-editor of Boing Boing, works for the Electronic Frontier Foundation and co-founded the UK Open Rights Group.
Ceridwen Dovey is a fiction writer and has recently published the novel In the Garden of the Fugitives, an unputdownable story of obsession and guilt and the power of the past.
Mike Dumbleton writes for children and young people. His many titles include the picture books Jump and Shout, Eve and Elly as well as the Junior novel Terrifiedosaurus Rex.
David Foenkinos is an award-winning French novelist and screenwriter. He is the author of Charlotte, inspired by the life of a German Jewish artist who was killed at Auschuwitz.
Clive Hamilton is an academic and public intellectual who is coming to the festival to discuss the cancellation of his book on the Chinese influence in Australia. He one of Australia's leading thinkers and is a Professor of Public Ethics, a former executive director of The Australia Institute, and a member of Climate Change Authority.
Eva Hornung is an award-winning novelist whose work includes Dog Boy and The Last Garden, a story of grief and loss set in a remote community in South Australia.
Kathy Jetñil-Kijiner is a poet and environmental activist of Marshallese ancestry who has performed widely. Her new collection of poems is Iep J?ltok: Poems from a Marshallese Daughter.
Justine Larbalestier is a bestselling and award-winning author of books for young people including Magic or Madness trilogy, How to Ditch Your Fairy, Razorhurst and most recently Liar.
Jennifer Mills is a fiction writer whose terrific new novel Dyschronia is a genre and mind-bending vision of lost and possible futures set in remote South Australia.
Fiona McFarlane is an award-winning short story writer and novelist. She is the author of The Night Guest and the story collection The High Places which won the 2017 Dylan Thomas Prize.
Dervla McTiernan is a former lawyer who was born in Ireland and now lives in Western Australia with her husband and two children. Her debut novel The Rúin is set in Ireland.
Wendy Orr is an award-winning writer for children and young people. Her many books include Leaving it To You, Ark in the Park, Peeling the Onion, Nim's Island and Dragonfly Song.
Jane Rawson is the author of A wrong turn at the Office of Unmade Lists and From the wreck - the latter of which is a wonderfully clever re-imagining of the wreck of the SS Admella in 1859.
Robert Wainwright is a journalist and best-selling biographer, most notably Miss Muriel Matters: The Australian actress who became one of London's most famous suffragists.
More Hot Stories For You