WICKED Appoints Starling Arts to Bring 'Wellbeing', 'Anti-Bullying' and 'Musical Theatre' Workshops
The partnership is part of the Wicked Active Learning education resources.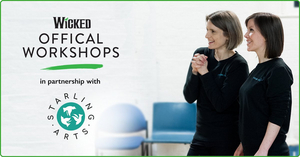 In acknowledgement of this year's Children's Mental Health Week (until 12 February 2023) and as part of the continued development of its Wicked Active Learning education resources, the stage musical Wicked has announced a partnership with Starling Arts to exclusively deliver school and community group workshops, with an emphasis on wellbeing and self-confidence.
Starling Arts, the acclaimed, not-for-profit community company, has been inspiring positive changes to health and wellbeing through singing for more than a decade. The company will now be delivering a new programme of official Wicked-themed workshops in schools and community venues from 6 March 2023 onwards. 'Wellbeing', 'Anti-Bullying' and 'Musical Theatre' workshops are bookable now via www.WickedActiveLearning.co.uk
The Anti-Bullying Workshop is devised by Starling Arts in partnership with the Anti-Bullying Alliance, the charity Wicked has supported since 2007. The 'Wellbeing' Workshop is easily adapted for teacher and school staff groups.
Anna Shields and Emily Garsin, co-founders and directors of Starling Arts, said:
"We're thrilled to embark on this partnership with Wicked Active Learning. These workshops fuse together our passion for musical theatre, singing and wellbeing in a package that complements both the show and the curriculum. Wicked is the perfect story for exploring big ideas and we're excited to work with people of all ages through this new workshop offering. As advocates of how the arts can boost mental health, Starling Arts look forward to these workshops providing participants with a toolkit of Wicked-inspired skills they can use to improve their mood and support their peers and community groups throughout life.
Michael McCabe, Executive Producer of Wicked in the UK, said:
"We're delighted to announce this partnership with the brilliant Starling Arts company, who will now be exclusively delivering workshops on behalf of Wicked Active Learning. The COVID pandemic fundamentally altered the lives of many young people and UK schools continue supporting them to recover both academically and in terms of their wellbeing. We've long admired the inspirational work that Anna Shields and Emily Garsin have been doing in schools and communities, particularly during and in the aftermath of the lockdowns, boosting mental health and self-confidence through singing workshops and choirs. It's an honour to be collaborating with them and particularly appropriate to be announcing our partnership during Children's Mental Health Week."
Wicked is proud to support Place2Be's Children's Mental Health Week 2023, which runs until 12 February 2023. This year's theme is Let's Connect and is about making meaningful connections. People thrive in communities, and this connection is vital for wellbeing. Having healthy connections - to family, friends and others - can support our mental health and sense of wellbeing. For more information about the charity's important work visit www.childrensmentalhealthweek.org.uk or watch a video about this year's theme HERE.
On 30 January 2023, Wicked Active Learning launched the new school's creative writing competition Wicked Writers: Be The Change [www.LiteracyTrust.org.uk/wicked-writers] in partnership with the National Literacy Trust and children's author Sharna Jackson. Entries must be submitted by 31 March 2023.
Wicked Active Learning has also expanded its free teaching and learning online resources to include additional downloadable lesson plans, including PSHE Primary Self-Confidence, KS2 Diversity + Inclusion, developed with Twinkl, and KS2-4 Anti-Bullying, developed with the Anti-Bullying Alliance, together with new resource packs for English and Art + Design teachers.