Review: STEEL MAGNOLIAS, Richmond Theatre
An inherent sense of old-fashioned warmth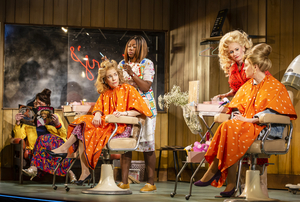 As with so many famous films, there was first a play. Robert Harling's Steel Magnolias remains best known for being the 1989 weepie with a stellar cast featuring Dolly Parton, Sally Fields and Julia Roberts, but began life Off-Broadway over thirty years ago.
Based on Harling's loss of his sister to complications in her diabetes, the story follows a group of six Southern women who gather at the Truvy's, the local beauty salon, to gossip, laugh and cry together. We meet the group on Shelby's wedding day as Truvy welcomes a new employee Annelle. The late Mayor's wife Clairee comes in to swap recipes, curmudgeonly Ousier worries about her dog and Shelby's mother M'Lynn chides her daughter for her choice of flowers.
It emerges that Shelby has severe diabetes and has been told she should not have children. As the play progresses through the next few years, Shelby becomes pregnant, has her baby, receives her mother's kidney and (is a spoiler alert required here?) dies.
The ensemble cast work well together. Lucy Speed is the standout in the show and channels the spirit of Dolly Parton as Truvy; blonde and busty with a sharp wit and real warmth in her convincing Southern twang. She has also learnt some impressive hairdressing skills, as she creates Shelby's huge wedding hair like a pro.
Diana Vickers is a natural and lovable Shelby; she creates a softness around her character that never becomes saccharine, particularly with her determination to be a mother.
There is a nice chemistry between Vickers and Call The Midwife star Laura Main, who is a nervy and timid M'Lynn, clutching her hand to her chest once too often. Her outburst of rage and sadness at Shelby's death is moving, but could do with some more grit.
The gruff and belligerent Ousier is carried with aplomb by Harriet Thorpe, who has real fun with the role. Caroline Harker is kind and gentile as Clairee, but her soft Southern accent often slips into RP. Elizabeth Ayodele is a wide-eyed and convincingly devout Annelle in an underwritten role.
Harling's writing is very much of its time, but still deftly re-creates a female world familiar to many women in the confidences shared and easy conversations as hair is cut or nails are painted. Some are clichés such as the complaining about the uselessness of men are well-worn, but many of the one-liners remain genuinely funny and there is an inherent sense of old-fashioned warmth in the portrayal of close communities and family ties.
The pace of Anthony Banks' direction sags a little at points. There are also a few clunking staging decisions; a strange, slow motion walk from Shelby as she leaves the stage for the last time makes her demise oddly unmoving and the cast positioned in a straight line across the stage in final scene is awkward.
Laura Hopkin's set design is a slightly run down 80s beauty salon, complete with pale pink sink and faux wood paneling. There are several posters of Dolly Parton, including one with her famous quote of "the bigger the hair, the closer to God". However, it looks flimsy, with the glass door at the side of the stage needing some reinforcement to stop quite so much wobbling.
This is a production that needs to settle; missed cues and fluffed lines are a bit too frequent, but there's a lot to enjoy here. A production of big hair and big heart.
Steel Magnolias is at Richmond Theatre until 28 January , then touring
Photo Credit: Pamela Raith