Review: BEOWULF, Barbican Hall
Iain Bell's musical adaptation of the epic poem was brought to life by the BBC Symphony Orchestra & Chorus, tenor Charles Styles, and acclaimed actor Ruth Wilson.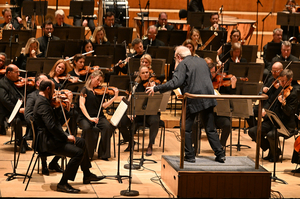 "I shall gain me glory, or grim-death shall take me", says the titular hero in the thousand-year-old epic poem. Last night, however, it was the turn of composer Iain Bell to seek a different kind of glory as his new adaptation of Beowulf (commissioned by the BBC) made its world première at Barbican Hall. Conducting the BBC Symphony Orchestra and Chorus was Martyn Brabbins, and they were joined by actor Ruth Wilson as narrator, and tenor Charles Styles (standing in for Stuart Skelton at short notice).
For those unfamiliar with the basic story, Beowulf follows the eponymous hero as he mortally wounds and chases away a violent swamp creature called Grendel, before the monster's mother comes to seek vengeance. Beowulf sets out with a group of men to confront her, finally swimming to the bottom of the lake and killing her, returning to the surface with Grendel's severed head. Many years later, Beowulf tries to recreate the glories of his youth by battling a dragon, but ends up being mortally wounded himself - his people then honour him with the creation of a funeral pyre.
Whittling a 3,000-line poem down to one 45-minute piece consisting of four movements was ambitious, and ultimately contributed to this work's downfall, as it jumped from one episode to another without any feeling complete. The three elements of music, song, and narration didn't marry together at all; they appeared to be at odds with each other, never quite flowing and definitely lacking any sense of cohesion.
It was most helpful that captions were provided for this performance (something that the Proms could take note of), however this inexplicably didn't extend to the narration - and given that this was practically inaudible over the music, it's impossible to make any comment on Ruth Wilson's performance.
Bell and consultant medievalist Lucy Barnhouse used R.M. Liuzza's translation as the base text for this piece, though from what was presented to us it felt like they had taken an axe to it and stitched a few fragments together to try and make it feel like an Old English poem again. There was no rhythm nor scansion, not to mention a feeble attempt at incorporating the alliteration for which the poem is famed. The 'cut-up' method may have worked for David Bowie in the 70s, but it hasn't worked here.
A pronunciation guide should have been provided for the few remaining Old English words in the libretto, to avoid any mistakes being made. A couple of early blunders included the mispronunciation of 'scop' and 'Geat'; something like this is incredibly jarring to hear, and unfortunately set the tone for the whole performance.
It is still unclear as to why this commission (somewhat unexpectedly performed first - resulting in swathes of the audience not returning after the interval) was paired with Ralph Vaughan Williams' Job: A Masque for Dancing. One piece is about a legendary hero, the other about a biblical figure known for his perseverance; neither do the compositions sound alike in any way. The programme notes that they both contain "music of elemental power", which feels like a rather woolly description.
On the whole, this second piece of the night was far more enjoyable. Its nine movements are a little bit of a slog if you're unfamiliar with the details of Job's story, though at least in concerts such as this you are encouraged to make use of the programme during the performance - even if you only have access to a digital copy on your phone (which was fortunate, given that there didn't seem to be anywhere near enough hard copies to go around).
Even following blindly, with this piece it is possible to hear the moments of threat and antagonism, as the mood flows naturally through the music and has clear themes and motifs at various points. You can also feel the influence of William Blake's engravings on Vaughan Williams' composition, especially when moments of darkness and drama seep in.
Though most of the plaudits will go to Igor Yuzefovich as orchestra leader, and understandably so, I would also like to highlight the exceptional work of the percussion section: Alex Neal, Fiona Ritchie, Joe Cooper, and Joe Richards. The dynamism provided from timpani to triangle really vivified the piece as a whole, and they are easily the most interesting section to watch, given that they have various different instruments to cover.
In terms of the entire evening, it was a bit of a mixed bag. You cannot fault the beauty and expertise of the Symphony Orchestra's playing, however the two pieces did not pair well - and the world première was something of a disappointment.
Beowulf was performed at the Barbican Hall on 17 March
Photo credit: BBC/Mark Allan