EDINBURGH 2022: Nic Sampson Q&A
EDINBURGH 2022: Nic Sampson Q&A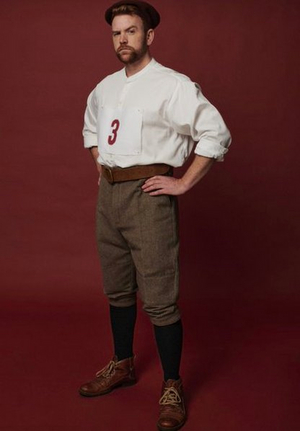 BWW catches up with Nic Sampson to chat about bringing Marathon, 1904 to the 2022 Edinburgh Festival Fringe.
Tell us a bit about Marathon, 1904.
Marathon, 1904 is a comedy show about the true story of the 1904 Olympic Marathon in St. Louis, Missouri. It was quite probably the stupidest race in the history of the Olympics, just about everything that could conceivably go wrong during a race went wrong during this race. Afterwards, the organiser of the St. Louis Olympics recommended the Marathon be abolished forever. Seriously, it's insane.

Why did you want to tell this story?
I came across this story randomly on the internet while I was working on a different idea for a show, and I just couldn't get the details out of my head. It was so funny to me. How could so much have gone wrong in one race? So I started doing research, and the more I discovered, the more I felt like this story should be shared. It should be a big movie or something! I don't know anyone at Paramount or Dreamworks, but I do know how to perform a comedy show with upwards of four different voices, so here I am!

What is the format of the show?

The show is a narrative storytelling comedy...thing? I play all the characters in the race, as well as the character of Nic Sampson telling the story of the race (I'm quite good at that part). Using a heady combination of words and theatrical magic I will transport the audience back in time to the year 1904, and if they're good, I will return them safely to the present day at the end.

Who would you recommend comes to see it?

I'd recommend this to people who like storytelling and character comedy. You don't have to be an expert on running though. I've never run a Marathon myself, so if you're after very specific jokes about like the way your nipples start chafing at mile fifteen then I can't promise that. It's a very fun show I think!

Where else might we know you from?
I'm one of the writers of Starstruck on BBC Three/HBO Max, and I also play the beloved character of 'Steve'. I'm also in The Brokenwood Mysteries on UKTV, where I play 'D.C. Sam Breen'. If you're from New Zealand then we most likely went to school together or something.
Sponsored content