EDINBURGH 2022: James Barr Q&A
EDINBURGH 2022: James Barr Q&A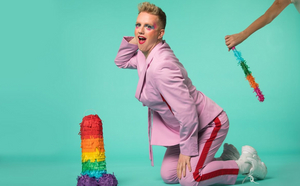 BWW catches up with James Barr to chat about bringing Straight Jokes to the 2022 Edinburgh Festival Fringe.
Tell us a bit about Straight Jokes.
I literally wrote an hour of just jokes, with zero 'Nanette' energy - but it's become deeper than that. I worked for a radio station that told me to "be less camp" on-air and this is my reply, it's a battlecry to be yourself.
What inspired you to write it?
I'd been getting so annoyed with some of my favourite straight comedians making jokes about LGBTQ+ people that I wanted to take our power back. They're not your jokes to make Ricky Gervais, they're mine, you big poofta ;)! Straight comedians have bigger stages, bigger audiences, bigger controversies but becuase I'm gay I'm suddenlly a 'niche'. I'm over it. Straight Jokes is my chance to finally win Straight Comedian of The Year. Fingers crossed.
After a run in 2019, do you think you know what to expect from the festival?
2019 was amazing but I made myself so ill with anxiety that by the end of the festival I had triggered a bout of severe reactive arthritis rendering myself unable to walk and in a wheelchair for three months. LOL. I remember Jen Brister seeing me at the airport and nodding with a smug "I told you so" energy. If I can make it through 2022 and be able to walk after, I'll be happy.
Who would you like to come and see Straight Jokes?
I want everyone to see this show, queer people, straight people! Ricky Gervais' fans. I'm also inviting JK Rowling.
And who would you rather didn't?
Sponsored content