EDINBURGH 2022: Alex Mackeith Q&A
EDINBURGH 2022: Alex Mackeith Q&A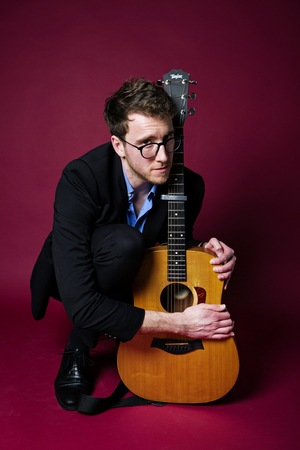 BWW catches up with Alex Mackeith to chat about bringing Thanks For Listening to the 2022 Edinburgh Festival Fringe.
Tell us a bit about Thanks For Listening.
It's a musical comedy show featuring me and an acoustic guitar. The songs are broadly about things I'm afraid of, so let's just say the content pool is... Pretty wide. Animals and trains feature prominently. The aim is to make the show feel like a sixties Greenwich Village coffee house spliced with Nirvana's Unplugged in New York. But funny.
Why bring it to Edinburgh?
I've been building up a bunch of songs since I started doing solo musical comedy, and I wanted to craft them into a full-length show. Everyone at the Fringe is sharing their tenderly-fashioned wares, and I wanted to be a part of that.
Do you think you know what to expect from the festival?
I think so. I took a few shows up with Ben Pope and Jamie Fraser in my old sketch group, Princes of Main, and went through the highs and lows of the old sketch comedy game. Narrative or no narrative? TED talk or knockabout party vibe? Lights up or lights down? We toyed with every element of the form and let's just say - like Daniel Day-Lewis with acting - we don't do it anymore. This year I'll be on my own, but Jamie and Ben
have said they'll be on standby at all hours to listen to me bragging about my new flyering technique (smiling!) and worrying if I have glandular fever (I have!).
What's next for you after the Fringe?
I've written a film called The Tutor that'll be in post-production by then. It's a psychological thriller about a tutor who inveigles himself into the family of his literary idol and begins to use their warped dynamics for his own ends. It's not a comedy - but you should watch it. The cast is phenomenal, with Julie Delpy, Richard E Grant, Daryl McCormack and Stephen McMillan. The atmosphere on set was electric, and I can't wait to
see the finished product. I would also like to see Greece.
Who would you like to come and see Thanks For Listening?
I want this church to be a broad one: everybody. But, specifically within that church, Steve Martin. Let's get that sorted.
Sponsored content
Photo credit: Karla Gowlett