Beinghuman Presents TIME, Written By and Starring Gaynor O'Flynn
TIME tells the story of a middle-aged female cliché, who uses her post-menopausal superpower to visit her successful friends from her past and reinvent her life.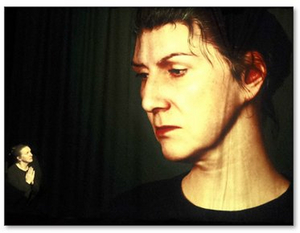 Beinghuman has announced the world premiere of a brand-new play, incorporating digital and performance artwork. Written by and starring Gaynor O'Flynn, TIME will run at the Vault Festival from 7th - 12th March 2023, having been selected from 600+ works to appear as one of the VAULT 5.
TIME explores the inescapable passing of the years;
Gaynor O'Flynn founded her company, Beinghuman, in 2000 & has worked globally with organisations including BBC, C4, National Geographic, ITV, Canal Plus, CBS, Sony, UNESCO & The British Council.
She has worked with creatives including Anton Corbijn, Stomp, Alan Bleasdale, Terry Gilliam, Bjork, New Order, P.J. Harvey & Eddie Izzard.
The BBC, called her, 'That conscious cathartic voice', Artrocker, 'Bloody Brilliant', Le Cool London, 'Hugely Enlightening', & 'Frieze, Exhilarating'.
She holds a M.A., Distinction, in Text & Performance from R.A.D.A. Her 2019 solo theatre show, 'Everyone's Mother', performed at the Actor's Centre, Soho won a John Thaw Award, she was selected for VAULT 5 with her recent work TIME.
Gaynor is an experienced humanitarian & environmental campaigner. She has worked for The Dalai Lama & has talked to millions globally on BBC, C4 & CNN.
An award-winning production company working in TV, film, theatre, art, music & technology, Beinghuman finds the perfect medium, regardless of length, genre or style to create our cool, clever, compassionate work.
'CreaTech' innovators, Gaynor and Beinghuman have made interactive, immersive experiences for 20+ years. In 2019 & 2022 her company Beinghuman, won awards from Innovate UK & Audiences Of The Future.
Beinghuman & their brilliant team work with broadcasters, organisations & brands including the BBC, ITV, Channel 4, Canal+, NESTA, Mall Galleries, British Council, UNESCO, Sadler's Wells & the RSC in locations as diverse as Benin, Istanbul, Mexico City, Kathmandu, Soweto, Brooklyn & the Himalayas.
TIME @ Vaults Festival 2023
Vaults Festival: Leake St, London SE1 7NN
7th - 12th March 2023
PRESS NIGHT 7th March (but critics welcome on all dates)
https://cloud.broadwayworld.com/rec/ticketclick.cfm?fromlink=2222689®id=4&articlelink=https%3A%2F%2Fvaultfestival.com%2Fevents%2Ftime%2F?utm_source=BWW2022&utm_medium=referral&utm_campaign=article&utm_content=bottombuybutton1