BWW Review: THE SECRET DIARY OF ADRIAN MOLE AGED 13¾ - THE MUSICAL

Britain's most beloved diarist (give or take a Bridget Jones) comes to London in chamber musical form in a new adaptation created with the late Sue Townsend's blessing.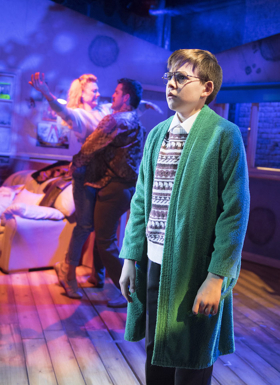 Jake Brunger and Pippa Cleary's version, tweaked since its premiere run in Leicester in 2015, should certainly prove popular with school holiday audiences, though a broader approach means parents may miss Townsend's subtly genius brand of humour.
In compensation, Eighties nostalgia reigns: everything from Boggle, Dallas and electric-blue eye shadow to Charles and Di's fairy tale wedding. Tom Rogers' design also has a pop-up storybook quality, with set elements folding in and out of bedroom cupboards, as well as keeping the wannabe writer at the forefront: a light-up ruler frames the stage, along with a giant chewed Bic lid.
The show follows an eventful year for teenage Adrian, as his parents' marriage hits the rocks and posh dream girl Pandora transfers to his school. Many of the book's vivid characters make it to the stage, including grouchy pensioner Bert Baxter, best mate Nigel, Grandma Mole and bully Barry.
Even better, some of Townsend's sublime lines also make the transfer, superbly delivered in downbeat fashion by bespectacled, knobbly jumper-wearing Benjamin Lewis - one of three rotating Adrians - on press night. Lewis is additionally equipped with a marvellously expressive face and a good handle on Adrian's mix of pompous, cod-intellectual self-assurance and adolescent fumbling.
The other characters, glimpsed through Adrian's eyes in print, are given greater prominence here - with mixed results. Townsend's precise, understated and socially aware writing is made blunter and brasher, with the nuances of the parents' separation and Adrian's interclass romance lost as the two are shaped to fit parallel "love conquers all" tracks.
Without Adrian's often brilliantly clueless commentary, the subplots can feel adrift. Some scenes and exchanges are too generic, the serious moments at odds with the swift, sketch comedy style of plotting.
It's a shame, too, that Townsend's gift for carefully chosen references doesn't translate to the songs, which - bar Adrian's immortal couplet "Pandora/I adore ya" and one very British NHS/BHS rhyme - lack such specifics. The score is appealing and well-balanced, if rather unmemorable.
But fantastic performances from the younger cast keep the show engaging. Asha Banks brings accomplished vocals and sleek hairography to the terrifyingly precocious, high-ponytailed Pandora, while Connor Davies is a suitably menacing Barry and Amir Wilson hilarious as the too-cool-for-school Nigel.
The adult cast members occasionally playing kids to make up the numbers proves distracting, and several push the performance style from satire to all-out sitcom. Still, Kelly Price and Dean Chisnall are winning as the beleaguered Moles, while Lara Denning and John Hopkins have riotous fun as - respectively - "Dirty Doreen" and Adrian's nemeses: sleazy Mr Lucas, a roaring headmaster and a pitiless doctor.
Luke Sheppard's production is well suited to the intimate Menier, and its crowd-pleasing set-pieces (a school disco, mini rebellion and an avant-garde nativity) keep the energy high. There are some witty touches in Rebecca Howell's choreography - a kitchen-set tango seduction features a gush of washing-up liquid - and a palpable warmth throughout.
In fact, it's almost too jovial a show, lacking real conflict in the second half as outsider Adrian finds total acceptance. Reassuring, perhaps, to young viewers as issues like bullying, body image, familial insecurity and the fear of not being understood dissipate in a cosy conclusion, but then hits like Matilda and Billy Elliot have proven that you can successfully balance grit and glee.
Nevertheless, this is a lovingly crafted, homegrown piece, and a good outing for theatregoers transitioning from family shows to more mature fare.
The Secret Diary of Adrian Mole Aged 13¾ - The Musical is at Menier Chocolate Factory until 9 September
Read our interview with Jake Brunger and Pippa Cleary
Photo credit: Alastair Muir