Review: PINTER THREE and PINTER FOUR, Harold Pinter Theatre
Jamie Lloyd's 10-anniversary season of Pinter (which kicked off in style earlier this autumn) continues with two more batches of miniatures - from familiar shorts like A Kind of Alaska to sketches and more obscure works - plus another tantalisingly starry company.
The latter is the big selling point of Pinter Three (****), with the momentous return of comedian Lee Evans. Evans's rapturously received appearance on Graham Norton's show demonstrated how much affection the public still holds for him, and the same proves true here: every twitch and roll of his marvellously elastic face is greeted with cheers and howls.
That can sometimes unbalance the production, with laughs coming less from the text (or interpretation of it), more from the joy of seeing Evans back on stage, doing his thing. But where Lloyd manages to harness his extraordinary charisma, it makes for powerful tragicomedy.
The prevailing theme of this set is that of grief, loneliness or missed connections, as people speak at cross-purposes, talk to those they've lost, take refuge in memory, or struggle to make sense of the human condition. It opens with 1969's Landscape, where Tamsin Greig's wistful memories are juxtaposed with Keith Allen's gruff Cockney observations.
The spellbinding Greig speaks softly into a mic with an Irish lilt, drawing us into her evocative reminiscences. Allen's Duff can't hear her words, but continually, fruitlessly tries to draw her into conversation.
Both touch on mundanities, but Greig's Beth elevates a beach trip to something sensual, beautiful, transcendent, while Duff characterises a park visit by duck shit. There are hints of dark dealings, but the melancholy ache and the defensive wall between them are most riveting.
We get a slighter version in 1969's Night, as a couple gently bicker over their conflicting memories of when and how they met. It's less sophisticated in form, but Meera Syal and Tom Edden nicely toggle between affectionate teasing and moments of anxiety.
Monologue (1973), marvellously performed by Lee Evans, shows you don't even need the sparring partner. His character is locked in rivalry with an absent frenemy, represented by an empty chair, trying - inevitably without success - to win long-standing arguments, or assert his comparative strength. Both hilarious and poignant, he's a man trapped between past and present, vocally and physically wrestling for control.
Rivalling him in the tour de force solo stakes is Tom Edden, who brings a glittering mania to 1995's Girls. The monologue takes a simple idea, twists it in self-defeating academic knots, and then skids into a completely different direction - all handled brilliantly by Edden.
When the two men join forces, it's completely irresistible. Nonsensical fragment That's All (1959) is elevated simply by Evans' double takes at Edden beside him, while the basic set-ups of That's Your Trouble and Trouble in the Works (also both 1959) - a pub argument, a factory dispute featuring amusingly named machine parts - are, thanks to this detailed double act, reborn as divine comedy.
Syal gets stuck with a couple of skits that don't really land, otherwise this is a strong offering - climaxing with A Kind of Alaska (1982), inspired by Oliver Sacks' book Awakenings. Greig takes on the role originated by Judi Dench: a woman who fell into a sleeping sickness as a young teen, and now wakes up after 29 years.
It's a cracking dramatic premise, and Greig conveys every facet of Pinter's take on it: the wrenching adolescent glimpses - plaintive, petty, hopeful, scared - the horror of realisation, the combative intelligence, and most of all the strangeness of her time away, lost in a glass hall of obliterating mirrors. "Home" becomes not just place or people, but a mental state - and her grip on consciousness is as fragile as that glass.
Director Lloyd once again fluidly joins these various pieces, aided by Soutra Gilmour's rotating cube with interiors that suggest a house wrecked, bombed out, or long abandoned. She also supplies marvellous brown suits and sweater vests, while Ben and Max Ringham's sound design further links the shorts by emphasising recurring tropes: dripping or lapping water, and the cries of absent children.
---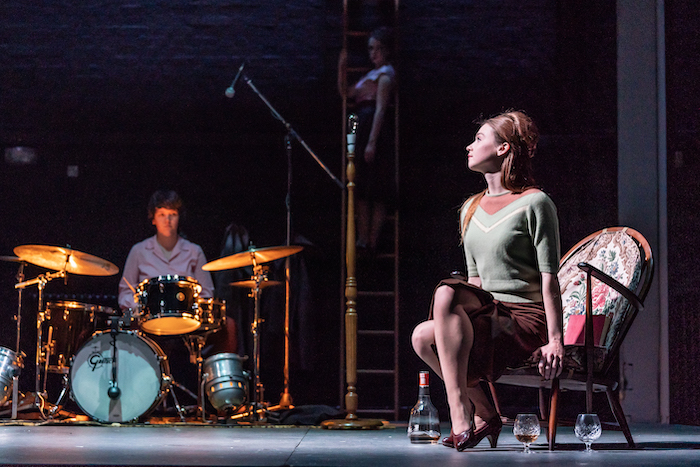 Pinter Four (***), conversely, has only two works - and it's very much a study in contrasts. First up in this double bill is Moonlight (1993), a piece that aims at profundity through a haze of ambiguity, but ends up feeling like weak Pinter pastiche.
It's not helped by a flat Lyndsey Turner production, which keeps the action static and confined, the actors inching around a crowded bedroom set, and plays the family drama too rigidly: a dying patriarch, detached wife, two squabbling sons, and a mysterious daughter.
Robert Glenister does have presence as the crotchety civil servant battling with his deathbed, and Brid Brennan induces a shiver by delivering both benign comments and shattering revelations in the same velvety tones. Janie Dee is wryly amusing as the visiting lover, boasting about her children's success in the same rush of rehearsed phrasing.
But the transitions to the sons feel awkward, rather than reflective. Al Weaver and Dwane Walcott make heavy weather of what should be punchy, rhythmic back-and-forths, losing the satirical humour and underlying emotion. Isis Hainsworth's Bridget is likewise cut adrift - by the production, rather than in a way that might illuminate the family's psyche. It's somehow simultaneously too blunt and too oblique.
Following this wooziness, we get a jazzy wake-up call via Ed Stambollouian's electrifying take on Night School (1979). It takes the boldest staging decisions we've seen so far in this season, and with stellar results.
Originally a TV drama, the play sees hapless criminal Walter released from prison, only to find his aunts have let his room out to young schoolteacher Sally, who spends her evenings at night school. But the dynamics shift when he stumbles upon her secret double life, drawing us into a gangster underworld.
It's one of Pinter's more accessible pieces, though lent expressionistic fervour by Stambollouian's introduction of Abbie Finn playing drums throughout. Gilmour keeps the stage bare, with just a few key props: the aunts' tea trolley, the pink items with which Sally has colonised the room, the seedy tinsel curtains of a club.
That puts the focus on the language, excitingly underscored by Finn. Her sensitive additions give extra sparks of wit and tension to the piece, as well as expressing the raging hidden emotions of the deliberately sphinx-life Sally.
Jessica Barden is very effective as this still centre - in contrast to Weaver's bumbling would-be seducer (he praises her "northern eyes" as being "full of soot"). But there's sly commentary on the different risks they face. Ex-con Walter is welcomed back affectionately ("How'd they treat you?"), while the potential poisoning of Sally's good girl persona is critical, and placing that act in the power of another man downright dangerous.
Dee and Brennan have riotous fun as the old biddies (aided by Gilmour's styling, and Richard Mawbey's wigs - marvellous throughout both productions), but their circular chatter is well observed. Glenister laces conviviality with menace, and Peter Polycarpou efficiently sketches a squirrelly middleman.
It's inescapably a period piece, but given real vigour and spontaneity through its framing. While Pinter Three demonstrates the meaty opportunities this material offers to the likes of Greig, Evans and Edden, it's the sense of discovery that bursts forth from (the latter half of) this fourth outing - and that encapsulates not just Pinter's legacy, but his subversive anarchy.
Pinter Three and Pinter Two until 8 December at Harold Pinter Theatre. Pinter at the Pinter until 23 February, 2019 - book tickets here
Photo credit: Marc Brenner