BWW Review: PINTER ONE and PINTER TWO, Harold Pinter Theatre

Jamie Lloyd is marking the 10th anniversary of Harold Pinter's death in remarkable style with his Pinter at the Pinter season, staging all the great man's 20 short plays, plus some sketches and poetry - grouped into seven productions - at the theatre which now bears his name.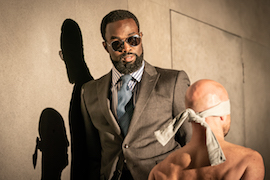 It's a rare chance to see these works staged at all - let alone on this scale, and with the impressive company Lloyd has assembled across the season.
But this isn't merely an exercise in theatrical nostalgia, or one for the completists. The opening two productions - directed by Lloyd himself, apart from one piece helmed by Lia Williams - prove the fierce contemporary power of Pinter, and the necessity of his fearless gaze.
Pinter One is the overtly political offering, while Pinter Two is subversion in the domestic sphere, and played as a much lighter affair - but still unsettles, as it asks questions about what we consider taboo and why, and the role of deceit in relationships. Both seasons, too, demonstrate Pinter's still revolutionary approach to theatre - in language, in form, in stagecraft, and in what he demands of an audience.
Pinter One literally starts with a bang, as a shower of mock-patriotic confetti heralds 2002 sketch Press Conference - Jonjo O'Neill's secret police chief-turned-Minster of Culture setting the tone with a smooth-talking but terrifying argument for totalitarian control in the name of protecting the innate goodness of the ordinary citizen.
The gulf between horrific violence and the scrupulously oblique or pious language of those who order it recurs throughout the evening. In The New World Order (1991), two torturers stand before a naked, blindfolded man strapped to a chair, bickering and getting into linguistic wrangles; precision is everything.
But even more chilling than the obvious void of empathy - the casualness with which two humans treat the suffering of another, right in front of them - is the moment when Paapa Essiedu's torturer gasps out "I feel so pure!". There's a fanaticism recognisable in so many leaders, committing atrocities in the name of faith, freedom or virtue.
Lack of empathy is played as pitch-black comedy in Precisely (1983) - Maggie Steed and Kate O'Flynn inhabiting the suited City boy types who toss off numbers in between gulps of wine, indifferent to the lives affected even as they cite that their murderous actions are "in the name of the people". It's almost a game, and the cross-casting is very effective in heightening that quality.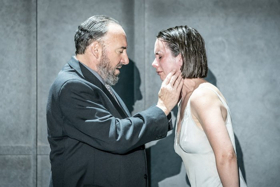 Mountain Language (1988) renders the women powerless, subject to the terrifying whims of soldiers who hold their loved ones captive, and who have outlawed their native language.
Michael Gambon contributes a superb voiceover as the sardonic, irascible boss making and enforcing arbitrary rules - his pally tone at stark odds with the grisly consequences of disobedience.
Offering a (by this point much-needed) moment of levity is sketch The Pres and an Officer, which Antonia Fraser discovered after Pinter's death. Its satire of a terrifyingly stupid American President, nuking cities by accident, seems tailor-made for Trump, and indeed is played as such - by guest stars throughout the run, beginning here with an uncanny Jon Culshaw. It may be a soft target, but the frozen horror of his aide (O'Neill) hits home.
At the other end of the scale, director Lia Williams handles the elusive Ashes to Ashes with great sensitivity and finesse. Its couple stumbles through what may be a romantic argument, the uncovering of a personal trauma, a mental breakdown, or even reference to the Holocaust, in a queasy, dreamlike framing.
Essiedu makes clear the panic of his character's questioning, his loss of control and certainty, while O'Flynn's physicality is incredibly arresting, whether curling up in a chair like an animal about to pounce, or falling face first into the abyss. Ashes to Ashes feels like a strong discovery, particularly in the great case Williams makes for it.
But the production's highlight is its most well-known piece, One for the Road (1984), memorably anchored by Antony Sher. His tyrannical interrogator has shades of the Oxbridge don, luxuriating in his own silken-voiced, musical eloquence, using gentlemanly cricket analogies, chuckling at the ambiguity of his phrasing, and - of course - pouring out countless splashes of whisky.
The violence is never seen, but all the more terrifying in inference, and in our imagination. Once again, it's driven by religious fervour ("God speaks through me"), and the rhetoric of purity, innocence and guilt - and who gets to sit in judgement - doesn't feel remotely historic. A powerful man dismissing a woman as being an "unreliable witness" to her own sexual assault? Surely not in 2018...
Pinter One honours Pinter's unflinching examination of humanity's darkness, and shows that by focussing on the mechanics and language of evil, rather than on a specific regime, it will always speak to the present moment. The whole company is exemplary, with the versatile Essiedu the standout.
The various pieces (also featured are two poems) are superbly woven together in a gripping production, with Soutra Gilmour's rotating set linking every scenario - individuals dominated by towering institutional structures. Jon Clark's lighting only softens when the "mountain people" speak their own language, and the monochromatic colour scheme is disrupted only by the bright red of blood.
Furious, funny and alarming theatre that demands engagement, and that leaves a mark.
---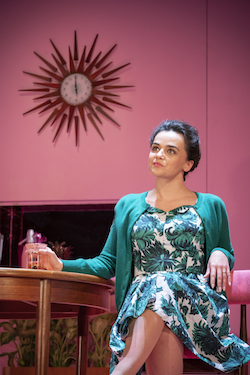 Pinter Two pairs a couple of Sixties shorts: The Lover and The Collection. Lloyd directs both with great panache, though the latter does go slightly overboard in its winking farce.
In The Lover, period-perfect domesticity is gleefully upended. The good little wife wishes her husband a nice day at work - and then discusses timings for her lover's visit that afternoon. The play rolls out a fun series of surprises and reveals, showing how unconventionality fuels and challenges this particular union.
Hayley Squires and John Macmillan are spot on with the tone and pace, keeping the bright, smiley cheer of a sitcom couple even as their conversation heads towards the risqué. There's great use of body language as they express both those hidden desires - and how their socially constrained selves respond to them.
Elliptical language, devious and menacing in the political sphere of Pinter One, is here rather more amusing. A phrase like "Did you show him the hollyhocks?" becomes deliciously loaded, as does the unusual use of a bongo and oddly sensual framing of "It's tea time".
There's also an element of danger, as the pair try to maintain this delicate balance, and the gender double standards of the time (well, of our time too) are still apparent; though the arrangement is mutual, the husband's uneasiness manifests in controlling jealousy and nastily misogynistic slurs.
But the piece is mainly played for naughty retro comedy, enhanced by Gilmour's fabulous pink and green design - complete with vintage sunburst clock - and featuring an innuendo-laden cameo from Russell Tovey.
Tovey has a more substantial role, though still plenty of innuendo to employ, in The Collection, which features a tangled web of relationships, flirtations and fantasies. Coded language ("opera fans") suggests that Tovey and David Suchet's characters are more than just flatmates, though the former, Bill, is also accused of having an affair with another man's wife.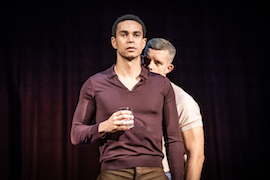 Suchet played Lady Bracknell a few years back, and there's something of the grande dame in his turn here - or, perhaps, the fastidiousness of Hercule Poirot.
Whether bristling in his silk dressing gown or fussily dismissing a (real) cat, it's a very funny camp turn, though he too takes great care with the language - often for comic effect, but not shying away from his character's viciousness in labelling his lover a "slum slug".
Squires once again excels as the seemingly perfect wife with a mysterious undertow, as does Macmillan as her husband - the latter introducing a potential danger as he forces his way into Bill's life.
But that element dissipates swiftly with Tovey playing much of his part at crotch level - literally and figuratively. It's a very charismatic turn - a welcome reminder of Tovey's phenomenal stage presence, and rapturously received by the audience.
However, the broad style and overt queerness lessens the piece's mystery and dislocation, and a metatheatrical thread about role-playing is also narrowed down to this particular reading. The power dynamics, though still apparent, feel less vital than they might.
Pinter Two is overall a less wrenching experience; that in itself isn't a bad thing, and there's still plenty to take from both impeccably presented plays. But Pinter One is the production that establishes Lloyd's grand experiment as a vital piece of programming for the here and now.
Pinter One until 20 October and Pinter Two until 20 October, at Harold Pinter Theatre. Pinter at the Pinter until 23 February, 2019 - book tickets here
Photo credit: Marc Brenner