BWW Review: MANON, London Coliseum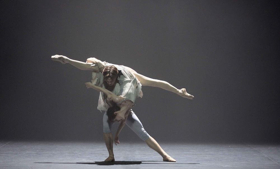 Manon is not a ballet for the #MeToo era. The story follows Manon as she falls in love with Des Grieux, a poor student. She is, essentially, pimped out by her brother to become the mistress of wealthy aristocrat Monsieur GM.
Swayed by the material world of gambling and courtesans, we see Manon falling for the fur coats and jewellery, but it is when she wants to follow her heart and escape with her lover, things go dramatically wrong. She is arrested then raped by a brutal jailer and dies. It is not a tale of female emancipation and not even of the triumph of good over evil.
Despite this darkness, or rather because of it, Choreographer Kenneth MacMillan created a stunning ballet, rich with passion, pathos and sadness. His version has been touring and now returns to the London Coliseum in a darkly beautiful and poignant rendition of the story.
On review night Principal Begoña Cao returns to the role of Manon. It is a contradictory role, where a young girl is in love but is tempted away from a life of poverty by the lure of wealth and every dancer plays the role differently. Cao moves effortlessly, the delicacy of her arms and the expressiveness of her feet are beautiful. She portrays the contradictions of the role skilfully; naïve and innocent then playful and manipulative. It is fascinating to see the darkening of her character as she loses her youthful innocence. By Act III, she is a pitiful sight; visibly older, gaunt and strained.
Spanish Soloist and winner of the ENB's Emerging Dancer of the Year in 2017, Aitor Arrieta takes on Des Grieux. Many dancers struggle to find his personality, but Arrieta manages to extract dreamy earnestness as he establishes the character in his first solo. He moves a little stiffly in the first pas de deux, seeming to concentrate more on perfecting his lifts of Cao than falling in love with her. However, he settles in well and by the final, tragic pas de deux, his whole body expresses his devastation at Manon's death.
Cao's partnership with Arrieta is crucial as MacMillan's rich choreography pivots around the pas de deux, which track the downfall of Manon. In the opening pas de deux, where Des Grieux and Manon fall in love, we see a lightness and sense of innocent and youthful love. In the bedroom scene there is a flirtation from Cao, who seems to become breathless with love and adoration.
The final pas de deux in the swamps of Louisiana is devastating in its raw energy and sadness. The pair dance very well together and there is technical brilliance, but there is a lack of sparkling chemistry between them as a couple.
Lescaut is danced by Ken Saruhashi, who displays youthful and ruthless energy. He makes the most of his drunken antics in Act II, especially when partnering with his mistress, a mischievous Crystal Costa.
Set in an 18th-century Parisian world where morality is secondary to pleasure, there is a huge amount of detail in this staging and the whole company works hard to convey the crowd scenes, as prostitutes and petty criminals lurk in the shadows. For such a dark story, there is plenty of comedy, where the rivalling courtesans jostle for the attention of drunken men and sprawl on the floor for dropped coins.
Massenet's beautiful score -made up from several of his works - is conducted with aplomb by Orlando Jopling, newly appointed as ENB Associate Conductor at the beginning of the 2018/19 season. The soaring heartbreak of the final scenes is perfectly pitched and genuinely touching.
This production, designed by Mia Stensgaard for the Royal Danish Ballet, is more stripped back than the more opulent version of the Royal Opera House, but works well, showing the extreme situations of absolute destitution and poverty and the opulence that wealth brings. The final swamp scene is simple, but very effective.
This wonderfully rich production is, sadly, only on for a very short time, so catch it while you can.
Manon is at the London Coliseum until 20 January
Photo Credit: Laurent Liotardo
Related Articles View More UK / West End

Stories

Shows