BWW Review: HAMILTON, Victoria Palace Theatre

Does Hamilton live up the hype - and will it appeal to British audiences? Yes, and yes again. It's not like America has a monopoly on national identity crisis, leadership, immigration, parenthood, grief, sex scandals and political rivalries. But beyond that, it's just a blisteringly great night out: universally thrilling entertainment.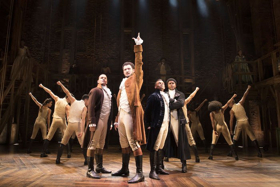 It also looks and sounds like nothing else in the West End, thanks to Lin-Manuel Miranda's genius choice to refract 18th-century history through hip-hop and a deliberately multiracial cast. Lily-white period drama be damned.
Upon reading Ron Chernow's biography, Miranda realised that the life of Founding Father Alexander Hamilton was analogous to that of a contemporary rapper: the penniless "bastard orphan" immigrant who wrote his way out of a bad situation, struggles fuelling success.
Miranda's sung-through musical sticks fairly close to reality. Hamilton was born on Nevis, in the Caribbean, and landed in New York on the eve of Revolution. He was George Washington's right-hand man, established America's banking system and defended its new constitution. Yet he was all but forgotten until Miranda's work - a compelling theme of which is that history is shaped through subjective storytelling.
The show premiered Off-Broadway in 2015 - very much an Obama-era musical - and has since collected Tonys, a Grammy, a Pulitzer, and transcended theatre to become a cultural phenomenon. The current climate has politicised it differently; the line "Immigrants, we get the job done" now draws pointed applause.
This is Hamilton's first international test, and it's an extraordinary audience experience. Unlike most new musicals, there are long-time fans in attendance who've devoured the soundtrack and mixtape, and who whoop and sigh in recognition. Alongside them are fresh responses: laughs, gasps, shouts of astonishment at its sheer audaciousness.
Hamilton suits both. The exceptionally textured score (with superb orchestrations from Alex Lacamoire) rewards repeated engagement, jam-packed as it is with references - from Tupac, Ja Rule, Biggie Smalls and British Invasion pop to Rodgers and Hammerstein, Gilbert and Sullivan, Jason Robert Brown, Sondheim and Shakespeare - plus double meanings, internal rhymes, hard-working echoes and reprises, and the sexiest discussion of comma placement ever recorded.
But in the moment, it grabs hold and doesn't let go. Cabinet debates over tax become electrifying rap battles, courtship sensual R&B, and there's even effectively visceral staging of warfare. Crucially, form illuminates character: the rebels communicate in simpler, old-school hip-hop until Hamilton arrives; when Thomas Jefferson returns from France, he's so out of step he sings jazz.
A sensational British cast makes it their own. Recent RADA graduate Jamael Westman's Hamilton starts out awkward in an unfamiliar smart coat: "My Shot" is as much as him growing into this identity as it is Hamilton demonstrating his skill as a once-in-a-generation wordsmith.
Westman layers on new elements without losing sight of Hamilton's early trauma, his insecurity, barely suppressed rage, and relentless sense of mortality. But he's also the rakish tomcat, articulate constitutional scholar, dangerously arrogant pedant - Westman spitting out "As you can see I kept a record of every check in my checkered/History. Check it again against your list n' see consistency" is a delicious character summation.
Giles Terera is masterful as his temperamental opposite, Salieri-like frenemy, Aaron Burr, paralysed by family legacy. While Westman's lanky, moody Hamilton is the kid who gets thrown out for arguing with the textbook, Terera's Burr has the chirpy certainty of class prefect. But when his unpolished rival surpasses him, it triggers a crisis.
Terera delicately reveals Burr's vulnerability in "Wait for It", relaxing the mannered precision of his speech just slightly, then in showstopper "The Room Where It Happens" he signals the terrifying emergence of the political opportunist via a manic gleam in the eye and fervent dancing. It's transfixing.
Obioma Ugoala's Washington is monumental, but his "One Last Time" also humanises - beleaguered, wistful, pleading for understanding. Tarinn Callender is an irresistibly awesome Hercules Mulligan and fussy invalid Madison; Cleve September captures the cocky enthusiasm of Laurens; and Jason Pennycooke comes close to walking off with the whole thing via a florid Lafayette and hyperactive, devilish diva Thomas Jefferson.
He's rivalled by Michael Jibson's George III - hilariously prim but volatile and psychopathic. Yet his sneering "What comes next?/You've been freed/Do you know how hard it is to lead?" to America could well be the EU addressing an adrift Brexit Britain.
And - what joy - it's not just about the guys, as Miranda gives plenty of space to the politically aware Schuyler sisters. Rachelle Ann Go lends gorgeously rich voice to Hamilton's long-suffering wife Eliza, who somehow finds the dignity and power denied to women, and Christine Allado is excellent as gawky Peggy and sultry Maria Reynolds.
But perhaps most remarkable is Rachel John as older sister Angelica, who lands one of the most complex and intricate numbers, "Satisfied", with astonishing ease - demonstrating the brilliant Angelica's lightning-fast mind, and the devastation of an emotional affair that she predicted, analysed and yet still couldn't escape.
The ensemble is vital in Thomas Kail's fluid Broadway production, uncluttered by extravagant scene changes. It's just a few props, a cleverly used revolve, and the actors' skill at taking us from an upper-crust ball to the battlefield (propulsive, articulate choreography from Andy Blankenbuehler).
David Korins' design references shipbuilding in its joints, beams and ropes, and Paul Tazewell's costumes are deconstructed period - the coloured attire of featured characters popping against the parchment-toned group. Producer Cameron Mackintosh has also restored the theatre itself to Frank Matcham's Rococo glory, but with welcome updating: excellent sightlines throughout, and plentiful facilities.
It's a further act of creation, and ensuring a legacy, in a night full of them: from this writers' Revolution to Miranda's potentially game-changing work. Might it encourage new theatrical forms and voices, diverse casting, an industry "turned upside down", a society reminded of its striver, multicultural roots?
It's too early to know; legacy is "planting seeds in a garden you never get to see". But, though there are niggles - notably, slavery is downplayed in this bright-eyed origin story - its joyful optimism inspires us to think about what we leave behind, and lifts the spirits at the end of a long, dark year. How lucky we are to be alive right now.
Hamilton currently booking at Victoria Palace Theatre until 28 July, 2018
Photo credit: Matthew Murphy
Related Articles