BWW Review: GUNDOG, Royal Court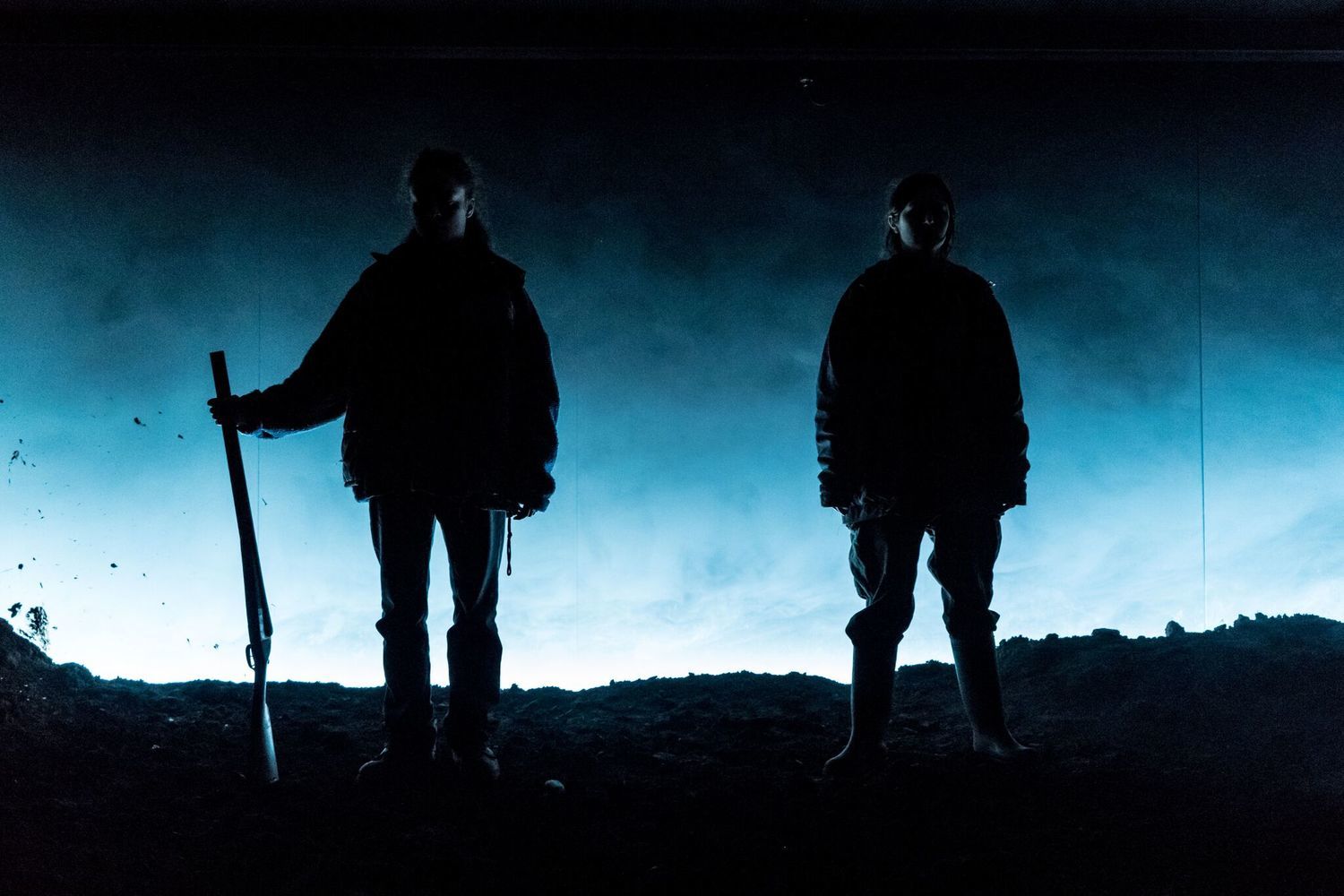 Desperately struggling to hold their family together, sisters Becky and Anna fight for survival. Stuck in a rut, they befriend a wandering stranger who aimlessly navigates the land. Together, the three strike up an unlikely friendship in their bid to remain alive. Time moves slowly in this part of the world, and this makes the trio reflect intensely on every moment that passes.
Chloe Lamford's design sees a gigantic mound of mud cover the majority of the playing space. A large sheep's carcass is carted around, hoisted up onto hooks and left to rot in front of us. The prop is used relentlessly throughout the performance; the characters reference it to reflect upon the lambing process, and also make us aware of what happens when the young ones are born lame.
Simon Longman's script uses the idea of 'lameness' consistently. He creates metaphor after metaphor to reference what happens when an animal is unfit for purpose, whilst at the same time relating this uselessness onto the brother, Ben. Appearing barefoot and dirty, he's returned home seeking safety, but everyone that remains must be productive in some way.
Ben isn't, so what's the point of him being alive? Playing the depraved brother, Alex Austin reveals the utter desperation of the situation, by going on a large-scale and long, mentally unhinged tirade towards the end of the play. He truly gives himself fully to the performance; his face bursts bright red with a variety of emotions.
As the sisters Rochenda Sandall and Ria Zmitrowicz riff jokes off one another left, right and centre. The two sisters are complete opposites: Sandall is tight-lipped, pragmatic and seemingly cautious, whereas Zmitrowicz talks too much, is erratic and makes jokes all the time. It's a nice contrast to watch on stage, and the actors' dynamic is really exciting.
Vicky Featherstone's production is a sensory overload that works incredibly well. Peter Rice's sound design, mixed with Lee Curran's lighting provides an onslaught of various crashes, thuds, flashes and bangs, that coincide clearly with Longman's text. A tale of despair, Gundog is beautiful in its composition and epic in its execution. It surely is not one to miss.
Gundog at the Royal Court until 10 March.
Photo credit: Manuel Harlan