Review: GREEK, Arcola Theatre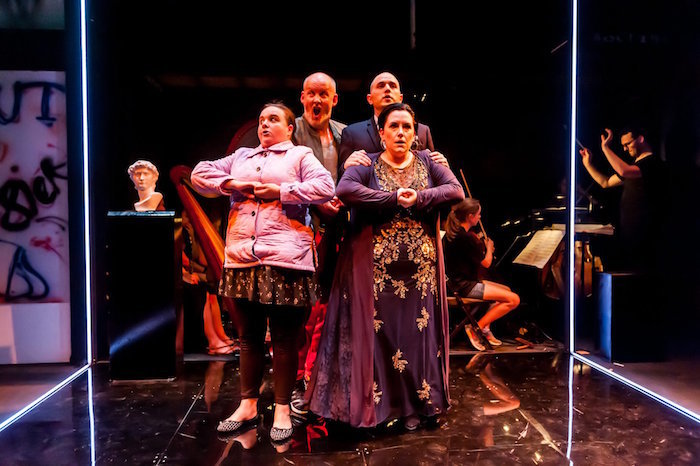 Thirty years after composer Mark-Anthony Turnage and director Jonathan Moore's trailblazing opera Greek premiered at the ENO, it's apparent from this new production, part of Arcola Theatre's Grimeborn Opera Festival 2018, that it's lost none of the punchy, punk attitude that made it such an innovative tour-de-force.
Grimeborn - which was founded in 2007 by Arcola's artistic director Mehmet Ergen, coinciding with the season of the more famous, homophonic Glyndebourne - is now a firmly established part of the opera scene, showcasing new, reworked classics and experimental works. This year, Greek is the jewel in its eclectic, inclusive crown.
From the off, Greek is all high-octane intensity, snarling In Your Face, grabbing you by the scruff of the neck and not letting go until the raucous last minute. Based on the verse play of the same name by Steven Berkoff who wrote the libretto, it's a boisterous, contemporary reworking into a Cockney version of the Oedipus myth set in the East End of London. In effect, being located at the Arcola Theatre in Dalston, Greek is coming home.
In this "seething heap of world", Edmund Danon's Eddy - thuggish with latent menace - can't wait to get away from Dad, a Nazi sympathiser, and Mum, whose apron, her "flag of womanhood", denotes that she's always in the kitchen. More than describing just individuals, these characters represent a portrait of working-class London during the rampant unemployment, strikes and riots that marked the Thatcherite era.
We know the horrifying story. Eddy Will eventually kill his father and commit incest with his mother. The question is when and how within this particular production. It's a 'state of plague' that also manages to work in aspects of this decade: the London Riots, the internet.
A graffiti-covered wall beside the stage, which doubles as a screen projecting police brutality and civil unrest, bears the (ironic because we're in Dalston) tag 'Hipsters Out!'. Alongside this, the sex and bawdiness that drenches Berkoff's original verse play is referenced very early on in the show and throughout.
All this is underpinned by Turnage's score, played with gusto by the Kantanti Ensemble and crisply conducted by Tim Anderson. It counterpoints and layers the changing moods with great attention to detail and familiar but not slavish tropes. At one point, when Eddy has joined a protest march, the music becomes a rocking and rolling percussive wall of sound that enhances the sometimes dislocated but brilliantly realised choreography.
One of the joys of this production is the uniformly strong cast who work harmoniously together, employing a range of vocal tones, combining a working-class argot with classical diction, depicting not only a certain kind of Brit but certain kinds emotions too. Edmund Danon's lithe and febrile presence belies his sonorous baritone while perfectly embodying Eddy's restless energy.
As Wife/Sis, Laura Woods' contralto is liquid expressiveness and is enthralling to watch and listen to, especially when she is mourning her slain husband, while Philippa Boyle's Mum fizzes with vocal versatility and Richard Morrison's rangy performance enables you to empathise with Dad, despite the character's abhorrent views.
Baska Wesolowska's stage design is fittingly lean given the irrepressible immediacy of the action, the number of people on stage (there are 12 musicians other than the actor/singers), and Matt Leventhall's imaginative use of LED lighting that runs from floor to ceiling.
Greek demonstrates the scope that opera can embrace. It's by turns dark, tender, disturbing, and viscerally compelling. It's an assault on the senses for sure - and the performance is greatly enhanced if you are familiar with the Oedipus myth beforehand - but at 75 minutes, this modern classic doesn't outstay its welcome. A must-see.
Greek at Arcola Theatre until 18 August
Photo Credit: Arcola Theatre