Review: GIRL FROM THE NORTH COUNTRY, Old Vic

Defiantly rejecting the standard jukebox model, Conor McPherson's much-anticipated new work mining the back catalogue of Bob Dylan is labelled "a play with songs" - or perhaps that should be a play and songs, with two distinct forms of storytelling weaving around one another, reflecting, deepening, revealing, in exquisitely soulful harmony.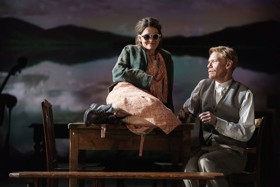 McPherson, who was approached by Dylan's team and proceeded with the artist's blessing, avoids bio-drama by setting the piece in Dylan's hometown of Duluth, Minnesota, but back in 1934. A Depression-era guesthouse is the evocative locale for a disparate collection of the desperate and desolate, running from creditors and from the past.
The guesthouse is barely kept afloat by Nick Laine, whose wife Elizabeth declared she didn't love him anymore before succumbing to dementia. Their guests are recognisable, stock types (with definite shades of O'Neill and Steinbeck), from the hard-drinking writer and devious reverend to the ruined boxer and family with a dark secret.
The sheer density means it initially feels more like an elusive short story anthology, just scraping the surface. But, though in some cases briefly told, each tale soon begins to colour another, creating a rich tapestry of hard-fought survival.
Adding to the mythic quality is the Thornton Wilder-esque narration by a local doctor and the familiar liminal quality of McPherson's settings. There's a pervading sense of another world, another state of being; one character describes dying as "just like slipping through a glass wall". The almost welcome acceptance of this inevitability - the only question, says another, is "how we do it" - by comparison makes the decision to seize life movingly courageous.
Around 20 Dylan songs, drawn from albums across the decades, operate in counterpoint in McPherson's beautifully stylised production - which nevertheless avoids period fetishizing. They're not all obvious picks, and seldom cued explicitly by the drama. Instead, the actors wander organically to the microphone stands to express emotion that illuminates their characters, if at times obliquely, while the rest of the cast acts as chorus or joins the onstage band.
The result is transfixing. As Mrs Neilsen, a widow endlessly waiting for her inheritance and for her lover's commitment, Debbie Kurup performs "Went to See the Gypsy" with mingled lust, hope and frustration. Marianne, a black child adopted into the white Laine family and now mysteriously pregnant, fills "Tight Connection to My Heart" with tangible longing in a mighty turn from Sheila Atim.
Two characters rendered childlike in reality - Elizabeth and the brain-damaged Elias - find powerful release in song, with Jack Shalloo confidently delivering "Duquesne Whistle". But Shirley Henderson is the evening's revelation. Her Elizabeth drifts in and out of lucidity, sometimes feral or inappropriately sexual, sometimes sage, but in song she's razor-sharp: individualistic rock star swagger in "Like a Rolling Stone", stirringly eloquent in the climactic "Forever Young".
A whopping voice bursting out of Henderson's petite frame is one of the thrilling benefits of this showcase for actors' musical talents. Bronagh Gallagher, whose character's reluctant request to extend the family's line of credit is a striking encapsulation of this group's battered pride, is also a demon on the drums, and Arinzé Kene's ill-fated boxer is, well, a knockout.
Ciaran Hinds, the story's necessary anchor, subtly mines Nick's stoicism for poignant sorrow. But a universally strong company - and they really are a company - means you're left wishing for more from some, like Ron Cook's perceptive doctor or Claudia Jolly's vanishing sweetheart. Mood sometimes stunts character.
McPherson's production might also feel more at home in the round, with its layers of action receding too far upstage and its immersive qualities slightly limited. But it's gorgeously (and seemingly effortlessly) choreographed, almost a companion piece to The Ferryman in its portrait of a folk tradition where song comes as naturally as speech - the ingrained rituals of a community.
Painterly group tableaux are thoughtfully lit by Mark Henderson, and Simon Hale's sensational arrangements make one long for a cast album. Some renditions - sacrilege alert - surpass the originals. Following Lazarus, it's indicative of a new musical theatre trend, capturing not just greatest hits but the artist. Dreamlike and bleakly beautiful.
Girl from the North Country at the Old Vic until 7 October
Read our interview with Bronagh Gallagher
Photo credit: Manuel Harlan