BWW Review: CONSENT, Harold Pinter Theatre

Nina Raine's Consent first premiered last year at the National Theatre, before the #MeToo movement happened and the change that it has brought about in society.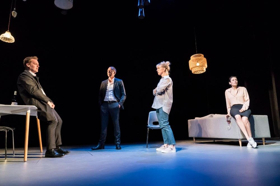 The topic of Consent is extremely relevant today and the production's transfer to the West End is timely, offering those who may have seen it at the National a whole new perspective.
The play opens with Edward (Stephen Campbell Moore) and Kitty (Claudie Blakley) celebrating the arrival of their son Leo with their married friends Jake (Adam James) and Rachel (Sian Clifford). All are barristers, apart from Kitty.
Their friend Tim (Lee Ingleby) is currently battling against Edward in court to defend Gayle (Heather Craney), a woman who has accused someone of rape. Nobody seems to be on her side; she doesn't have any legal guidance and ultimately feels let down by the justice system.
As Gayle points out, why is it OK for Edward to bring up her past including her psychotherapy sessions during cross-examination, yet the past indiscretions of the accused - including run-ins with the law are not allowed to be brought up during the trial?
Meanwhile, Kitty is busy trying to set up Tim with her friend Zara (Clare Foster), an actress who is keen to get insight into how barristers think for her upcoming audition for a new courtroom drama. This leads to one of the most riveting scenes of the play, with Tim and Edward using legal linguistic tricks to try and uncover hidden motivations and get one other to admit certain truths.
Consent emphasises how the system is not empathetic to the plights of those caught up in its trials, and after Gayle turns up at Edward and Kitty's house at Christmas, it marks a huge turning point in their marriage as she accuses him of being emotionless and lacking empathy.
The play quickly twists into a complex drama surrounding marriage and infidelity, with everyone trying to take the moral high ground and failing. In the second act, Consent is again questioned, although it is not dealt with as clearly as in the first and involves much murkier circumstances. As marriages break up and others are repaired, revenge, justice and forgiveness all entwine, creating some dark and hard-hitting themes.
Raine's writing is extremely clever and witty - the audience can't help but laugh thanks to her excellent dialogue. Even when the characters are going through turbulent times, Raine manages to find humour in their situation.
The set, designed by Hildegard Bechtler, is simple but brilliant - changing from one house to another effortlessly. Under the direction of Roger Michell, the play moves along fluidly, and by the end of the production the tension is palpable.
What makes this production unmissable is the cast, who take the audience on an emotional rollercoaster in the space of two and a half hours. James brings a certain likability to Jake, making you laugh even when you shouldn't, and Blakley and Campbell Moore so perfectly embody a relationship gone stale that you can't help but despair as it falls apart right there on stage.
Few could create such a gripping drama, leaving the audience wanting more, but the combined force of Raine and Michell is one to be reckoned with.
Consent at Harold Pinter Theatre until 11 August
Photo Credit: Johan Persson