BWW Review: BETRAYAL, Harold Pinter Theatre

When Betrayal first premiered in 1978 it was received rather coldly by critics and audiences alike, who were perhaps expecting Pinter to deal with more significant themes instead of focusing on his own adulterous escapades. Since then, the piece has become one of the playwright's most known and successful works, partially thanks to its innovative reverse-chronology structure and the universality of the issues portrayed.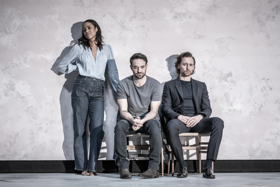 Now, more than 40 years later, Jamie Lloyd assembles another cast of stars to bring the trio to life again, with Tom Hiddleston billed as the main attraction.
The actor returns to the stage after Coriolanus at the Donmar Warehouse in 2013 and an exclusive Hamlet benefitting RADA last year. He leads Zawe Ashton and Charlie Cox, who follow in stride after gracing screens and stages on both sides of the pond.
Lloyd thereby concludes his Pinter and the Pinter project, which saw a multitude of talents taking on roles from 20 one-act plays across the six months of residency to mark the 10th anniversary of the writer's death. The director ends the season on a piercingly vivid note that resounds with bittersweet melancholy, bringing together another cast that works as a symphony.
After a brief silence following No Man's Land, Pinter used his own affair with Joan Bakewell as the core plot line for Betrayal. Tracking a seven-year romance, starting from its very end, he captures different shades of disloyalty and weaves them into levels of devotion and passion between lovers Jerry (Cox) and Emma (Ashton), while Emma's husband and Jerry's best friend Robert (Hiddleston) watches from the sidelines.
Lloyd turns it into a study of human nature, using a Brechtian approach to the material. The clever use of lighting, curated by Jon Clark, is in stark contrast to Soutra Gilmour's minimalist design, which removes the action from space and time. The characters exist in a very still bubble, making it a universal experience of adultery and acceptance.
The actors - quite literally - cast shadows, the structure of their relationships reflected on the back wall. The nudity of the stage is dressed with their internal turmoil and ultimate betrayal as the director employs a dark and sexy attitude that heightens Pinter's homoerotic subtext - mainly conveyed through Hiddleston's delivery. He plays with space and distance to compress and decompress the energy through staging, which results in a sometimes airy, sometime asphyxiating breath of emotion.
Hiddleston is imperious in his sharp suit, towering over his co-stars with his piercing bitterness and stoicism. Cox stands at the other end of the spectrum with an ironic stride as he goes through levels of dismay and desire, while Ashton owns, in turn, an agency that becomes objectification and then power once again.
The three share a compelling chemistry: they hover around each other, becoming ghosts in each other's lives. Hiddleston portrays a snide Robert whose harbouring resentment seeps through a finely tuned performance. He's at once controlling but detached, his charisma making Cox's own pop and turning the triangle into a dissection of guilt and blame.
Ashton bounces off the two men's shared interest in her character, bringing out the different hues in their portrayals. They dominate Pinter's vibrating silences, which become bundles of nerves in the company's hands.
The audience has the gift of hindsight straight from the beginning, which is then used to tarnish their judgement of the whole affair. Direction wise, this means that Lloyd sets the stage in order to toy with perception and projection.
The star power certainly works, but it's just one aspect of the brilliance of this last instalment. Lloyd's direction, combined with the depths of the intricacies of the text, is enough to make the show a well-rounded success of its own.
Betrayal runs at Harold Pinter Theatre until 1 June.
Photo credit: Marc Brenner