BWW Interview: Mark Ravenhill Talks New RSC Season & THE BOY IN THE DRESS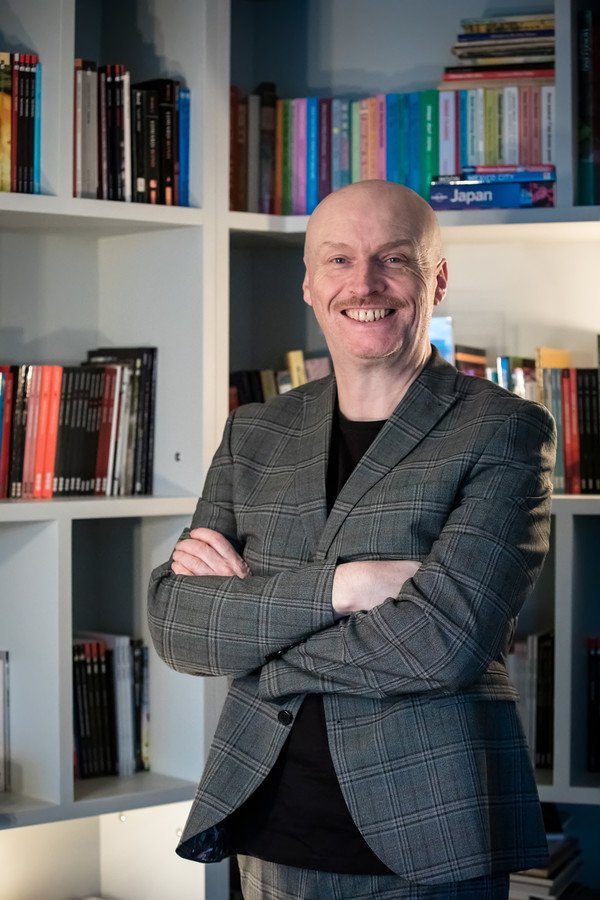 Playwright Mark Ravenhill has worked across the UK theatre scene, bringing new writing and adaptations to the Royal Court and Royal Shakespeare Company to name just a few.
Mark joined the RSC as a Writer in Residence in 2012, and remembers "thinking of something [they] could do for the Christmas family slot in Startford-upon-Avon".
It was then that he first encountered David Walliams' The Boy in the Dress. This Christmas, an adaptation of that book will play the Royal Shakespeare Theatre, penned by Mark with music and lyrics from Robbie Williams and Guy Chambers. As news of the musical broke, we spoke to Mark about adapting the text, and his own favourite books from childhood.
What was your earliest experience of theatre?
It was going to see some local kids in a church hall, performing The Wind in the Willows. The child playing Mr Toad was only about four, and they played him by pulling green stockings over their head!
I instantly thought, "I want to be the person with the green stocking over their head!" From then I was obsessed, I wanted to be on that stage.
And it might have been The Wind in the Willows after that! But what was a favourite book growing up?
Well, my Dad used to read The Wind in the Willows to us before bed. That's probably partly why I loved seeing it on stage.
He used to read us Winnie the Pooh as well and did all of the voices, I was fascinated by that. So even when reading it on the page, there was that performing element of bringing it to life by reading it out-loud.
I think my Dad did the same but with The Lion, The Witch and the Wardrobe...
That's a lot more voices!
Actually, The Lion, The Witch and the Wardrobe was one of the big things that I read to myself. I loved those Narnia books and read them to myself, I was one of those kids who absolutely loved reading. Going to the library on the way home from school every day.
That love of storytelling is evident in your career today. Your latest project adapts a modern children's book, David Walliams' The Boy in the Dress. Fittingly, your journey with this started back in 2012, quite early into your residency with the RSC.
Yes, it must have been. Because when I started as Writer in Residence, I was thinking of something I could do for the Christmas family slot in Startford-upon-Avon.
The way that came about was just asking friends, "What do your kids love reading?" Everyone immediately said David Walliams. So I went to the bookshop and looked through the titles, and the one that really leapt out at me was The Boy in the Dress. I thought it felt very Shakespearean. And also there is something inherently theatrical about wearing a costume and trying out another identity. That seemed to be pure theatre to me.
I read it very quickly, because I couldn't put it down. I just thought it was fantastic and I gave it to Greg Doran to read too. From there, we went to talk to David Walliams about it and bringing it to the stage. Then we had those conversations and decided we wanted to make this happen.
A couple of years later, I started writing the book and Robbie [Williams] and Guy [Chambers] began writing the songs about two years ago. So yes, this journey started seven years ago but it's all felt like it happened quite quickly actually!
You said you couldn't put the book down. What excited you most about working with the material?
It's emotionally very real I think. If you're a kid at school, it speaks directly to you. And for adults, it really does take you back to school.
David's writing shows the magic of the world, but also the fears of the world growing up. Discovering the way the world works, who you are, that really is quite a heightened and intense experience you have as a school kid. And that's all there.
So there is this real, emotional truth in there, but also in a heightened, comic world. It's a really skilful balance that David has achieved. And what better way to present that heightened, dramatic world that on stage?
What's it like for you then? Working with that existing text, alongside David?
Well when I write my own things, they seem to end up being quite bleak! So to work with this material is wonderful. David has this ability to write very optimistically. To plug into somebody else's optimism and warmth and to absorb some of that is like a real treat.
And David has been very supportive and helpful. We had an initial conversation about the book, and then as we've gone along and I've done drafts, I've always shown them to him. He's been so practical: he'd give you three or four key notes about where he feels it should go.
He's very precise but positive, the way he feeds back to you.
I imagine you've been working closely with Robbie and Guy too.
Well, we probably had the first songs about eighteen months ago, and even that first set were brilliant!
You know sometimes musicals can be a bumpy ride, making the text and songs speak to each other, but writing them separately. But they came back with a fantastic set. I think that's because we worked so closely at the start: identifying what the story was we were telling, and where the dialogue would further the story, and where the songs would further the story.
And now we're here: The Boy in the Dress premieres at the end of 2019.
Yes. And (fortunately) for me, basically the show as a thing on paper is ready to go. Now it's casting, design and then rehearsals. And I'm certain it will continue to adapt and develop through those processes.
It's nice, because as the writer you do have to constantly be around. You know, sometimes you're there for a whole week and you just have to rewrite a single line. Also, it's just fun to be around! Being in a room with people singing and dancing, you want to get up and join in!
Finally, what can those who know the story expect? And what about those who don't know it as well?
I think it's very close to the book. One of the very first thoughts I had was that this book had the right number of characters and the right amount of story. We didn't have to do anything too painful to it to make it into a stage show.
Often when you're adapting a living writer's work, you have to sit down with them and explain why half the characters are going out the window, and that you're going to have to start it a third of the way through the book. But actually, this is very close to the experience of reading it.
And people of my generation may not have read it, those of us who don't have kids for example. I hope they're going to see it on stage and feel how I did when I read it on the page: joyful.
That freshness and fun and honesty in the writing, it really is joyful when you first meet it. You think, "Oh, I wish I was a child! I wish I'd got to read all these books!" There is such a spirit in the books which we're hoping to channel on stage.
The Boy in the Dress at the Royal Shakespeare Theatre, 8 November 2019 - 8 March 2020
Photo credit: Sara Beaumont