BWW Interview: Madeleine Potter Talks TRUE WEST
Sam Shepard's True West opens at the Vaudeville later this month. This marks one of numerous productions of the show to play the West End and Broadway, in the year following the acclaimed playwright's death.
Appearing in her first Shepard play, Madeleine Potter talks to us about her admiration for the writer, her discoveries from the text, and just why this production "must" resonate today.
What's your earliest memory of theatre?
Chinese Opera because we were living in Hong Kong at the time. Then when we came back briefly to America, I was taken to see two Shakespeare plays: the first was A Midsummer Night's Dream and the magic of that has never left me. I definitely want to play Titania...just saying! And also Much Ado About Nothing and I remember Beatrice had red hair too and I was completely thrilled.
Was there ever another career path you had in mind?
I flirted with many ambitions and I mean many: astronaut, veterinarian, a trapeze artist, nun! And then I hit upon actress, realising that maybe I could do all of those things. Then I discovered I had a vocation for it.
Did stage or screen come first?
Theatre is where I started.
When I went to New York I had no connections and no money but I was determined. I did Love's Labour's Lost and I played Jaquenetta who has about 14 lines, but I managed to get a very good review and somehow never stopped working.
That first year in New York was extraordinary: I did Plenty at the Public and on Broadway, and then Slab Boys on Broadway, and then Richard III in Central Park and then I did my first film, The Bostonians. That was all in the period of about a year and a half.
And you seem to be drawn back to Shakespeare, having played Gertrude in Hamlet earlier this year.
Michael Kahn called and asked me to play Gertrude for his last season for the Shakespeare Theatre Company. I was lucky to have the brilliant Michael Urie as my Hamlet. I've done the play twice, I played Ophelia when I was a kid for Lindsay Anderson. It's such a different play from the perspectives of those two characters.
Gertrude is very silent but she's so very present in the play. I think I really started to find it in previews, in performance, the hidden landscape of the character.
It's extraordinary to be that quiet in a language play. So then of course, that raised the question of why? Why is she so quiet?
Now you're rehearsing for True West. How familiar were you with Sam Shepard's work?
I had seen a couple of his plays: True West, Buried Child, I'd read Fool for Love. But I'd never performed in one.
I greatly admire his writing and I also admire him as an actor. During this rehearsal process, I watched him in Days of Heaven and he's just incredible.
The play is mysterious and funny and keeps revealing itself. I found a remark that Shepard made about Bob Dylan, "If a mystery is solved, the case is dropped. In this case, in the case of Dylan, the mystery is never solved, so the case keeps on over and over the years. Who is this character anyway?" And I think that's very revealing.
So what were your initial impressions, coming to the play this time round?
I didn't really remember it that well. I remembered the feeling it gave me. It's strange and extraordinary, and thrilling somehow. My character also.
She's only referred to as "Mom", right?
Yes! She has no name. So I suppose that's a clue, it's archetypal on some level. It would be possible to do a version of this play (which is not this play) without her. But there she is. And now we're beginning to see why, because we're starting to explore that character.
And what have you discovered so far in those explorations?
She's definitely on her own journey. She's a wanderer.
The play begins by setting up that Mom's in Alaska. But no surprise is expressed about her having gone that far from home. So she is a restless soul. They all are. I feel like they're all Sam Shepard a bit, she is too.
And always for me, it's the contact with the other actors that makes a character what it is. It has to be. We're so lucky to have a brilliant director in Matthew [Dunster] and such a wonderful, small cast.
The first ten days, we just kept reading it, re-reading it and lifting off layers, discovering the kind of territories that are in this landscape. And we still have a way to go!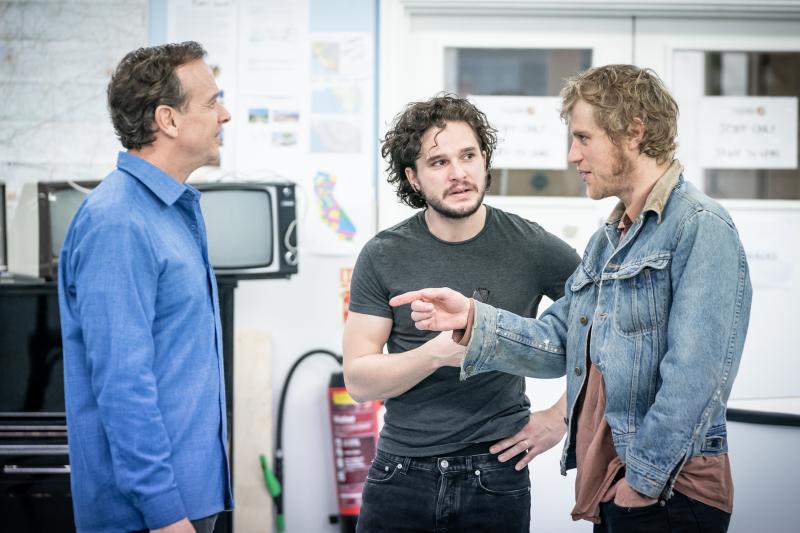 What have you been working on in rehearsals today?
Today was really quite a huge rehearsal (that's why you might have heard a lot of shouting downstairs before we met!) We're working through that last scene, so lots of revelation in it for me.
And after that mystery from first reading, what's happened for me today was noticing the particular relationship I have with each of my sons. Once I dropped into that, the scene had a real sense of structure for me. The events seemed much clearer and more startling and primal.
You're going to have a good amount of time offstage presumably, once it gets into performances...
Yes. And I have no idea what that's going to be like. I've never done anything like this before.
You'll certainly be familiar with your dressing room! Is this your first time the Vaudeville?
It's not, no. I did another play there, Madame Melville.
It's such a beautiful theatre and a wonderful space to play. I love that it has its stage door in Covent Garden and the front of the theatre is on the Strand. It's so romantic round there, tunnels, dark corners, street lights.
Can you take us through the world of the production, we can expect onstage?
Well, it's set in 1980, or the very late 70s. The world off stage, that's interesting. There's a desert which is just outside the confines of the house, the Mojave, and the sense of that landscape presses up against the action and atmosphere of the play. I mean I'm American, but I feel like in doing this play, I've made my first really deep connection to the South West of America.
That's what happens when you do great plays or films: some pocket, some well of experience opens up and swallows you.
There seem to be a number of productions of True West on at the moment, across the West End and Broadway.
Yes! It's very interesting that there's so many productions happening. They're doing it at Steppenwolf and they're also doing a Broadway production. And of course, Sam Shepard died last year and it's interesting that it's this particular play which is being done in so many different contexts.
Finally, how do you think True West will resonate with audiences today?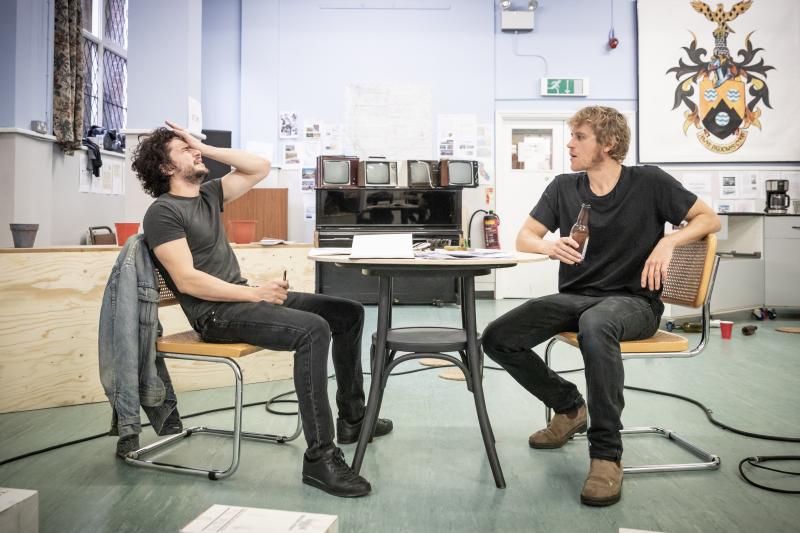 I think its themes are eternal. What is home? The sense of being a stranger on the earth. The endless mystery that is all familial relations. The first line of Anna Karenina roughly translated goes, "A happy family is a happy family. But an unhappy family is unhappy in its own fashion"!
All those are things that all of us at any stage of being human want to be able to be understand. I think this is the kind of play that you might see when you're 15 and next when you're 35 and it would feel different.
So in answer to your question of will it resonate: I think it must. I think that impulse from many sources to bring it forward comes from something in it that resonates.
True West at the Vaudeville, 23 November 2018 - 23 February 2019
Photo credit: Marc Brenner
Related Articles