BWW Interview: Judy Kuhn & Andy Nyman Talk FIDDLER ON THE ROOF West End Transfer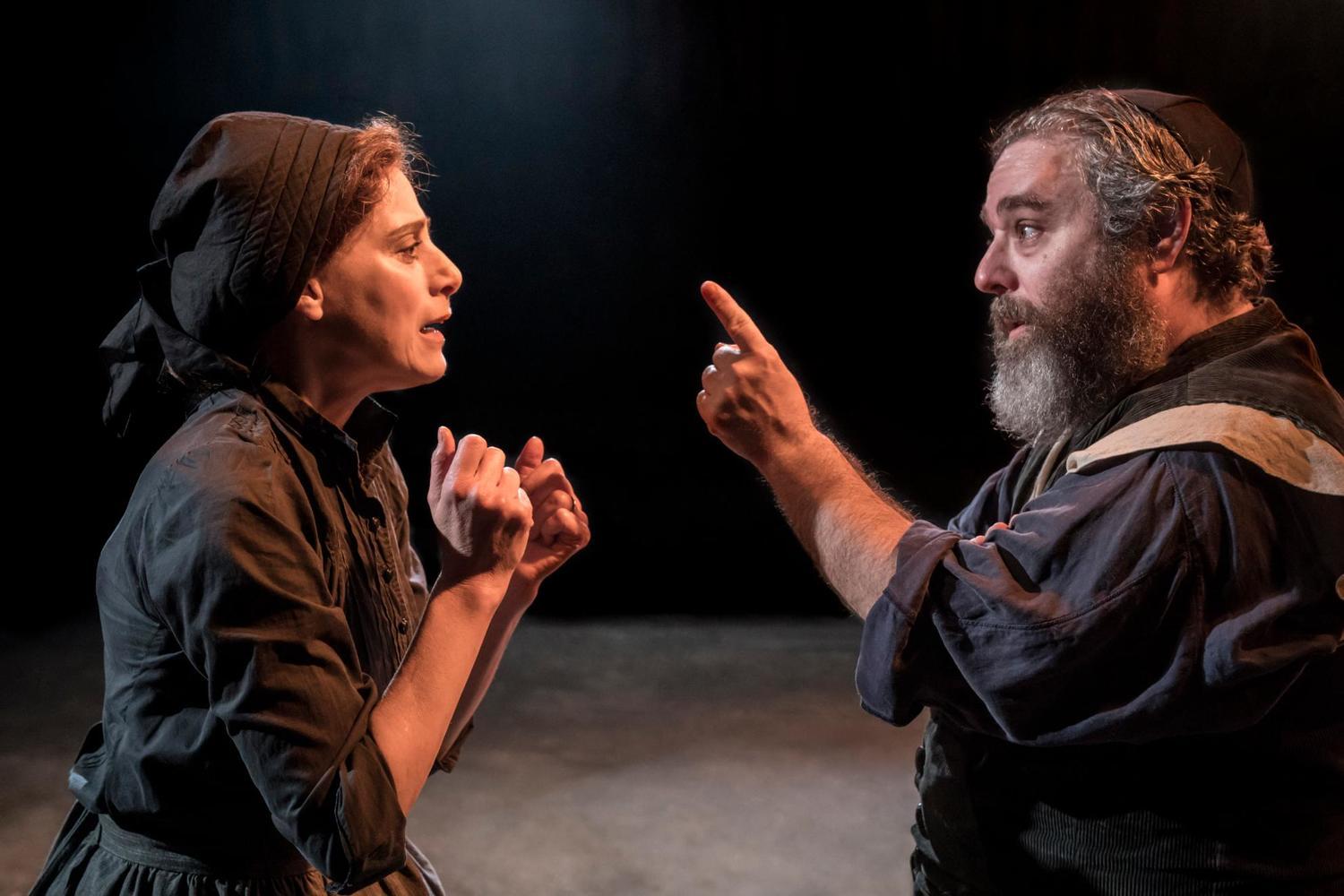 Following a sold out run at the Menier Chocolate Factory, Trevor Nunn's acclaimed Fiddler on the Roof transfers to the Playhouse Theatre from 21 March.
As news of the transfer broke, we chatted to Judy Kuhn and Andy Nyman to get their reactions, share their journeys with the show, and lift the lid on married life onstage.
What were your first experiences with Fiddler on the Roof? On stage or on screen?
Judy Kuhn: I remember mine so vividly. I was about ten or eleven years old, and my parents took me to my first ever Broadway show. And it was Fiddler on the Roof. I mean, I will never forget that: I can still picture where we were sitting, how everything looked.
But beyond that, I just remember the sensation. There was something about it that was more than just seeing a wonderful show; I understood the magic that was being offered by these actors and designers and writers.
Even though I didn't understand this at the time, I think it was the first time I had some little inkling that this might be something I wanted to do.
Andy Nyman: Who was Tevye?
Judy Kuhn: Herschel Bernardi. It was the original production, although it had been running for a few years so it wasn't with the original cast. But I'm pretty sure it was him that I saw.
And what about you, Andy?
Andy Nyman: For me, it was the film. I think I was probably about the same age as Judy, ten or eleven. It would have been on TV either Christmas or Easter...
Judy Kuhn: Perfect holidays to watch Fiddler on the Roof!
Andy Nyman: True, but don't forget this was back when there were only three channels. So any big movies like that, it was a big deal.
I just couldn't believe it, I couldn't believe how moved I was. First of all, because British Jews are very different to American Jews. American Jews, especially in New York, you are part of the fabric. It's out and proud. British Jews (like most European Jews) are more like, "Sh, sh, sh, don't make a fuss. Keep quiet."
Because you know, I'm talking about the sixties. That's not even twenty years since the end of the war. So to see a representation of people in a big way that I could properly relate to, and that was unapologetic in telling a story that was incredibly close to my heart, that was sort of mind-blowing.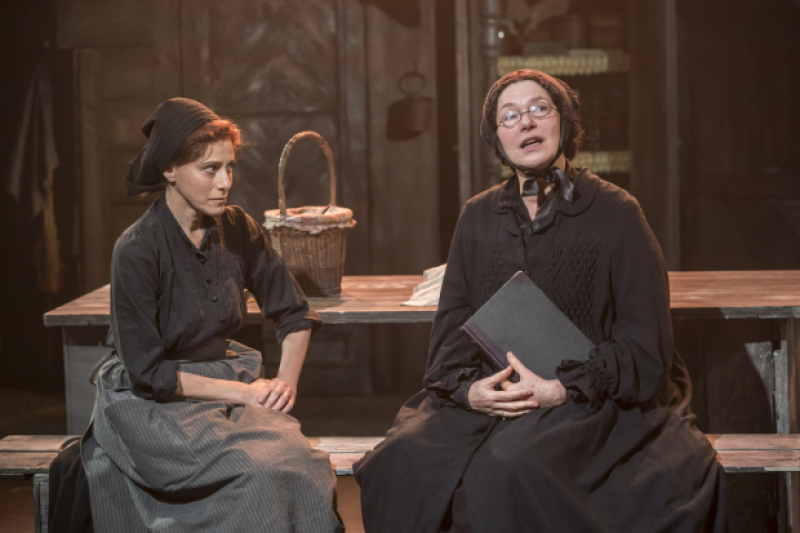 It sounds like it had a massive impact on you both then.
Andy Nyman: Absolutely, in terms of the songs and the music. But at the time, I don't think I really appreciated the story, I mean how can you as a kid? I was just overwhelmed by the spirit of it, the music of it.
But the thing that really moved me more than anything was when Tevye and Lazar said goodbye to each other and hugged. Just remembering that bit, just cracked me. And while that's one of the things that inspires you to do what you do, the dream of actually getting to do those roles didn't even register at that point.
And now you get to do that scene, those songs every night.
Judy Kuhn: It's just magical.
Andy Nyman: We're so lucky.
And to do that together, playing Tevye and Golde. Because this is your two month anniversary almost to the day of being a married couple on stage.
Andy Nyman: Yes.
Judy Kuhn: Is it?!
Andy Nyman: You didn't forget, did you?
Judy Kuhn: Oh yes, happy anniversary darling.
Andy Nyman: Happy anniversary sweetheart.
How would your Tevye describe Golde? And your Golde, Tevye?
Judy Kuhn: I would describe my husband Tevye as being a dreamer. And a...well...
Andy Nyman: Say it!
Judy Kuhn: No, no, nothing like that!
I mean I see him as always being up in the air, and I always have to pull him down and tether him to the earth. I also see him as warm and a good father, but I feel like it's my job to keep him reined in, so he does all the things that he needs to do so that we can keep going forward as a family.
Andy Nyman: So, Golde...well, there is this great Yiddish word which is baleboste. That's what I would describe her as, which is a home-maker: she provides for the family brilliantly. Every meal is done, the place is clean.
I think what's really interesting about Tevye is unknowingly, he is hugely in love with her. You know, they're a generation that don't put a word to that, which is something that is touched on in the show. But I think he really loves her a lot.
I mean, she drives him meshuga, crazy! But he could not exist without her and not just because of the meals; she is a grounding influence (like Judy, you said) and his other half.
Judy Kuhn: Like Yin and Yang.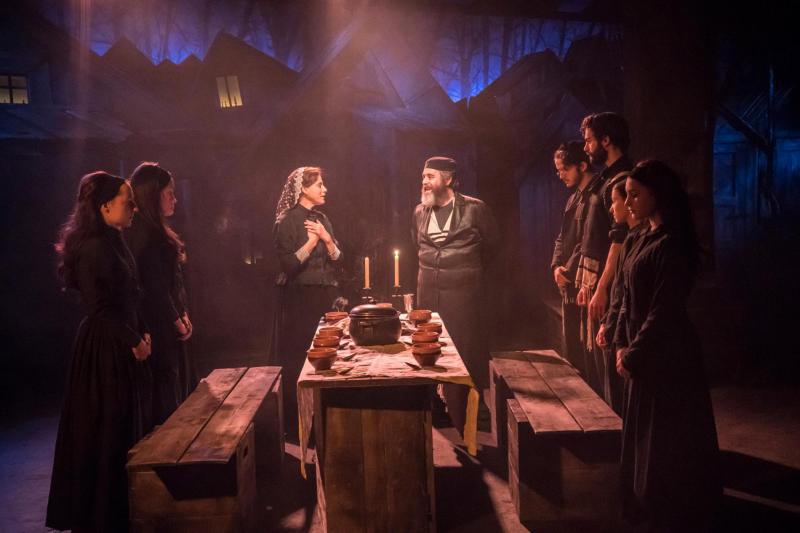 Having spent that much time together, you two must know each other as well as you know your characters.
Andy Nyman: Yes, and my relationship with Judy and Judy's Golde in this, I am really proud of that. Because one of the joys of the show is not letting the pre-conceptions of what is expected of it cover how we've done it and developed that relationship.
And I love the fact that we sort of have a marriage that feels not a million miles from my own. I mean, I don't shout at my wife the way Tevye does...although I'm sure Soph might say I do! But to me it feels like a real marriage.
That's also one of the things that makes it not just a Jewish story. It is a universal story and anyone's who's been in a marriage can get that: be that a gay marriage, a straight marriage, a long term relationship.
Judy Kuhn: And you know, who isn't irritated by their spouse sometimes?
Andy Nyman: Well I would imagine my wife isn't, because how could she possibly be irritated by me?
Judy Kuhn: Oh, she is. And I've been your onstage wife for two months, so I can say that!
Finally, congratulations on the transfer.
Judy Kuhn: Thank you very much.
Andy Nyman: Thanks, L'Chaim to the transfer!
Judy Kuhn: Mazel tov to the transfer!
Andy Nyman: We are blessed to be able to do work that you're proud of, and to be able to spread that so that people can see it and see it for longer, and do things that we enjoy to do. My God, that is a very rare and special thing that we get to do that.
Judy Kuhn: That is so true.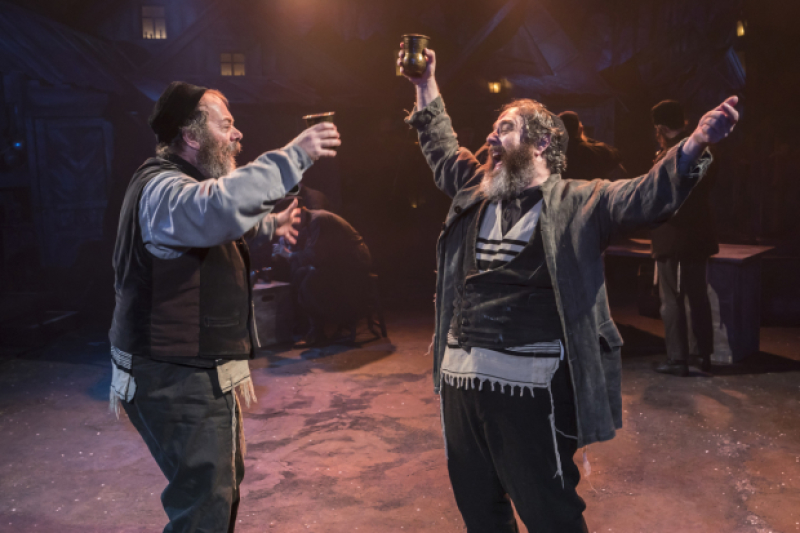 How did you find out about the news?
Judy Kuhn: Well, I got a call from David Babani, who runs this place, here at the Menier. Not just telling me that it was happening but how fast it was happening (which was a bit of a shocker).
Andy Nyman: Yes.
Judy Kuhn: And I was very impressed, because it's not an easy task.
Andy Nyman: No. So there has been sort of whispers and quiet conversations about, "Could you? Couldn't you?" Dates, not dates. But as Judy says, there's a world of difference between that and getting the phone call to say, "This is it: it's going!"
Look, the show had sold out before we were rehearsing. Then the reviews came in. So it was clearly something which was...not on the cards, because I've been in many shows where it's like, "Oh, this is definitely going to go across". And then it just doesn't.
But this did and we're just thrilled! I can't wait for this journey to continue.
Fiddler on the Roof transfers to the Playhouse Theatre from 21 March
Trevor Nunn's production also plays the Menier Chocolate Factory until 4 February 2019
Photo credit: Johan Persson