BWW Interview: Chris Bush Talks PERICLES at the National Theatre
Following our interview with Pericles director Emily Lim, we met up with playwright Chris Bush. She details her journey with Public Acts and chats about the challenges of writing for 200 performers.
When did you realise you wanted to become a playwright?
I was really young, actually. I wrote my first play when I was 13, and I think I've been telling stories since I could speak.
There was a thing that I think doesn't exist anymore, called the National Playwrights Festival, and they considered a young playwright to be anything between the ages of 12 and 25. Every year they did this mini festival of one-act plays, so I just wrote something and sent it off! It was one of the six they performed that year. At that age, seeing my work done by professional actors in a real theatre... I went like "Well, I guess that's what I want to do!".
Did you go to the theatre a lot as a child?
Yeah, I would go quite a lot. I grew up in Sheffield and my discovery of theatre was under Michael Grandage's reign at the Crucible. I mean, the Crucible has always been one of the best theatres in the country, but yeah, real kind of glory years back then. You couldn't ask for a better time to discover theatre.
Are there any specific productions that had more of an impact on you?
The big Christmas musicals were always so wonderful. There was an astonishing Guys and Dolls, there was A Chorus Line that Nikolai Foster directed - and on film it was never one of my favourite, but that production was absolutely staggering. And then of course the big kind of prestige-y Michael-Grandage-Shakespeare - I remember seeing The Tempest with Derek Jacobi, which was incredible, Richard III with Kenneth Branagh...
Also, not Shakespeare but Don Carlos with Derek Jacobi and Richard Coyle. Just absolutely incredible. And at that point they never really were known for their new work, but every now and again you would get these new faces - a festival of new work I remember when I was quite young, with Steve Waters... More recently, in the studio was where they had Lungs by Duncan MacMillan, which is an incredible show.
Were you already familiar with community theatre before this project?
Yes, not initially through design, but I sort of ended up doing more community theatre than anything else primarily through Sheffield and the Crucible. The Sheffield People's Theatre is the community wing of Sheffield Theatres and they do these large main stage shows every summer with around 100 community performers. I've worked on four of them, but I've written three in the past four or five years, which is absolutely phenomenal, a wonderful experience - I loved doing it.
I think Sheffield in a lot of ways is leading the way in terms of community engagement, and the shows they produce there are amazing. There's something really wonderful about community theatre - you see the change and the impact it has. There are certain instances when you might do a really nice, respectable, solid piece of new writing and it gets seen by all the right people who smile and nod, and then go see another 20 shows that year - and then you do something like this and it really is a transformative thing.
I've been incredibly lucky that I got to write one of the National Theatre Connections shows, and doing work with young people, you see what it means to them, you see that it's not just a job and it's not just a pleasant evening out. It's much more powerful than that, and it feels absolutely vital that the National Theatre are committing to it and really prioritising it.
How did you get involved in Pericles at the National Theatre?
I was approached initially. Emily Lim and I were sort of a match-made by Lyndsey Turner, who knew my work from Sheffield. When she did her Light Shining in Buckinghamshire here at the National a couple of years ago, that had a community chorus of about 40 or 50 people as well as a professional company. She brought Emily and I together to make a response piece to that show using the company, based on their lives, their stories.
And that was a wonderful thing, and Emily is one of those extraordinary human beings I know - it's such a privilege to work with her, I feel very fortunate. This feels like a continuation of the ambition that was in that first project, although this is very new for the National. I am very grateful to be brought along with that. Emily and I have spent a lot of time pitching different ideas - was it going to be a new play, was it going to be Shakespeare... In a very roundabout way we've ended up with Pericles.
Why Pericles?
I think there's something really beautiful about doing Shakespeare, because he's in so many ways our national dramatist. And it feels like Public Acts wants to be a very democratic projects, so there's something to be said about handing Shakespeare back to every one of our amazing participants. Of course you can do Shakespeare - don't for a second think that Shakespeare is not for you or this building is not for you or that you don't belong here or that you're not capable of doing this.
I think there's huge value in that, and also Pericles is brilliant partially because it's not as well known. I think that as a writer and as an adapter I can take some liberties with it. It feels like it's got some amazing bits in it, but it's also a bit messy, so you need to fix things, which justifies it.
Also, what's very useful is the world of Pericles. He journeys from island to island, from community to community, as he traces his way around the Mediterranean. It can actually take 200 people in the way that every single island is a small contained world, it's so vast.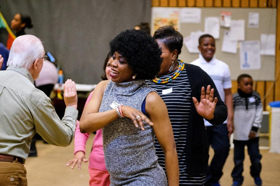 Are you changing anything from the original?
Yeah, it's quite a free adaptation in a way. There's still lots of original language, but for a starter, it's a musical so we've got a whole bunch of songs that, generally speaking, might take the hook from Shakespeare but are new. Those are written with composer James Fortune, who's brilliant.
We've done some streamlining of the narrative as well - our version is going to run at more or less 90 minutes straight through, we think. We've also made certain decision on a practical basis to accommodate the number of speaking parts that we need. It's about finding a way to open those worlds up a bit more.
How do you juggle more than 200 roles in writing?
I mean, it's 200 but they're not all speaking parts. I don't know what the figure is now but there's probably 80 or so speaking parts. We have our cameo features out of the 200, and a choir, cheerleaders... Because it's quite episodic, Pericles lends itself to large numbers as well. There are a few moments when you get everyone on stage at the same time and that's going to be really thrilling, or at least 150 of them. We're going to use every inch of the Olivier stage. As far as I'm aware it's the biggest company that will have set foot here.
Because Pericles keeps moving from one group of people to another, it's not a case of going "We need 100 people", it's more "Well, in this scene we have 20 people, and in that scene we can have 30 people" - you can sort it and move and work in distinct units, which makes the whole thing feel a bit more achievable.
In a way, I've got the best job, because I get to write the totally impossible things and leave it to everybody else to figure how it works out practically. But also, the rehearsal schedule with this is elaborate - again, it's been broken down into these units so you don't have to call 150 people every evening, you're sort of working in chunks.
Do you find that writing for non-professionals is different from writing for professional actors?
In a way. Ideally, it shouldn't be. Bad community work makes too many concessions and doesn't have enough belief in its participants. Actually, I want to start from a point where I'm not going to think anything differently of these people. We have six professional actors, but when they're in the room with the rest of our company they're not going to be treated differently from anybody else.
It's about making sure that people feel cherished and feel supported and that they don't have to do anything that feels impossible. I don't want to treat it differently. The people we're working with might not have acted before, but it doesn't mean they're not phenomenal performers in their own right.
What's your writing process been like so far?
At this point it's more or less done. I think there's hope that this text might change less in rehearsal than your average piece of writing. Because it's a different thing to go to 100 community performers and say that you've changed everything when you open in a couple of weeks, rather than going to three professional actors and giving then new lines you wrote last night. But it's all changing - you keep getting these little updates and requests from Emily, going "Can we have another line for so-and-so?".
They're not all speaking parts, but of the sheer numbers of people we're getting involved, we maybe initially thought "You know, hopefully a good bunch of them won't want to actually have speaking parts", maybe they wouldn't want that pressure or wouldn't want to be in songs, but actually we found that the vast majority really want all we can give them. Everybody is so brilliant that you want to use them to their full potential.
What's the biggest challenge you've encountered so far?
I think it's a jigsaw puzzle. The challenge is that there are so many different things that this show needs to do: it needs to be first and foremost a brilliant show, a piece of entertainment that people can enjoy; it needs to be artistically excellent, or what's the point of doing it; it needs to absolutely value every single person who's on stage - it needs to support and uplift them without making them feel exposed; it needs to accommodate not only 130-odd performers of various different backgrounds and experiences, we have these cameo groups that we're finding space for, choirs, dance groups; and then it's going to fill the Olivier!
So the challenge is to not see those things as constraints, but as opportunities, which they massively are. Where else am I going to get to write a show for 200 people! But keeping all those different elements in your head has been a very different dramaturgical process from what I'm used to.
There are so many voices of huge value and worth, and you want to hear them out and please them, but those voices don't always agree and there's a certain filtering you need to do! [Laughs] You need to give everybody the show that they want in a way that you feel like you're not compromising anything as well.
What were your thoughts going into it?
There was absolutely no way this was ever going to be a project I'd say no to. So, yeah, just kind of excitement really. Obviously elements of it are daunting, but in a way, because I did shows in Sheffield before with around 100 people - and yes there's a difference between 100 and 200 - I've made works of this scale before and I wasn't scared of it, weirdly.
I did go from quite early on, "Yeah, I think I know how to do this show", and it's interesting, because I'm sort of a relatively emerging writer - and coming into a building like this, it's always going to be a hugely pressured environment.
But when it comes to large-scale community work, I can hold my own in these conversations, because it's a new experience for everyone involved. So I'm working with the most absolutely top-of-the game experienced people, but no one has ever made a show quite like this one - which is really exciting and hopefully the first of many more.
And what's been really wonderful and so important is seeing that everyone is really hands on, from Rufus all the way down; he was there at the first rehearsal, meeting people, he's making that commitment. This is the most important thing. What is a National Theatre if it's not putting the community at the heart of it? It's really beautiful to see.
What would you like the audience to take from it?
Firstly, I want it to be an enjoyable night out - it should be an entertaining show. I want people to go out humming the music. The nature of the story, I want it to tug at their hearts a little bit; if the audience aren't in tears at the end of it, I might be a bit disappointed.
I also want people to be uplifted by it, because fundamentally Pericles - or our interpretation - is a story about home and what it means to call somewhere home, or to find your way home. In a real shipwreck, but also in a far more open and metaphorical sense!
And home doesn't always necessarily mean a physical place. Everyone has an idea of what home is and what home means. I want everyone who's in it and everyone who's seeing it to feel like they're a part of it, and the National Theatre as well - they have a degree of ownership over it.
What have you learnt through your experience with community theatre?
What comes to mind is that maybe, and not specifically through this project, is that sometimes community theatre underestimates its participants. And that feels really crucial. I'm always going to be the one who wants to make things a bit bigger and a bit bolder, and push a bit harder and be the most ambitious.
And there's always a back and forth between what is practically feasible and what the dream is. We're most definitely not compromising in terms of scale with this one! Again, what's been really beautiful is seeing how quickly people get it; they immediately see what we're trying to achieve.
Pericles runs at the National Theatre 26-28 August
Photo credit: James Bellorini Photography
Featured at the Theatre Shop
T-Shirts, Mugs, Phone Cases & More