BWW Interview: Director Emily Lim Talks PERICLES at the National Theatre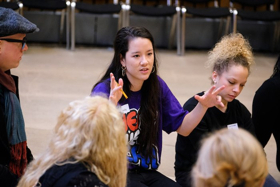 This August, a company of over 200 people from across London joins forces at the National Theatre to perform a new musical version of Shakespeare's Pericles.
This is the premiere project of the National's Public Acts, which partners the theatre with eight community organisations and the Queen's Theatre Hornchurch. Participants from these community groups will perform alongside professional actors and seven cameo performance groups on the Olivier stage.
BroadwayWorld will be following the progress of this exciting initiative, speaking to different participants over the weeks leading up to the performance.
We begin with director Emily Lim, who has extensive experience in creating community-based theatre and working with non-professional performers.
Were you always passionate about theatre?
Growing up, my house was filled with dressing up and pretending to be lions and trees. Plus a very healthy diet of musical theatre - both professional and homemade - which fostered a really deep love for playing and making.
I then did lots of directing at university. As is so often the way, I auditioned for a load of plays, didn't get cast in anything, and then thought "Well, I'll put something on myself".
How did you become interested in community theatre?
My ambition has always been to find meaningful ways of using theatre as a force for social change. I was very inspired by companies and artists like the Simón Bolívar Youth Orchestra and Company Three, which used to be called Islington Community Theatre.
It's thrilling seeing projects where the quality of work is second to none, but also where the creation of art is in service of a bigger social idea. It gives people the chance to come together, and create safe spaces where they're liberated to be their best selves; theatre has a very powerful place in that process.
And you've worked with the National before?
Yes, a show I made with Company Three and Ned Glasier, Brainstorm, about adolescent neuroscience, was programmed at the Temporary Theatre in 2016. I was also lucky enough to work on a community project in parallel with Light Shining in Buckinghamshire - that was that first time I worked with Chris Bush, who's now our writer on Pericles.
Is the National a supportive environment?
Absolutely. The National and Rufus Norris have totally embraced that theatre is an act of community that can be celebrated and explored as such.
I was awarded the Peter Hall bursary to explore how community-engaged work can sit right at the heart of what the National does. Pericles is the first time the theatre has given its main stage and full resources to a project with non-professionals, so that's a big step.
Did you take lessons from the Public Works model?
Public Works is another huge inspiration for me, and for the National Theatre. It's such an extraordinary project, the brainchild of Lear deBessonet, Oskar Eustis and Shirley Brice Heath, and with this wonderful platform at The Public Theater. I was lucky enough to go to New York and learn from them, and I'm very excited to draw from that, as well as from my experience with UK community groups.
How intimidating is it taking on a project of this scale?
I've worked with pretty large companies before, but this is a whole new level of responsibility! Luckily, we've got an amazing team, and the National is so behind the process; crucially, this project is rooted in the principle of learning from one another. It all stems from the community organisations.
How did you approach those organisations?
We wanted to create meaningful partnerships over the two years. We started working with them back in September and had a period of getting to know them, exchanging ideas about what they do and what we can do to enhance the journeys their participants are already on. That's crucial: it's about designing bespoke workshops based on their needs, rather than just bringing in a set theatre practice.
For example, one of our organisations, Body & Soul, has a very holistic approach, so a more physical, dance-based programme of work fit well. Then The Faith & Belief Forum's mission is about creating discussion between people of different faiths, beliefs and identities, so for them, we introducing play reading and writing, encouraging people to think about writing their own stories and sharing them.
We've also had as many opportunities for exchange as we can, from a big breakfast - where the organisations' staff could meet the National's staff - to trips to see shows, go backstage, or the National's staff going to visit them.
Did the participants have much experience of theatre?
A mixture. Some organisations had done some theatre- or arts-based projects, some hadn't. The best thing is that there's been lots of fresh, brilliant thinking about what theatre is and what it can mean to different people.
It's fun reporting back in workshops about how the development of the show is going - showing them design pictures, or talking about building pop-up dressing rooms, since we need more space. It's thrilling to feel part of something so big.
How many are involved altogether?
So we've got about 200 in the company: around 130 from the community organisations, then six professional actors, a professional band, and seven cameo groups brought on board to represent London's cultural breadth and diversity - the latter are all semi-professional or amateur.
I love the thought of somebody who's never been on stage before standing next to a professional, next to someone who's a passionate hobbyist who rocks up to band practice!
And amazing having this professional creative team?
That's really significant. We believe our company deserves the best, and we've been gifted the absolute best team of artists - Chris Bush, James Fortune, Fly Davis, Robby Graham, Paule Constable, Paul Arditti, Tarek Merchant....
Seeing our company respond to that level of craft is wonderful. It's not an act of charity - it's everyone combining to create something we're proud of and going on that journey together.
How are you using the cameo groups?
They each have distinct roles within the story. So, for example, the Ascension Eagles [Cheerleaders] are performing as part of a parade in one scene, while in another, the London Bulgarian Choir sings a lament for Pericles.
It must be a serious logistical challenge...
The logistics are really inseparable from the art! We recently had our second full company rehearsal, and it was just as important coordinating a surprise delivery of ice lollies at half-time as it was that everyone got the right choreography.
It's about creating a space where people feel cherished, which brings out their creativity, and being with others in a way that's positive - as well as uniting behind this shared purpose of making artistically excellent theatre. I said to the company that I feel spoiled - being with them, my job really does feel like a permanent party.
Was there a lot of prep to create these conditions?
Definitely, we really focussed on removing all the barriers - whether it's providing transport to rehearsals or support for children, who come in with their parents. Everyone's juggling rehearsals with their busy daily lives.
Someone once said to me "We have to let all of humanity into our rooms" - that's the art for me. So we do a huge amount of creative and admin prep and R&D, and then when we come into the room, we can have a constructive, professionally run rehearsal space - but one where you have different people each time infusing the work, which is the biggest joy.
People really are focussed and ready to be here. It's new for lots of them, but that's not a negative; they're very determined and they take - and give - so much.
Do you keep in mind any particular sensitivities when running your rehearsal room?
There was a very organic, beautiful process of fostering trust and compassion. It's taken time - with my team, in the workshops, we really thought about what's important to our partners and what we then want in our rooms.
For example, the space to explore is really key - the wonderful things that come with putting on different character hats and stepping outside of yourself. Socialisation too - there's lots of eating together, tucking into homemade samosas during breaks. That's an important communion.
We have three key principles, which are inspired by Company Three: be open, be generous, and be brave.
Why Shakespeare, and why Pericles?
We spent a long time thinking about our choice of play. Rather than doing something autobiographical, as I've often done in the past with community projects - since we're dealing with 200 very different people and life experiences - we decided to instead find a universal, huge-hearted epic.
Ben Power suggested Pericles as "like Finding Nemo meets The Odyssey". It's a story about realising who you are and what your home is through the people you love; there's lots of travel and adventurous stuff like pirates; and there are different worlds to explore. Company members have each hooked onto different part of the story, but - as one of our associates said - we're altogether united through the mythology.
It is heavily adapted, as we're turning it into a musical too. Chris Bush and James Fortune, our writer and composer, have been fantastic in taking the original material and transforming it in a sympathetic way.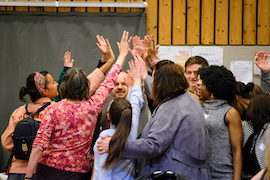 Has Shakespeare been a tough sell?
It really hasn't. We did lots of prep in our workshops, introducing Shakespeare, the story and themes of the play, plus verse and iambic pentameter - we wanted to animate that as much as possible.
All our teaching is based on a very inclusive methodology. We provided glossaries and rewritten versions of the text explaining meaning, so everyone can feel engaged and take ownership over their part of the story. The mantra - inspired by Public Works - is to treat everyone as a VIP, and assume nothing except that everyone is an expert.
In a way, it's giving Shakespeare new, contemporary life, but then Ben also said we shouldn't resist the fairy tale nature of it. That represents the true chaos of life, and coming to know yourself through loss, learning and a journey.
What has the National team learned from this process?
The response here has been just wonderful - everyone's worked so hard to make this the best possible experience for our company. We've delivered training that I think has been helpful, like in microaggression and unconscious bias, and we're trying to make the partner conversation two-way. If we listen, we learn and grow.
Would you like to see other theatres engaging with this kind of project?
There are so many theatres and companies already doing amazing work, like the Royal Exchange, Birmingham Rep, Slung Low, National Theatre Scotland, National Theatre Wales and Sheffield Crucible. We're very excited to roll out this project to Queen's Theatre Hornchurch, and hopefully nationwide.
This is a foundation cycle, to see what we learn from doing a project like this and understanding how it can grow - what it means for different communities across the country to connect with this work.
Finally, what do you hope audiences take from the performance?
I hope they'll come and experience a brilliant piece of work, that they'll be blown away by the story and how it's told, and that they'll feel connected to a moment of community action. We're thinking very hard about show ends, finding a gesture that feels meaningful - it should be both celebration and provocation.
The world needs this right now: space to unite and connect with one another, to feel like we're part of something bigger, and that we have real purpose and agency to make change. I hope we send people out feeling empowered, and full of joy.
Pericles at the National Theatre 26-28 August
Photo credit: James Bellorini Photography