Click Here to Visit the College Center

Blogs are the opinions of the authors and do not necessarily reflect the opinions of BroadwayWorld. BroadwayWorld believes in providing a platform for open and constructive conversation.

Student Blog: A Strange Loop: Interviews with the Cast
Read on for an interview with John-Andrew Morrison, James Jackson Jr, and Jason Veasay, three of the fabulous cast members in A Strange Loop!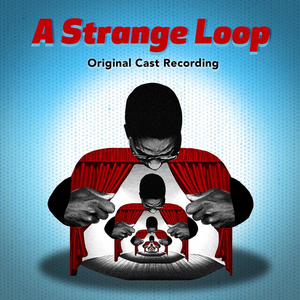 Hello Broadway lovers, theatre students, and creators around the world! Welcome back to the blog, as we wrap up May! Oh, my goodness, how time flies. As the days warm up and the world becomes vaccinated, I definitely feel a renewed sense of hope and optimism. I've registered for in-person classes next semester, paid the deposit for my apartment, and got cast in a live show for this fall. Imagine! Live theatre! The connection, the joy and the spellbound audience all experiencing a story together in real time. The theatre world will look so different, but I know that sense of togetherness will be the same. While I cannot wait to get my tickets to any productions that open first, one of the shows I'm most looking forward to seeing is A Strange Loop. This incredible musical originally premiered at Playwrights Horizons Theatre in 2019 and now plans to re-open at Woolly Mammoth Theatre later this year.
A Strange Loop tells the story of Usher, "a black, queer writer, working a day job he hates while writing his original musical: a piece about a black, queer writer, working a day job he hates while writing his original musical." Hence, A Strange Loop. Playwrights Horizon describes the piece as a "momentous new musical following a young artist at war with a host of demons - not least of which, the punishing thoughts in his own head - in an attempt to capture and understand his own strange loop." The soundtrack is ingenious, with tidbits about anxiety that everyone can relate to. For example, Usher's daily "self-loathing" thought pops in to remind him "just how truly worthless you are." We've all been there, Usher. But most importantly, this production is written by a Black queer author (Michael R Jackson), features a cast of Black, queer actors and tells the story of a Black queer person.
Growing up I thought theatre was the most welcoming and safe space in the world. I no longer view the entire industry through rose colored glasses. The reality is that theatre has an incredibly long way to go before being deemed a truly inclusive and safe space, especially when it comes to Black (and BIPOC as a whole) and LGBTQ+ representation. A Strange Loop breaks past molds, bringing new stories and much needed representation to the stage. As writer Michael R Jackson says, "You may not be this [black and/or queer], but there are things [in the musical] you can relate to. I hope the audience leaves the theatre thinking about what it means to be a self in general, and what it might mean to be a black, queer self in particular."
I was lucky enough to get to interview some of the cast members from this show, asking them about their stories, experiences, and hopes for the future of theatre. Their answers not only gave me an insight into their passion as performers and creators but hope and excitement for the future world of theatre. Read on for an interview with John-Andrew Morrison, James Jackson Jr, and Jason Veasay, three of the fabulous cast members in A Strange Loop!
Q: I wanted to get not only stories and memories from working with A Strange Loop, but information surrounding their artistic journeys growing up! Therefore, my first question was: were there any aspects of theatre (ex. productions, mentors, cast members) served as inspiration along your theatrical journey?
Jason: I think this question IS the answer for me. Yes. There is no such thing as it all NOT being an inspiration to me. All those things, experiences and memories ARE the inspiration.
James: The first two theatre performers I ever saw/heard were Nell Carter and Andre deShields. I saw the video of "Ain't Misbehavin'" when I was very young, and then I also heard Andre on the original cast recording of "The Wiz". I had never seen people that looked like me doing this thing and I was mesmerized. They are the first two performers that made me say "Wait...I wanna do that" and "Wait...I can be myself, and bring ME to the table?"
John Andrew: I think about the actor Tommy Derrah. I had the honor of getting to work with him early on in my career and watch his brilliance. To this day I want to be the kind of actor he was. Derrah was a force, and he made me realize that the character actor always has so much more fun. When I see an actor be utterly brave, inventive or tap into their genius and do something unexpected...it makes me want to be a better storyteller.
Q: Now, onto the heart of it all- A Strange Loop! This production is unlike any other, and I wanted to find out their thoughts and experiences working on this show. So, I asked: Is there any notable difference between A Strange Loop and other productions you've worked on?
James: If you ever have a creative team say "We want 'YOU' to come to the table", or "Be yourself" -- go there. Go work with them. Go to that table. Eat.
John Andrew: This show allowed me to bring all of me to it. It felt like I didn't need to fit into a box, the box was me. My experiences, what I brought, thought, and felt were the things that made the box. The creative team were always so sensitive to us and celebrated us in the most amazing ways. Showing up to work every day felt like such a gift.
Jason: Well, getting to work on something from the early stages to full production. An all-Black and Queer cast. And that production turning into a commercial and critical success. I've been very lucky to have worked on so many great projects. But this labor of love helped truly define the kind of theater I PREFER to be a part of.
I had to pause at these amazing answers. I love how A Strange Loop defined what these incredible artists wanted most from theatre, that line of work you feel true passion for and makes your own life feel seen and heard. "Go to that table. Eat."
Q: What has been your most enjoyable memory working on A Strange Loop?
Jason: Well, it was a long journey for me. 7 years. So, seeing it actually come to fruition was great. But if I had to pick one, I'd say when Queen Audra sent us a huge box of treats after she happened to see our "tribute" to Marie Christine.
I fangirled hardcore at that one.
John Andrew: I got to meet so many people I love and hear them say wonderful things about me. Which just made me go, "what is happening right now?" I think a moment that sticks in my head is the old white man who started shouting "thank you" during curtain call and also the (thin, model type) young white man weeping after the show. I asked him if he was okay and he said, "You just told my story." A story about a fat, black, queer boy was not his story at all. But the story we told was honest and specific. When things are specific, they become universal. When things are honest and specific, people find their way into it.
James: Playwright's Horizons, the off-Broadway theater where ASL performed, is not large. 200 seats, I believe. You can see everyone in the space from the stage. People sitting next to each other laughing, crying, jaw-dropped. It's amazing. The best show is watching people watch the show.
Q: What's your favorite musical number to perform from A Strange Loop and why?
Jason: This changed daily for me. But I think overall it's AIDS is God's Punishment.
[Song Description: Confronted by his mother about being gay and embarrassing the family, Usher and his mother argue until he takes her into the Tyler Perry-style gospel play of his life that culminates in a church/funeral scene for a friend who died from AIDS-related complications -Michael R Jackson]
I picked that because of where I'm blocked in it. I was able to see everyone's reaction in the audience and that was a fascinating study. And We Wanna Know [a voicemail message that introduces Usher's perception of his mother as played by all six of his Thoughts -Michael R Jackson] is a close second.
James: "A Strange Loop". The title song. The character of Usher sings it. But we (Usher's Inner Thoughts) watch. There is a line about learning to stop focusing on every other supposed problem in the world and deal with the pronoun "I" (I'm paraphrasing). But it's always such a potent and powerful coming to terms for me whenever I hear it.
In true Leah fashion, I then shifted my questions into a more ~metaphorical~ sphere. It just wouldn't be a Leah blog without the big (-ish) questions.
Q: What do you hope audiences take away from watching the performance?
James: Isn't telling the truth wonderful? And I mean "the" truth. We don't deal in that too much in either the theater or in a world focused on "your" truth, or "her" truth, or "his" truth, etc.. I mean "The Truth", before we had to give it a pronoun of ownership. The Truth is a wonderful, beautiful, soul-opening thing to watch.
John Andrew: Michael R Jackson talks about the show as a series of empathy tests. The audience is going to look at their thoughts and beliefs with a show like this. He also talks about good art being a mirror or a window. I think that is what happens when folks watch this show. They get to see a reflection of their experience. For some, it's a window into someone else's experience.
Q: Finally, what do you expect the future of the arts to look like? What do you want it to look like?
Jason: I want and expect it to look more like the world we live in but more importantly I want the future of the arts to include agency and lack of fear. As artists we're trained to be grateful for things no matter how they come. Especially if those things come with abuse. I'd like to get rid of that.
John Andrew: I don't ever want to speak with authority on what the theatre will and should look like. I think there will be changes. I have a feeling that a lot of shitty things will stay the same, but I hope that more good will come. I hope the quality of the storytelling is high and inventive and not just checking off inclusive boxes with buzz words. I hope the work will be about something and that it will be great and engaging.
James: The arts in the future looks like Everyone. Everyone is there. All colors, shapes, sizes, genders, every body. I want it to look like the world I see when I walk down the street. Some parts are safe. Some parts are scary. Sometimes you're happy. Sometimes you're sad. Sometimes your feelings get hurt. But EVERYONE is there.
I hope to see Everyone back in the theatre, both in the audience and onstage, so soon.
Learn more about A Strange Loop here: Broadway-Bound Production of A STRANGE LOOP at Woolly Mammoth Theatre Postponed to Summer of 2021 | May 15, 2020 on BroadwayWorld
Get excited to watch the magic happen (when theatre happens again) here: Woolly Mammoth Theatre Company - Event
Learn more about the soundtrack here: BWW Album Review: A STRANGE LOOP's Funny, Complicated Musings on Identity and Creativity | October 22, 2019 on BroadwayWorld
---
Check out more Student Blogs here! And don't miss a single blog by following our Instagram and liking our Facebook page!