BWW Review: RESOLVING HEDDA at Washington Stage Guild
Life in the theatre is hard enough without having a diva in your show. As the title character in a well known play by a certain Norwegian playwright you would think that she would play along with what she was given. In this case the playwright is that king of mirth himself Henrik Ibsen and the diva in question is Hedda Gabler. Gabler, after many productions over the span of many years, decides she doesn't want to die by gunshot at the end of every performance. You might be asking how did she get this kind of power. For the answer you need to check out Washington Stage Guild's (WSG) hilarious and (per usual) well presented production of Jon Klein's Resolving Hedda. The show is a DC area premiere.
As you might remember from Hedda Gabler our lead has plenty of crap to deal with. Hedda (Kelly Karcher) has a half wit for a husband named George (Jamie Smithson) and has to put up with the lecherous Judge Brack (Steve Beall) making constant advances to her, Then there is the writer Eilert (Matthew Castleman), the lover of Hedda's old schoolmate Thea (Emelie Faith Thompson) who comes back into her life. Not to mention there is Aunt Julia (Jewell Robinson) who Hedda really doesn't care about either (not to mention her very sick sister who eventually dies). To put it mildly, her life is something out of an Ibsen play...wait a minute!
As stated at the top, Hedda is fed up with always being killed off at the hands of one of her father's pistols. Her father was, of course, a general so she has easy access to his weaponry. Throughout the course of Resolving Hedda our lead constantly breaks the sacred fourth wall and constantly mouths off to the other characters in modern day slang, leaving them perplexed. She even tells the characters what happens plot wise before it even happens. She knows the play backwards and forwards, but wants to change how it plays out. To see how it all turns out - including what happens to Eilert's manuscript and more - you'll need to see the show.
I have always said that Washington Stage Guild is a jewel in the DC theatre community. Their productions are always high quality and this one is no exception. Resolving Hedda proves yet again that you don't need to have tons of cash to present good theatre.
Scenic designer Tara Lyman-Dobson's box set depicts Hedda and George's home perfectly. Complete with a small chandelier and several bookcases, this might be one of the most ambitious sets to ever hit the stage at WSG.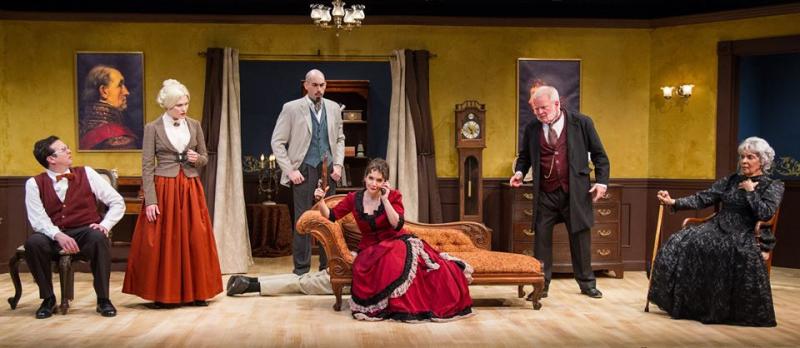 WSG'S recently appointed Associate Artistic Director Steven Carpenter helms the production is yeoman's form. There isn't a moment in the show where your mind wanders and not a bad performance is found. Carpenter's direction brings out all the hilarity in Klein's script while letting the more serious sections of Ibsen's play come through so the audience can breathe between the laughs.
Let's face it, this is Hedda's show and without a strong actress you are sunk before you even begin. Making her DC debut, Kelly Karcher's Hedda is like a bull in a china shop and then some. To say that Karcher is a force of nature in this role isn't doing her justice. Hedda is very unlikable as a character with her disregard for everything, including the production's poor Assistant Stage Manager Bill Largess (Oh the things the Artistic Director does for his company). She is abusive and nasty to be sure, but Karcher's performance is so bloody good what could be off-putting is actually endearing. Let's hope she hangs around DC for awhile so we can see more from this powerhouse talent.
As the academic and sometimes bungling husband George, Jamie Smithson gives what I believe to be his best performance to date. His slightly nerdish qualities are the perfect balance to Hedda's sharp-witted tongue.
Steve Beall's strong performance as the slimy Judge Brack provides a villainous turn to the proceedings. Think Snidley Whiplash mixed with Judge Turpin.
Matthew Castleman commands the stage as the writer Eilert who Hedda ultimately shreds into little pieces...figuratively.
Emelie Faith Thompson does well with her stage time as the innocent foil to Hedda.
Jewell Robinson makes the most of her limited stage time as Aunt Julia.
Sigrid Jóhannesdóttir's costumes are perfect for the period while Marianne Meadows' expert lighting provides the finishing touches.
Resolving Hedda at Washington Stage Guild is truly a sure shot for an experience in the theatre that is totally memorable for all the right reasons.
Running Time: Two hours and ten minutes with one intermission.
Resolving Hedda runs through April 14, 2019 at The Undercroft Theatre of Mount Vernon United Methodist Church. The venue is located at 900 Massachusetts Ave NW in Washington, DC.
For tickets, click here.