BWW Review: IF THESE BALLS COULD TALK! at Capital Fringe Festival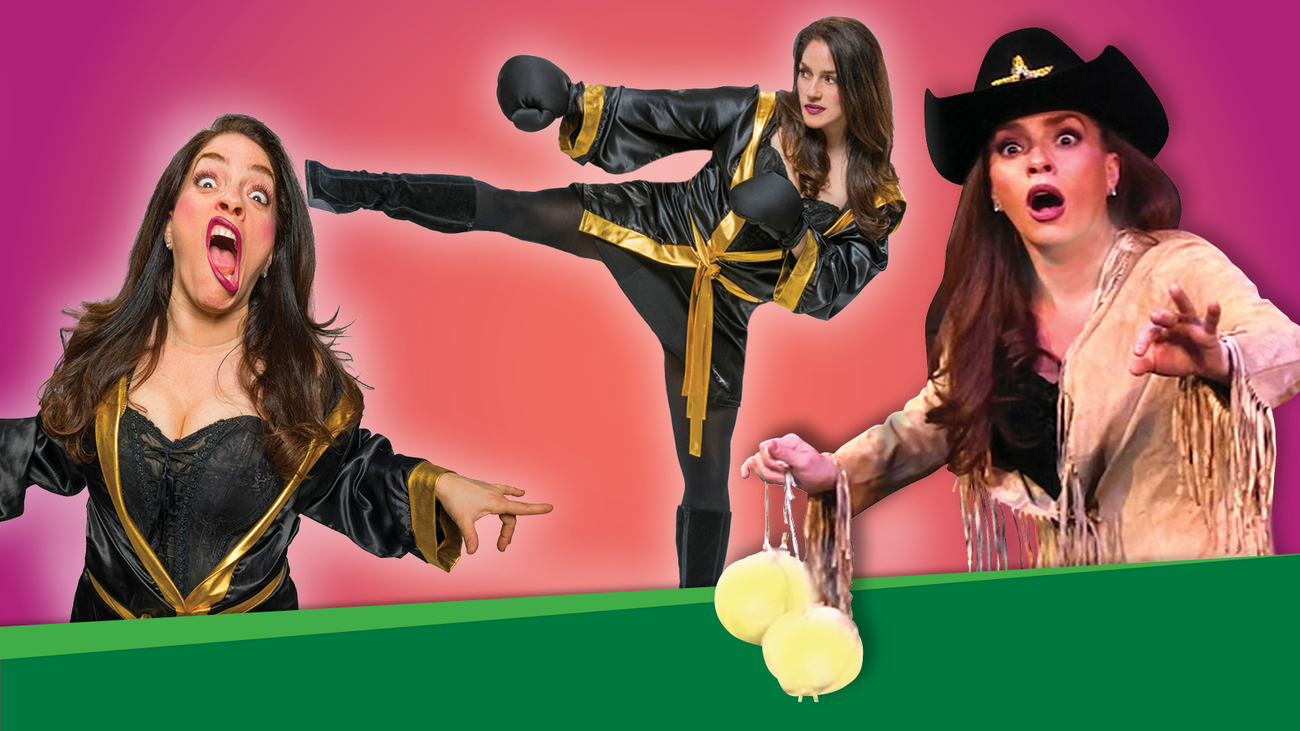 Here's a recipe for some mid-week mayhem: look up the Italian word for chutzpah, and then try to pronounce it with a lazy Texas drawl (you know, the kind where one vowel stretches out to thuh-ree o-ah mo-ah?). Season with some fine stand-up, a song or three, serve with a small army of bizarre urban characters, and you've got Carolann Valentino's hilariously fearless If These Balls Could Talk!
(Note: she's Italian, OK, so the balls are provolone-get your mind out of the gutter for once, wouldja?)
In the course of an hour plus, Valentino regales you with tales of growing up The Only Italian Girl in Texas-where she's mistaken for Mexican, natch-and her first forays into musical theatre. Thanks to a fiercely foresighted mom ("Psychic Italian Mothers" is one of our themes here), Valentino soon finds herself in New York City, managing a high-end steakhouse while hanging out in comedy clubs and auditioning in her not-so-spare time.
With a little raunch and a lot of heart, If These Balls Could Talk! gives you a glimpse of the performer's life in the big city; it's a whirlwind tour, and well worth the ride.
Thanks to the late Anthony Bourdain, we now know restaurants to be a den of iniquity almost as vile as the theatre-and Valentino brings the restaurant scene vividly to life here. The management and staff at her joint are odd enough, but given the high-society clientele we also encounter a cadre of spoiled drunks, creeps, vamps and pigs, all of whom require Valentino's steady, calm hand as she graciously but firmly shows them the door.
All this, while crossing her fingers that the next audition will be the one that finally lands her on Broadway. And while answering her mother's constant barrage of calls from home (the timing of which, of course, this being mom, could not possibly be worse).
Valentino's charisma and her ease with the audience are wonderful, evidence that we indeed have a seasoned performer who knows her way around the warm lights downstage. She also generously brings audience members up onstage to be part of the fun-so come prepared for some good-humored ribbing with your entertainment!
If you know anyone who's tried to make it in The Big Apple, you're probably familiar with how things work for aspiring actors: you either get rich tending bar or waiting tables, and being utterly miserable; or you starve because you got cast in a show and are deliriously happy.
Toggling between these two extremes is a familiar challenge for Valentino, and she does a wonderful job of showing us the dilemma that confronts every artist: the choice between stability and chaos, between wretched prosperity and ecstatic dumpster-diving.
Here's the thing: you only have one - I repeat, one - more chance to catch Valentino's show; this has to be one of the best things in the Fringe Festival this year. Come to the show hungry, you won't regret it. By then, the heat wave will be gone and it's just one block from the Waterside SW Metro stop on the Green Line, so no excuses!
Running Time: 75 minutes without intermission (you won't notice, trust me).
If These Balls Could Talk! Has only one more show, folks - Wednesday, July 24, at 5:30 PM in the Plum space on the top floor of Arena Stage, the Mead Center for American Theater, 1101 6th St. SW.
For information on tickets and festival passes, phone 866-811-4111 or visit www.capitalfringe.org
Related Articles View More Washington, DC

Stories

Shows