Review: CARMEN at The Kennedy Center
Francesca Zambello's fresh interpretation of the beloved opera is a gorgeous and thoughtful production.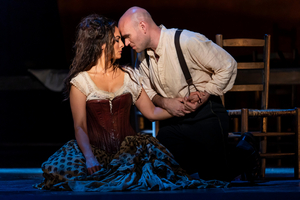 My great-grandfather, who introduced me to opera when I was a child, used to always joke that an opera was a comedy if less than ten people died. And yet, with only one on-stage death, it would be a shame not to recognize Georges Bizet's Carmen for the tragedy it truly is.
For those who didn't develop an obsession with this piece through playing Carmen Suite in high school orchestra (and who haven't read my gushing reviews of previous productions), Carmen centers around the titular character, who is the very embodiment of the concept of a femme fatale. Hordes of men fall for her beauty and charm, willfully ignoring her own warnings that she won't return their affections. Carmen gains the attention of Colonel Don José, a young soldier whose infatuation with Carmen leads to his imprisonment after he helps her escape arrest. Despite her assertions that she doesn't return anyone's affections or care to be tied down, Carmen finds herself infatuated with the soldier, and waits at her friend's nearby pub for his release. Don José seeks Carmen out, and the two share a passionate moment before he is forced to choose between her and his duties as a soldier; when they are interrupted by his lieutenant, who starts a fight, Carmen has her friends detain the lieutenant and Don José has no choice but to join Carmen and her smuggler friends as they abscond to the mountains. Now a deserter and bound to Carmen, José expresses his regrets even as he continues to exhibit jealousy and attempts to control Carmen, who balks against such limitations on her freedom. José's jealousy chafes against even the other smugglers, and Carmen's love for him wanes, particularly when she and her friends read their fortunes in the cards and she repeatedly draws death, interpreted as her own at her lover's hands, followed by his as well. Carmen is already shaken when the bullfighter, Escamillo, who was also charmed by Carmen, comes upon the group and confesses his love for her to José; the jealous man challenges the bullfighter to a fight, which is then broken up by Carmen herself. With the camp still in disarray in the aftermath of the fight, José's intended, Micaëla, arrives with word that his mother is dying; Carmen, desperate to separate herself from his possession and to save them both, urges him to return home. He agrees begrudgingly out of worry for his mother, but promises to return for her. Carmen ends up going after Escamillo, and falls in love with him. When they arrive in Seville for his bullfight, Carmen's friends alert her that José has returned. José tries to persuade Carmen to run away with him, but she refuses and professes her love for Escamillo. Enraged at her rejection and the sounds of Escamillo winning his fight in the arena, José kills her.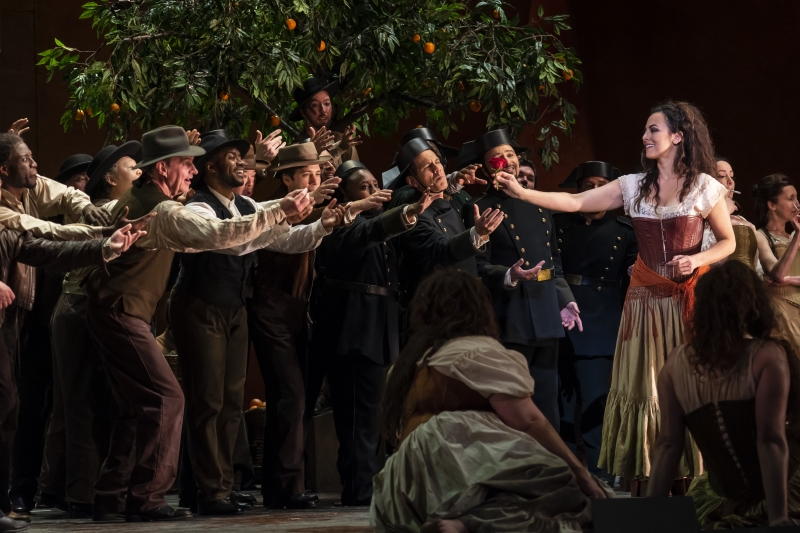 While Carmen's death is, on its face, tragic, what's far more so is the portrayal of her over the years. Often painted as a flirtatious, faithless woman, Carmen is blamed for her fate, said to have driven Don José mad through her actions. But even the text of the opera contradicts this understanding - as Carmen herself states, she never once lied about her disinterest in lasting love, and she warned all potential lovers away. Furthermore, she also states on numerous occasions that her main priority is her own freedom. It seems odd, then, that a character with such clear intentions, and whose actions never betray those pronouncements, should be responsible for a man's twisted misinterpretation and resulting violence. In a way, blaming Carmen for her fate is a far more fatal blow to her than even José's knife.
Thankfully, Washington National Opera Creative Director, Francesca Zambello recognizes this tragedy too, and seeks to rectify it in her latest production of the beloved opera. Zambello's production showcases a well-rounded, full individual, played by the incomparable Isabel Leonard. Together, Zambello and Leonard present a complex woman who is brash, sarcastic, charming, confident, and abrasive - and, in doing so, make it so much harder to project the male characters' expectations onto her. She exists independent of their gaze, and this also draws her out of line of their imposed blame. Instead, with the understandings we've drawn in the aftermath of the #MeToo movement - namely, recognizing that women who dress or act or exist a certain way aren't "asking for it," as we were told for far too long - Zambello and Leonard create a Carmen that audiences can sympathize with. Carmen isn't a vixen who led men astray - she's a victim of domestic violence, inflicted by both her partner and audiences. In this production, we have the opportunity to shift our perspective, to see Carmen as a full person and to recognize that the tragic decisions aren't her own, but are José's, and that his actions are the ones we should condemn, not hers. Indeed, the show leans into this in a number of ways, including its beautiful opening and closing, where the spotlight focuses on a disheveled, broken José as he faces the consequences of his actions.
Incidentally, this isn't the only place where we can see modern understandings within this production. One notable change in the surtitle translations (created by the San Francisco Opera Association) was the use of "Romani" over the previous slur used to refer to Carmen and her cohorts - the change, while subtle, is another reminder that art can adapt without losing its core. WNO manages to incorporate these changes in a way that is both meaningful and unobtrusive, and this can and should be modeled by other productions and companies.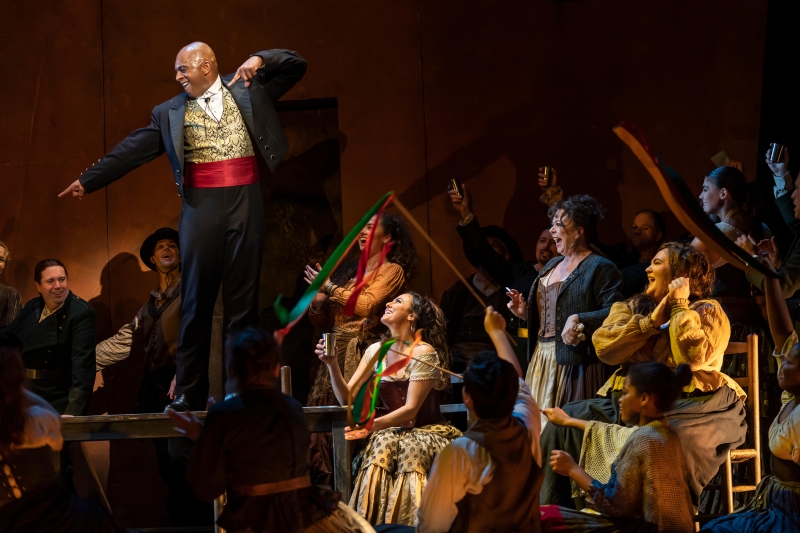 What makes this production of Carmen so strong isn't just its fascinating and refreshing perspective, but also the powerhouse team behind it, both on and off the stage. In many ways, it feels as though WNO has pulled out all the stops for this production - in addition to featuring performers from Washington National Opera (and a few new faces), this production of Carmen also includes members of the Cafritz Young Artist Program, the Washington National Opera Orchestra (conducted by the wonderful Evan Rogister), the Washington National Opera Chorus and Corps Dancers, and the Washington National Opera Children's Chorus. Indeed, even with the orchestra in the pit, there are moments where the stage is bursting with activity, though the effect is more a sense of being transported to Seville rather than anything particularly overwhelming. I found the opening scene - where the stage was packed with the company dressed to portray varying classes and occupations, children playing, soldiers patrolling, clergymen advising, and more I likely missed - to be a delightful organized chaos that immediately immersed the audience in Carmen's world. This is, of course, aided by the excellent set and costume design, both the work of Tanya McCallin, whose double-role makes her achievements for both all the more impressive. Complementing McCallin's designs are Anne Nesmith's beautiful wig and makeup designs, and highlighting it all are Justin A. Partier's lighting designs, revivals based on Paule Constable's original designs. Anna Maria Bruzzese's choreography is gorgeous and elevates the whole production, and Fight Coordinator Casey Kaleba's careful eye makes the climax scene breathtakingly heartbreaking.
The cast is equally strong. Leonard, as Carmen, is stunning in her portrayal. She commands the stage, and shows the audience her character's journey with every inch of her being - from the slightest facial expressions and hand clenches to her bearing to her tonality, every detail is carefully conveyed. Leonard's beautiful voice, her sassy delivery, and her strength of presentation create a gorgeous and powerful interpretation of the character (Leonard's talents and commitment also resulted in her learning to play the castanets for her dance in Act I). As Don José, Michael Fabiano skillfully portrays the man's decline from soldier to outlaw to criminal, and it's fascinating to watch him unravel. Ryan Speedo Green's Escamillo is the perfect balance of bombastic and lovesick, and he delivers the character's delightfully extravagant persona from his very first note through his incredible entrance (which includes a great surprise for the audience) to his off-stage victory in the arena. Although Vanessa Vasquez was unfortunately absent for the performance I attended, Katerina Burton (who is a member of the Cafritz Young Artist Program) was a formidable replacement for Micaëla, taking on the sweet soprano role and creating a great contrast to Leonard's Carmen with her innocence and pining for José. The rest of the cast is equally impressive - notably, Suzannah Waddington and Hannah Shea (also members of the Cafritz program) pull off a few gorgeous duets in service of their position as Carmen's closest friends, Frasquita and Mercédès, and Kevin Short's Zuniga provided a good mix of both menace and ironic comedy when he is captured by Carmen's friends after confronting the couple.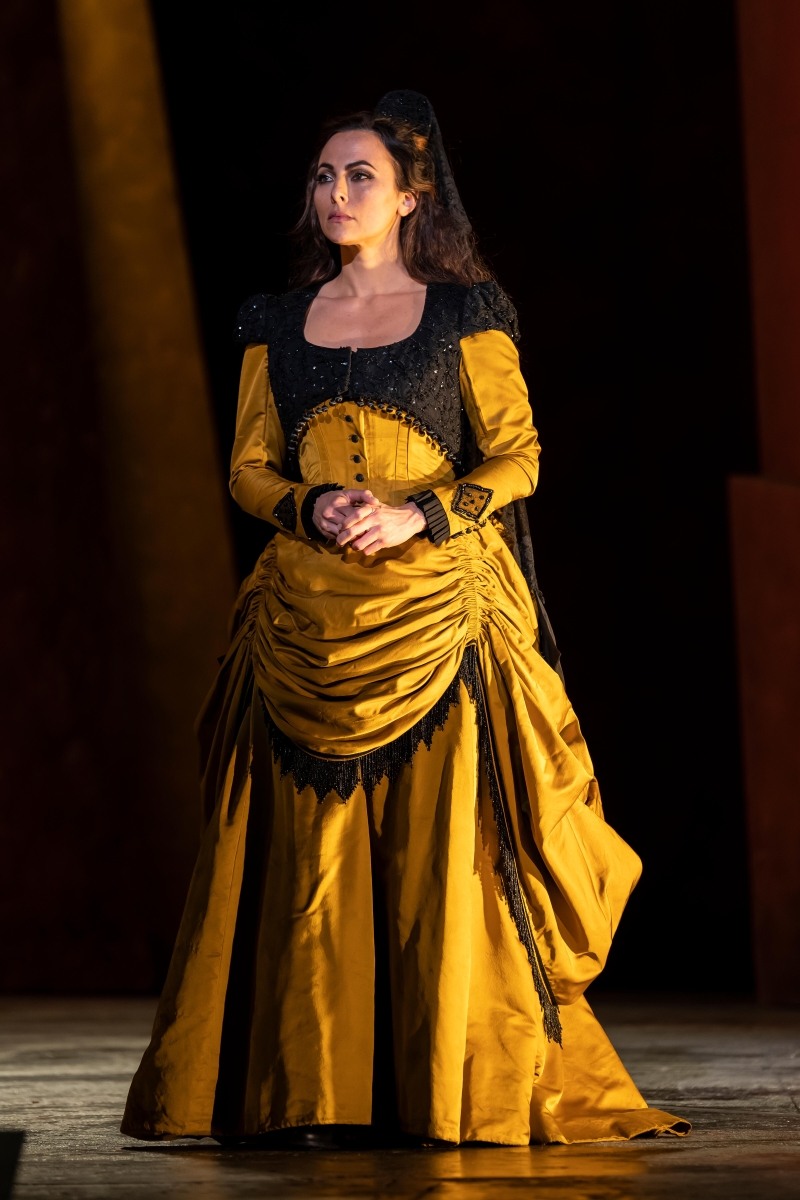 While this production of Carmen is very traditional on its face (in fact, stills from other productions you can find online won't look radically different than the aesthetic of this one), the thoughtfulness and sheer talent packed into this performance elevates it to something far more engaging, and absolutely enchanting. It's more than worthy of audiences' time, and hopefully WNO's fresh interpretation will help audiences reconsider the true tragedy presented.
Author's Note: Due to a case of Covid-19, I was unable to review Carmen when it opened on May 14th, and the Kennedy Center team very kindly invited me to attend the May 22nd matinee and post-show talkback after I recovered. This review is based on that performance, and includes a few tidbits from the discussion.
Washington National Opera's production of Carmen has performances on May 14th, 15th, 16th, 20th, 21st, 22nd, 25th, 27th, and 28th. The performances on the 15th and 27th are Carfitz Young Artist performances, though some members of the program perform on all dates. Please note that the production does use some onstage firearms (shot with blanks) and includes depictions of domestic violence. Additional information on the production can be found on the Kennedy Center website.
Photos by Scot Suchman, courtesy of the Kennedy Center.