BWW Review: ANN at Arena Stage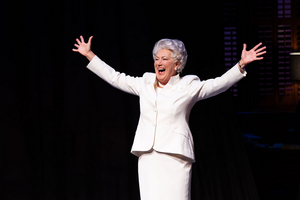 It was rare that a Democrat became governor of red-state Texas in the 1990s; rarer still that she was a woman.
The only other woman to have had that office took over for her husband when he was tossed in jail for corruption.
There was something about Ann Richards' election to office, though, that put some zest in Lone Star politics that spread across the nation.
Her most famous moment came in her almost swaggering speech at the 1988 Democratic Convention, so it's a bit of a disappointment that that achievement is covered via audiotape at the onset of "Ann," an invigorating and thoroughly engaging one-woman show about the governor.
Once the formidable Jayne Atkinson takes the stage in her sharp white hair and matching suit, there's no need for clips to fill-in the rich life of the feisty politician.
In the crisp production, written by Holland Taylor and directed by Kristen Van Ginhoven, she's speaking at a school graduation, telling a little bit about her life and outlook. Before long, she descends back into her gubernatorial office, musing on the work, taking calls from pals and Presidents, barking at her off-stage secretary, trying to arrange a family get-together.
She's constantly busy, so when she exits to take a bathroom break, it's a good time to put in an intermission.
Then she's back in the office and eventually back at the commencement, where she's also telling about the end of her life.
Richards only served one term, and she leaves out the dirty politics that cost her the election. Also missing is about how hard fought her first election was, and how much she excelled in straightening out the state's books (that men had mangled over the years). But she's frank about her own life, the demise of her marriage and her need to go into rehab at one point (though she probably still threw a great party without drinking).
Taylor, an Emmy-winning actress who was in a number of sitcoms over the years, knows a little bit about pacing, so her work, which she devised for herself in a work that played the Kennedy Center in 2011 before it got nominated for a Tony on Broadway two years later, has some emotional hills and dales. It also pauses for jokes and all the charm that Atkinson - herself a TV vet with memorable roles on "24," "Madam Secretary" and "House of Cards" - can exude.
And Atkinson is a marvel in not only the knowing the famous soft Texas twang, but also having the kind of timing that gets the most out of the rich material.
There are few better places to play "Ann" than where the current production will be playing - the politically engaged crowd in Washington, and those who might have lived through her policies and her spirit, in Dallas. There were times on opening night when the crowd not only applauded comic heights, but also her strong point of view politically.
Could Atkinson's white wig had more of a beehive? Maybe. But the mark of a pro on stage is that she can embody anyone without necessarily looking exactly like her.
The production is saved from the kind of fatigue that comes in one-person shows, not only in the zest of the performance but in touches in the set that includes a podium that zips around the circumference for no particular reason other than to be fancy, and an office that has a tangled phone cord that forever threatens to topple everything else on the desktop and makes one think: Oh, yes, this was the time when having a long phone cord was about the only freedom afforded to the desk bound at the time.
The lasting legacy of Richards in Texas may have been limited. But then, as now, she shows there is hope for a full-blooded personality who cares about people that could get into office. More than that, she remains a shining role model for a generation of women at a time when a record number are running for the country's highest office. It's good to be able to stand and applaud that kind of grit.
Running time: About two hours, including a 15-minute intermission.
Photo credit: Jayne Atkinson as Ann Richards at Arena Stage. Photo by Margot Schulman.
"Ann" continues through Aug. 11 at Arena Stage at the Mead Center for American Theater, 1101 4th St SW, Washington. Tickets at 202-488-3300 or online.
Related Articles View More Washington, DC

Stories

Shows