Click Here for More Articles on REGIONAL - DC Metro Area Maryland
BWW REVIEW: FANCY NANCY: SPLENDIFEROUS CHRISTMAS at Adventure Theatre
We all know how stressful the holidays can be, especially finding the perfect gift for friends and family. But what about the perfect accoutrement, - that's a fancy word now isn't it - for the top of your Christmas tree? Yes, the tree topper can make or break any holiday celebration and you won't find a better illustration of this fact than Adventure Theatre's super splendid (that's a fancy word for really excellent) production of Fancy Nancy: Splendiferous Christmas. The show boasts a score by Randy Klein (music), Matthew Hardy (lyrics) and Cara Lustik and Matthew Hardy (book).
Based on the book of the same name by Jane O'Connor and Robin Preiss Glasser, this high energy musical introduces us to Fancy Nancy Clancy (Farrell Parker), a six-year-old with quite the vocabulary. She tends to use big words in her sentences and then, as any precocious (that's a fancy word for smart at an early age) child will tell you, "That's a fancy word for..."
Fancy Nancy has a sister named Jojo (Alex De Bard) who constantly gets sent to her room for doing things unbecoming (that's a fancy word for something you shouldn't do) of a three-year-old.
Her parents Mrs. Clancy (Megan Adrielle) and Father (Christopher Michael Richardson) are good parents and like to teach their children that not everything comes so easy. If you want something you have to figure out how to get it.
The Clancy's also have a good-hearted neighbor named Mrs. Devine (Scott Abernathy). A world traveler, she just returned from visiting her niece in Nice.
When Fancy Nancy finds the perfect tree topper she tells her mom she wants to buy it. However, she doesn't have enough money. Her mom tells her she will have to earn the money if she wants to purchase - in Nancy's words - "The Perfect Topper". The enterprising (that's a fancy word for being resourceful which is a fancy word for...oh never mind) Fancy Nancy opens "Mademoiselle Nancy's Fabulous Fashion Boutique". From there our story includes a necklace for Jojo, Christmas caroling, and a very optimistic ( that's a fancy word for always having a bright outlook on life) Grandpa (also played by Abernathey). Go see the show to figure out how all of this comes together.
Director Stevie Zimmerman's direction is fast paced and features plenty to keep the kids and adults alike interested throughout. Trust me this isn't always the case in a Theater for Young Audiences show.
It helps of course that her performing company (that's a fancy phrase for the cast) is top notch.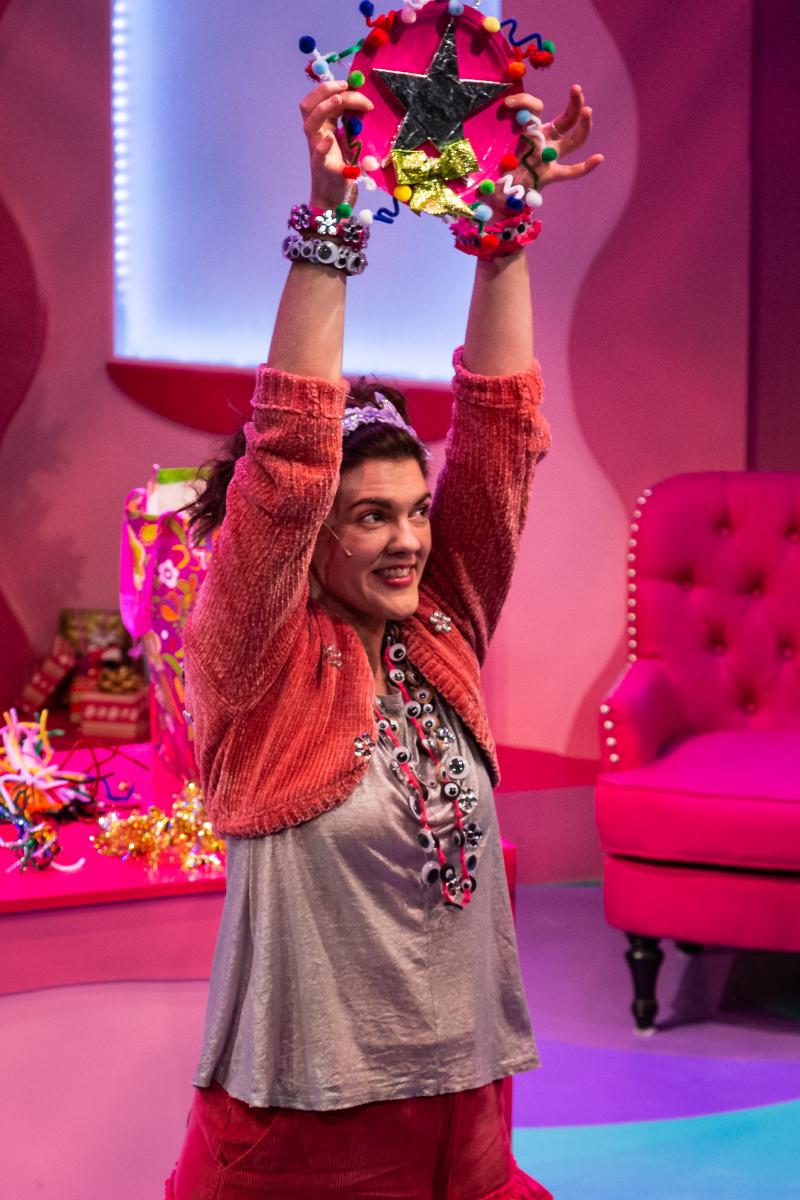 Let's start with Farrell Parker as Fancy Nancy, who I am always happy to see onstage. There is no doubt that her vocals on "The True Meaning of Christmas" will put you in the holiday spirit. To say that she gives a real star performance isn't saying enough.
As Jojo Alex De Bard stops the show with her big song called "No, No Jojo". The song talks about all the bad things she's done including dying her dog pink and putting her in the swimming pool. Maybe you want to say "No, No" to Jojo but a big "Yes, Yes" to DeBard is definitely in order.
Scott Abernathy really shines in the dual roles of Mrs. Devine and Grandpa. His song "Improvise" is one of the show's biggest moments. I also appreciate the fact that Adventure Theatre chose to cross gender cast the role of Mrs. Devine. I know this kind of thing doesn't happen a lot so when it does it needs to be acknowledged (that's a fancy word for being said).
Megan Adrielle and Christopher Michael Richardson as Mama and Papa Clancy are the kind of parents every kid would want to have to be sure.
Klyph Stanford's set fills Adventure Theatre's stage complete with a Christmas tree and much more.
Jason Arnold's lighting takes full advantage (that's a fancy phrase for makes full use) of the windows built into the set. At any given time, they can turn almost any color you want.
Katie Touart's costumes include a tutu for Fancy Nancy and help turn Abernathy into a rather attractive old lady.
Ilona Kessell's choreography (that's a fancy word for saying she did the dances) is high energy and fun. The opening song "It's Christmas" starts us off right.
Joshua Sommerville's musical direction (that's a fancy way of saying he taught the cast the songs) keeps the cast in perfect harmony to the recorded music track orchestrated (that's a fancy word for he wrote the music for the instruments you hear) by Wayne Chadwick.
Fancy Nancy: Splendiferous Christmas at Adventure Theatre definitely has something for everyone. Life lessons, an excellent cast, fun music, and superb production values. Make some time this holiday season to get over to Glen Echo Park and see Adventure Theatre's Fancy Nancy: Splendiferous Christmas. I guarantee a festive time for all. That's a fancy way of saying I'm sure you will enjoy yourselves.
Running Time: 50 minutes with no intermission.
Fancy Nancy: Splendiferous Christmas runs through January 6, 2019 at Adventure Theatre, located at 7300 Macarthur Blvd, Glen Echo, MD. For tickets, click here.
Related Articles