BWW Interview: Marni Penning of THE AGITATORS at Mosaic Theater Company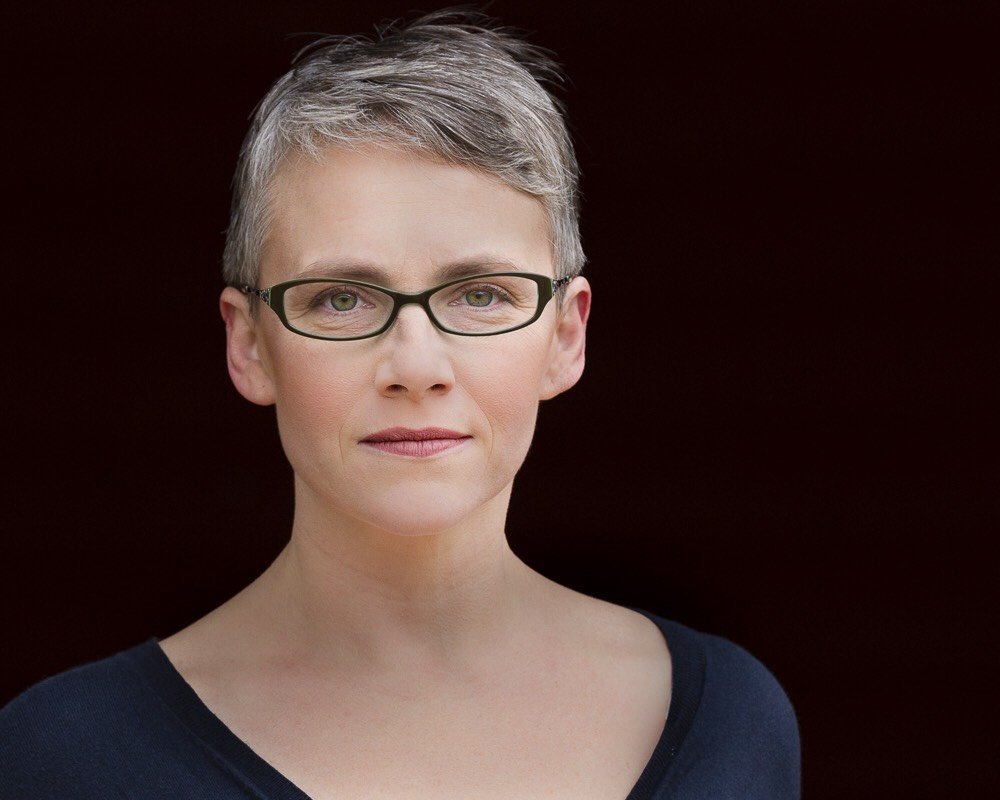 Marni Penning is an audiobook narrator, playwright, acting coach, children's book illustrator, two-time Helen Hayes Award nominee, and other-award-winning actress who lives with her husband, son, dog, fish, and chickens in Falls Church, VA. She is starring as Susan B. Anthony in Mosaic Theater Company's upcoming production, The Agitators.
Let's talk a little about your background - you have a particularly interesting character on your resume.
During the 2008 election, I made my living as a Palin impersonator. It was comedy gold.
And Susan B. Anthony is kind of on the other end of the spectrum, isn't she? But you've had a pretty notable background aside from her though - you founded your own company. What was that like?
Well, Susan B Anthony was really good at organizing things and speaking her mind - both of those are helpful in founding your own organization.
After college, my friends and I formed the Cincinnati Shakespeare Company. We were 23, and we didn't realize we were supposed to fail, so we didn't - it's been running for 25 years. We mostly performed classical and Shakespearean shows initially, but it's also hosted some world premieres. It's come a long way though. This year's season includes 1984, and they just built new multi-million dollar building.
Are you from Cincinnati originally?
I'm actually from the DC area. I was born in Springfield, Illinois, but I grew up here. My father took a job with Paul Simon (the politician, not the singer), and we moved to the DC area when I was six.
So you've been in the realm of politics and activism before?
I'd say I have more of an an activist background than political. I learned politics from my dad shouting at the television - both of my parents are super liberal. I grew up Catholic, but my family hasn't followed the church in a long time. But the service-minded attitude really stuck. We're not out stomping around the campaign trail, but we definitely speak our minds politically. We even went to the Women's March as a family.
What drew you to playing Susan B Anthony?
I didn't know much about her at first. I knew she was a pioneer for women's rights, and had that severe-looking portrait. I liked the dollar coins. But it hadn't dawned on me that she never - well, never legally - voted in her lifetime. The 19th Amendment was passed after she was gone. But she really wasn't on my radar.
Someone from Mosaic, who also does the photos for MetroStage, mentioned the show and suggested I audition. I didn't even know it was going on, but I ended up auditioning. KenYatta Rogers [director] and I did a play together 15 years ago, and that audition was our first time together again. It was great to reunite. And Ro Boddie, who plays Frederick Douglass, is wonderful. We had an amazing time rehearsing.
The show's concept is fascinating, because it feels like their friendship is really interesting, but really not well-known.
No one talks about it!
Shirley Serotsky [Resident Dramaturg] is from Rochester, and she told us the airport has terminals named for both of them. We did a research trip to the Douglass house here in DC, and, in the women's guest bedroom, there's a large portrait of Susan B. Anthony over the fireplace. It was really cool
The show is fictional, but it's really well-researched. They knew each other really well, and it's great getting to learn and show that.
So you get to see more than the large imposing portraits?
It's a show about a man and a woman. They are equally fierce. And it's not a romantic love story.
KenYatta is always talking about two heavyweight prize fighters - they both get in the ring, and they're both fierce, but with different styles. Sometimes they're allies, but they were friends for 45 years. They're actually both buried in the Mt. Hope Cemetery in Rochester.
What sort of research did you do for the role then?
Well, Shirley is from Rochester, so between her and her assistant, Keenan Fellow Timothy Thompson, we were able to have a full timeline on the 45-year span of the show. We each did own research as well, and we'd all bring our findings to rehearsals to help enrich our characterizations.
I didn't know much about Quakers at all before this, but she was a Quaker and that lent to her fair-mindedness. She was raised in a house where men and women were equal, so it was a no-brainer. She was a teacher, and got into activism when she demanded equal pay to what her male counterparts were making. She was still teaching when the Seneca Falls Convention and the Rochester Women's Rights Conference were held in 1848. She didn't attend a convention until Syracuse in 1852.
She got into women's rights after reading Lucy Stone's speech - it really converted her to the cause. And, I'm not sure if it's fictionalized, but in the play it's Douglass who gets her interested in voting, specifically.
It's interesting that she was inspired by Lucy Stone, given that Stone played a big role in the break within the movement - Stone argued against other leaders that abolition needed to be a bigger priority and split the movement between those who focused on suffrage versus abolition.
Exactly - there were a lot of arguments about the 15th Amendment and whether it leaves women behind. Douglass argued in favor of the 15th, and that division between the women's movement definitely impacted them. The 14th Amendment used the word "male" for first time in the Constitution, and the 15th reinforced that by adding "all men." The fight was over wording, and specifically addressing sex. Douglass advocated taking what they could, and that caused a huge division between them. In a 45-year friendship, it's a blip, but it's a really big blip, especially since they had been working together so closely to abolish slavery.
After slavery, it was about equal rights for everybody, but he sided with the idea that "men who vote aren't ready for women's suffrage - we're going to take what we can get now." It really upset her because it was like, "We were working with you, and now you're leaving us behind."
I also didn't realize she was a big Temperance proponent - that was her first major advocacy. Women couldn't own property, sign contracts, didn't have bank accounts - everything went to their husbands. If their husbands used their money to get drunk and beat them, they had no recourse. They couldn't go anywhere, couldn't get custody of children, couldn't inherit property, even. So she got into that early on as a way to help women who were being affected by domestic abuse.
We sometimes forget how limited things were for women.
We really take it for granted - and it wasn't that long ago.
That's true; and we're still facing a lot of the same issues in some way. The show feels particularly timely, with the recent movements, the Supreme Court hearings, and the election coming up.
What's interesting about the play is that [playwright] Mat [Smart]'s voice does a brilliant job of making the voices ring with what we're still dealing with. When he was writing it, he worried about being a straight white guy writing about them, but theme is to put yourself in a position to see through other people's eyes, to understand their view.
The show was written before the Kavanaugh hearings, but women are still being left behind and their voices still aren't being heard as much. It was a problem in her time, and it still is one today. It's easy to get really emotional about these arguments - it's affecting me, it's affecting my friends, it's personal as an enormously larger issue. And it was the same for Douglass - one of the arguments for why black men needed to be able to vote is that they were being killed, and we're still having that issue. Women are being beaten and raped without recourse - and those were Susan B Anthony and Frederick Douglass' arguments.
It's heart-wrenching is that they had to fight each other over legitimate arguments on both sides.
It wasn't out of malice, and they're able to argue for their point without saying "you're wrong." Having this discourse with people you disagree with and finding common ground is a huge theme in the show. How do we talk to people who disagree with us, and still have a productive, forward-facing conversation? It's still important to ask that today: how can we be better to each other, see through the eyes of the people we're stereotyping?
What do you hope people take away from the show?
It's ultimately hopeful, I think. What's been helping me through the last couple of weeks and years - especially since, since we started this play, the Kavanaugh thing went down - is thinking about the long game. She had a lot of disappointments over the years, but she never let it stop her. Same as Douglass - they had a lot of disappointment, but they never stopped fighting for what is right.
The reason we have the freedoms that we have today is that they didn't stop. They didn't stop fighting when they had a disappointment; they regrouped and tried again. There's a quote from the League of Women Voters: "Democracy is not a spectator sport."
They amended the Constitution - it's a living breathing document, and they changed it when they saw things weren't right. I think people forget that. It's hard not to get despondent when things don't go well, but it helps to channel their spirit of "stick-to-it-ness" and regroup and move forward.
It's an historical, but timely show. Ultimately, hope isn't a strategy, but you've got to have hope. Have hope in the back of your mind, but have a strategy and move forward.
Mat has this great line in the play, "Lord, will you, one day, give us the strength to fight for each other as much as we fight for ourselves? And until that day, will you please have mercy on our souls?" It shouldn't be "I'll get mine, we'll get yours in a minute." That leads to stacks of people sitting on each other, but all it takes is one hand to bring everyone to the same level. That was the fight over the 15th Amendment - they stepped through the door, but left women behind. The amendment was passed in 1869; it took women until 1919, fifty years later, to get the vote.
It's a serious subject, but there's a lot of humor as well. They're such serious figures, but the humor shows their humanity. They loved each other (platonically) - in the play, they're like best friends. He was also a good friend of her father's. They actually met on her family farm. Her family would host Sunday gatherings with all the local liberal Quakers, and they would meet and discuss issues. Her father founded Congregational Friends in 1848, and that's how they met.
I think it's really exciting, and really important for people to see this show. Going through what we're going through with a lens to the past can only help us figure out how to move forward.
We also have some great post-show discussions - I really encourage people to stay for those.
Is there anything else people should know before the show?
Besides the main characters, there are two additional people on stage, Adanna [Paul] and Josh [Adams]. They take on the roles of other people in scenes: shadows, porters, an angry mob, etc. Adanna and Josh are very much a part of the show, and having them with us shows the effect of the work around the characters. Elena Velasco, our movement coach, worked with all of us and created a whole movement vocabulary - I think it's a really nice way to emphasize how much broader it is beyond just the two of them.
Mosaic Theater Company's The Agitators opens October 24th and runs through November 25th. Information on the show and post-production discussions can be found here: https://www.mosaictheater.org/the-agitators
Related Articles View More Washington, DC

Stories

Shows
Rachael is a native New Yorker and life-long theatre devotee. She saw her first Broadway show, "Joseph and the Amazing Technicolor Dreamcoat," at age five, (read more about this author...)