Photo Flash: Cast & Creative Announcement For Premiere Of MOB WIFE, A MAFIA COMEDY
Starbuck Theatre Company today announced its cast and creative team for the World Premiere Developmental Workshop Performance of 'Mob Wife, A Mafia Comedy', playing at The Cockpit, London January 24-26th 2019.

http://thecockpit.org.uk/show/mob_wife_a_mafia_comedy Box Office: 020 7258 2925
' MOB WIFE, A Mafia Comedy' is a new, hilarious musical comedy by New York City Theatre composer/ lyricist, Michael Mott,(internationally acclaimed musical theatre composer/ lyricist, pop songwriter and vocal producer whose collaborations include TONY Award Nominees Jeremy Jordan, Laura Osnes, Jennifer Damiano, Orfeh, Sierra Boggess, Zachary Levi and countless others)
and book writer, Corey Skaggs, (writer working alongside Top Rat Productions, Universal Studios, and CAA, and in performance has appeared on Broadway and the West End for 20 years appearing in Love Labors' Lost, with Joseph Fiennes and Olivia Williams, Sunset Boulevard with Petula Clark, King Lear and The Buddy Holly Story, to name a few.)
'MOB WIFE, A Mafia Comedy' centers around Debra Delbono, a mob wife in the 1970's, who longs for the life she once had. A time when her husband, Tony, thought more about her and less about the stresses of being the Captain of the Staten Island Mafia. Through a series of mishaps,
miscommunications and near-fatal misunderstandings, the two finally rekindle their love - Now,
they just need to stay alive long enough to enjoy it.
ON THE THURSDAY NIGHT AFTER THE PERFORMANCE Michael Mott WILL BE PERFORMING IN THE UK FOR THE FIRST TIME WITH A SHORT INTIMATE CONCERT OF SOME OF HIS ORIGINAL SONGS.
'MOB WIFE, A Mafia Comedy' will be Directed by HARRY BLUMENAU, (Imagine This, Union Theatre, Give My Regards to Broadway, Upstairs at the Gatehouse,) with musical direction by DAN TOMKINSON (The Greatest Show:Live! UK Tour, Cinderella, Octagon Theatre) and Lighting and Sound design by award winning sound producer JAMES PITTS (Rhinestone Cowboys, AFE European Tour & UK Tour, Blues Brothers UK, Eden Court Theatre)
Cast Include - Ashleigh Aston as Debra Delbono (RENT, The Old Rep, Much Ado About Nothing, The Railway Children, UK Outdoor Tour) Oliver Britten as Tony Delbono (Alice's Adventures Underground, The Vaults, The Moor, The Old Red Lion, The Full Monty, Old Joint Stock) Alex Wadham as Marino Trevesani (I Love You, You're Perfect, Now Change, The English Theatre of Hamburg, The Mousetrap, UK Tour, Sunny Afternoon, UK Tour) Dru Stephenson as Joanne Trevesani (Twelfth Night, Worcester Rep, Parade, Crescent Theatre, 5 Lesbians Eating a Quiche, Old Joint Stock) James Edge as Vincenzo (Marriage of Kim K Arcola Theatre/ UK Tour, RENT, The Old Rep, Thrill Me, Old Joint Stock) Matthew Churcher as Angelo (War Horse, National Theatre, ALL OR NOTHING, UK Tour, White Teeth, Kiln Theatre) Sarah Pavlovs as Daisy (The Guide to Being Single, Tabard Theatre, Next Thing You Know, Etcetera Theatre/Old Joint Stock, I Love You Because, Midland's Tour) Duncan Burt as Sal ( He Shoots! He Scores!, Above the Stag, Little Shop of Horrors, Kings Arms Theatre, Ordinary Days, Old Joint Stock) and Daniel Nicholas as Nico (Merchant of Venice, The Old Rep, The Cabinet of Dr Caligari European Tour)

New York City composer/lyricist Michael Mott and writer Corey Skaggs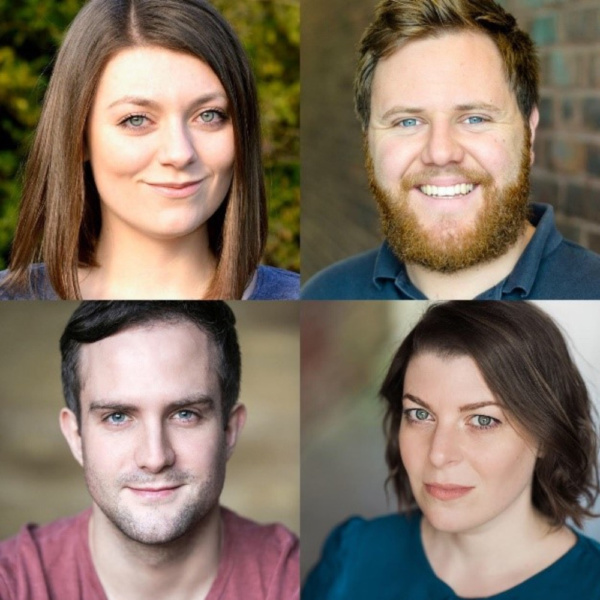 ASHLEIGH ASTON, OLIVER BRITTEN, ALEX WADHAM, DRU STEPHENSON

Matthew Churcher, JAMES EDGE, DANIEL NICHOLAS, SARAH PAVLOVS, DUNCAN BURT

JAMES PITTS, DAN TOMKINSON